The Importance of Wedding Invitations ... and other Wedding Stationery
Of all the "must haves" attached to a wedding, the two that seem to be pushed to the bottom of the budget are the celebrant (without whom you'd just be having a very expensive party) and the invitations (without which none of the people you want to be there would know the important where and when facts).... Read on...

Which is the Best Month for Lodging your Notice of Intended Marriage?
February is the best month, January the worst, and here's why ... Read on...

Rice, Birdseed, and Weddings
Rice, traditionally thrown at weddings, is rarely seen nowadays because churches, reception venues, and local authorities usually ban the throwing of rice, along with confetti, but replacing it with birdseed is not a good idea... Read on...

How Marriage Equality Will Change Wedding Ceremonies
This is my prediction – wedding ceremonies will change, but it won't be a case of the wedding industry merely accommodating same-sex couples. Rather same sex couples will influence, by example, all civil wedding ceremonies in Australia, and all weddings will be the better for it. Read on...

Multicultural Fusion Weddings
If you are an intercultural couple, how do you navigate your ceremony? It is not uncommon to have two ceremonies. But there is a third option - a fusion wedding ceremony that incorporates the traditions of what are important to you both ... .... Read on...

8 Things I've Learned Over 11 Years of Being a Celebrant
Some of the things I've learned include it is never too early to book important vendors, the most common questions asked, the most common fear, and more .... Read on...

Behind the Scenes
It is not unusual for a celebrant to receive a request for a lowball fee on the grounds that "it is only an hour". However, what you and your guests see on the day is only a fraction of what I do to make your ceremony special and your marriage legal. An incredible amount of work and preparation happens behind the scenes to make that hour possible. It is also not unusual for full realisation of how much behind the scenes preparation is involved to sink in only when a couple attends other weddings down the track and sees the result of some of that behind the scenes work being omitted ... Read on ...

Civil Celebrants and Clergy - what's the difference and does it matter?
The Marriage Act, along with Dean Smith's Bill currently making it's way through the Parliamentary process, differentiates between Clergy and Civil Celebrants in what they can and can't do. So, what is the difference between civil celebrants and clergy, and, if you are planning to marry, does it matter .... Read on...

Australia voted YES - when can a same-sex couple get married? Updated - from 9 December 2017
There is still a way to go, but here's what you can expect and might want to plan for .... Read on...

Same Sex Ceremonies - Negotiating the Gendered Nature of Ceremony Traditions
Rather than assign roles, assign various customs .... Read on...

Signing the Register and the Certificates
Everything you need to know about signing the Marriage Register and Marriage Certificates .... Read on...

One Man and One Woman - an open letter to Malcolm Turnbull…
As a celebrant I am supposed to make sure that I'm marrying one man and one woman. Any time I'm not sure about that, I'm supposed to consult with the Attorney-General's Department. But here's the rub. It is all about the paperwork. .... Read on...

How to choose your celebrant like you'd choose a car…
Just as the car you choose not only has to fit your budget but also be fit for purpose, so does your celebrant. .... Read on...

Your celebrant is NOT ripping you off (it is more than just half an hour)
There is an awful lot that goes into the half-hour the ceremony lasts - and that's what you are paying for .... Read on...

All About Silk
Silk is the luxury fabric. Used both in wedding gowns on for groom's ties. To learn about the many types of silk ....Read on...

All About Lace
Lace and weddings go together like, well, wedding gowns and weddings. Regarded to be the traditional bridal fabric, it has been popular for luxury wedding gowns for centuries. To learn about the most popular types of lace used in wedding gowns ....Read on...

I am old enough to remember ...
I can't personally do anything about what is happening in regards to the erosion of women's rights in Washington DC. But I can remind every couple that I marry that it is not 1910, 1950, or even 1980 in Australia ....Read on...

Wedding Prediction for 2017 - Year of the Drone
This year I predict that drones will be the must-have at a wedding. But there are some things you need to take into account to ensure disaster doesn't strike.... Read on...

Change to Fiance Visa Assessment Process
The Department of Immigration and Border Protection has announced changes to the Fiance Visa application assessment process...Read on ...

How to have an Environmentally Friendly and Socially Conscious Wedding
Environmentally friendly celebrations do not have to lack style. As well as ensuring that you do not start your married life by unwittingly contributing to climate change or environmental damage, making socially conscious choices can save you money – and provide a defensible justification for not breaking the bank! Here's how: ...Read on ...
Great Wedding Photos Start in the Mind
Mindset and mind-power can make or break your wedding photos ...Read on ...

How much does a wedding cost?
While other parts of the retail sector are seeing a downturn, even though the number of weddings in Australia per year is dropping, the wedding industry is flourishing - and that is costing couples big time. But it doesn't have to ... Read on ..


How to Train your Flower Girl for a Brilliant Petal Toss
There is nothing sweeter than a flower girl tossing petals with exuberant abandon. But achieving that takes a little training ... Read on ..

And the Flower Girl wore a Backpack ...
Give the children you want involved in your wedding ceremony the choice of what they will do and what they will wear and magic happens ... Read on..


Everything you Learned about Wedding Ceremonies from Married at First Sight is WRONG ...
Married at First Sight is about the worst wedding manual on the planet ... and here's why ... Read on...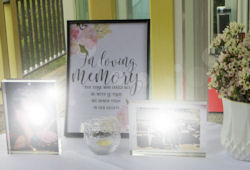 How to Remember and Honour Deceased Loved Ones in your Wedding Ceremony
Memorialising deceased loved ones is something many couples wish to include in their wedding. There are many ways to do this, and many things that need to be considered ... Read on...

How to avoid getting less than you paid for….. or more than you bargained for....when booking your ceremony
Insider tips about what to look at when considering a ceremony package... Read on...

How (Not) to Stagger Down the Aisle (in 3 easy steps)
There is an art to walking down the aisle elegantly - and most of it relates to preparation ... Read on...

The One Simple Thing Most Couples Forget When Choosing a Ceremony Venue
There is a very simple thing that makes all the difference when choosing your ceremony venue. Forgetting to do it is a serious oversight ... Read on...

6 Good Reasons

6 Good R
The Shocking Truth about Wedding Dresses
The single biggest contributor to the carbon footprint of your wedding may surprise you ... Read on...

How to Get Married in a Hurry
In Australia you are required to give at least a month's formal notice before you can get married But what if you either just want to get married ASAP, or need to get married in a hurry? ... Read on.....

How to Avoid the #1 Wedding Embarrassment

The most feared wedding embarrassment is something that nobody wants to do in public, let alone at their wedding ... Read on.....

Is Your Celebrant Duly Authorised?
While scams involving persons who are not authorised celebrants are extremely rare in Australia, now that a celebrant can be deregistered forthwith if he or she fails to pay the annual fee celebrants are now required to pay, it is particularly important to check whether your celebrant is still registered Read on.....



6 Good Reasons to Celebrate when Something Goes Wrong at your Wedding


There is no such thing as a perfect wedding, But that's reason to celebrate, and here's why...Read on....

Wedding Psychology: How and Where to Stand


How and where the bride and groom stand during the ceremony not only impacts on photographs of the ceremony, it can have a far-reaching impact on the marriage, Read on....



Bali Weddings
Everything you need to know about getting married with an Australian celebrant in Bali ... read on...

10 Things we "Know" about Getting Married that Ain't So


As Artemus Ward said 'It ain't so much the things we don't know that get us in trouble. It's the things we know that ain't so.' In wedding land there are a lot of common beliefs that just aren't true ... Read on....


Forget the Kick-Ass Wedding


Kick-ass - an informal North American adjective meaning forceful, vigorous, and aggressive. "he's a kick-ass guy who takes no prisoners" ... Read on....


How to get the best "getting ready" photos


Ensuring that your 'getting ready' photos are fantastic requires not just a photographer with skills and a good eye, but some preparation on the part of the bridal party. ... Read on....


Your talking logo for your wedding
Borrow a tool from business networking for effective communication about your wedding ... Read on....
10 lessons learned from 700+ weddings

Ten years of officiating weddings, both legal and non-legal, have dished up some pretty interesting lessons, some of which might surprise ... Read on....




Scottish Islamic Tartan
Anyone, regardless of faith or genetic background can have a Tartan Wedding, something demonstrated by an official registered tartan ... Read on....



How Long Should a Wedding Ceremony Take?
A wedding ceremony can take anywhere from a minute (literally - that's to get the legal bits done and dusted, to ... Read on....


The Problem with Wedding Readings
Most people assume that you have to have readings in a wedding ceremony. But on the day they often don't work ... Read on....

Microphone Wars
Most celebrants use a hand-held microphone. But is that the best choice? ... Read on....


Food, Flowers, and Furniture

Every now and someone asks me what I supply in terms of styling and other add-ons for a wedding ... Read on....




Drone and GO



Drone and GO, sounds like the typical wedding ceremony, doesn't it - the celebrant drones on, and eventually you get to kiss and go. But that's not what this post is about ... Read on....





'You may kiss your bride' - oh yeah? How to have the Perfect (and Perfectly Modern) Kiss

As a celebrant I not only see many many wedding kisses, I also have the responsibility of prompting them. Your first kiss as a married couple will be photographed and remembered by your guests (and everyone who sees the photographs) for years and years, so it is important to plan for the perfect kiss!
Read on....

Expressing support for Marriage Equality in your Wedding
While Marriage Equality is not yet a reality in Australia, there are numerous ways in which you can express your support in your marriage ceremony ....Read on....





Talking Heads
Let's face it. Most wedding ceremonies are pretty ordinary. And that's partly because they are all about words. Bride, Groom, and Celebrant as Talking Heads, with the celebrant doing 98% of the talking ...Read on....