Destination Weddings - Information for Visitors

Whether you're dreaming of a warm and sunny setting for your wedding, something sophisticated, or something quite exotic, Brisbane fits the bill. Brisbane's wonderful climate allows outdoor weddings all year round. We have more than 300 days of sunshine a year. The country is politically stable, everyone speaks English but, because Australia is so multi-cultural, we also understand that different people have different cultural needs and customs and we honour that.

If you live in another country, a different state, or a rural or regional location in Queensland my tried and true process enables us together to created a fabulous ceremony, one that meets your every need and realises your wildest dreams.

Do you dream of making your lifetime commitment in the company of unique Australian wildlife? We can do that.

Do you dream of saying your vows with sand between your toes and blue waters and blue sky as your backdrop? We can do that.

Do you imagine sealing your commitment with a kiss amongst lush foliage and exotic flowers in a lovely park or garden? We can do that.

Would you like to walk down the aisle of a quaint old chapel without having a religious or church wedding? We can do that.

Or are you a more the 'shop until you drop, five-star hotel' kind of couple? We can do that too.

Don't want a one size fits all ceremony, a dour, boring, ceremony or one that feels rushed and impersonal? I

never

ever do those.



Benefits of Marrying in Brisbane



Our wonderful climate allows outdoor weddings all year round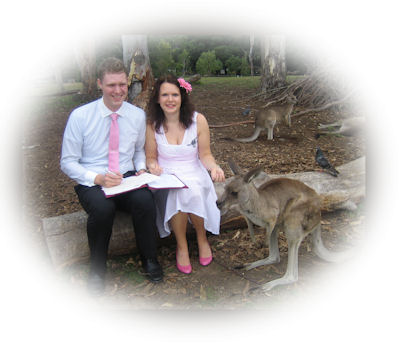 A wide range of types of indoor and outdoor venues are available to suit your style and your vision for your ceremony
Whatever the season of the year there are flowers in bloom and the trees are green
Unlike at many resorts, you won't be standing in line behind other brides waiting for your 20 minutes on the beach or other ceremony venue
Brisbane is a growing cosmopolitan city, still small enough to be very convenient but large enough to supply a wide choice of service-providers for any service you need at an affordable cost
You will not be locked into a suite of predetermined services and suppliers as you would with a package wedding at a resort
Your total wedding spend will be much less than in other parts of Australia.

Benefits of marrying in Australia
To marry in Australia .....

you must both be over 18
you must be free to marry (i.e. not already married, either to each other or to some other person)

you must both freely consent to the marriage
you cannot be close relatives, such as sibling, or parent and child, either by blood or adoption (but you can be first cousins)
you must give a minimum of one month and a maximum of 18 months formal notice of your intention to marry by lodging a properly witnessed Notice of Intended Marriage with your chosen celebrant. If you are overseas this form can be witnessed at the Australian Embassy

in your country or by a Notary Public

you must produce proof of identity and date and place of birth (see below)
you produce proof that you are free to marry if you are divorced or widowed (see below)
you must produce properly notarised translations of any documents not in English
before the ceremony commences you must sign a declaration that you are free to marry
you must both be capable of understanding the ceremony, therefore


both parties and the witnesses must be sober

if the either or both of the marrying couple or one or both of the witnesses is not fluent in English an official interpreter must be present to interpret
if the either or both of the marrying couple or one or both of the witnesses is hearing impaired a sign language interpreter is required

you must say your vows out loud
you must include some legally required words/phrases in your vows
you must make sure that two witnesses at least 18 years of age who are capable of understanding the nature and legal ramifications of the ceremony are present (they do not need to be Australian citizens)

you, your witnesses and your celebrant must sign the marriage register and marriage certificate immediately after the ceremony
you must bring the following original documents with you to Australia because without them you will not be able to be married (your celebrant is legally required to sight them before performing the ceremony. Photocopies are not acceptable)

Proof of name and birth (your birth certificate OR passport)

Original divorce decree (if applicable)
Original death certificate for a former spouse (if applicable)
Documentary evidence of any change of name
Valid passport

Notarised official English translations of any of these documents that are in another language.
Here is a list of things that you don't have to do
You do not have to be resident in Australia for any length of time (you can get married the day you arrive as long as the required notice has been given)
You do not have to remain in Australia for any length of time after the wedding (though we hope you will - it's a great place for a honeymoon)


You do not have

to be an Australian citizen, or Australian permanent resident, nor do you need a special visa to be married in Australia


You do not have to participate in pre-marriage education (though it is strongly encouraged) and every couple is given a government pamphlet and information about pre-marriage courses

You do not have to have blood tests

You do not have to undergo a medical examination or have medical certificates

You do not have to have a certificate of no impediment or

freedom to marry

You do not have to have identifica

tion documentation about your parents

You do not have to have the consent of parents or guardians if you are over 18

You do not have to have a certificate of non-pregnancy

You do not have to make your intention to marry public

You do not have to marry with "open doors" as in England, for example, therefore your wedding can be very private


You do not have to dress formally if you do not wish to do so

You do not have to exchange rings if you do

not wish to do so

You do not have to change your name
Apostilles and Authentications
Australia is a signatory to The Hague Convention Abolishing the Requirements of Legalisation for Foreign Public Documents. This means that where your government requires proof that Australian documents are genuine before they will accept them, the Department of Foreign Affairs and Trade will certify that official signatures, stamps or seals on a document are genuine by checking them against a specimen held on file, and stamping the document with an Apostille or Authentication. You will require an official registered copy of your marriage certificate for this purpose. There is a fee for this service.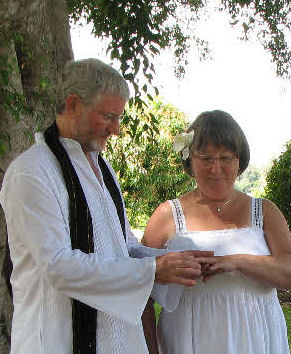 Some extracts from
testimonials

It was all very relaxed and although we had never actually met before you made us all feel very at ease. it was fun but with the serious element where necessary. You did a brilliant job. You gave an extremely personal service, tried very hard - and succeeded - to find us the right tree! Dealing with paperwork was clear and given the proper amount of solemnity.
Thanks again for helping to make it such a lovely memory for us
. -
Pam and Ken who came
from the Orkney Islands off the north coast of Scotland with the request that they be married under the largest tree possible. A fig tree was the logical choice.
Jenny, Thank you so much for a magical day yesterday! Graham and I loved our day and thought it was lovely how you made that happen for us. We were so moved by the little extras you did to make it happen. Thanks again for everything!! Kindest regards -
Kelly and Graham who came from Scotland for their elopement ceremony at Queens Beach North, Scarborough.


Jennifer Cram is a top class celebrant. We would recommend her to anyone. She made our wedding a day to remember. Each stage of the organisation of our wedding was seamless and relatively stress free. The wedding day itself went without a hitch, thanks to your excellent organisational skills and we were very impressed how you delivered the ceremony. The surprise at the ceremony was a lovely touch. The marriage certificate and handbook were both beautifully presented. We were very happy with everything. -
Chantal and Graham who came from England to celebrate their marriage at Flying Duck in the Roma Street Parklands in a ceremony that featured beautiful Australian native and flowers and included their daughter and Chantal's sister.
We enjoyed every minute of our ceremony and this has made us feel even closer as a family now.
- Tracy & Jim who eloped from Sydney with their two children


Contact Me