The Drones are Coming
by
Jennifer Cram
(24/01/2017)
|
Categories:
| Wedding Ceremony | Wedding Planning |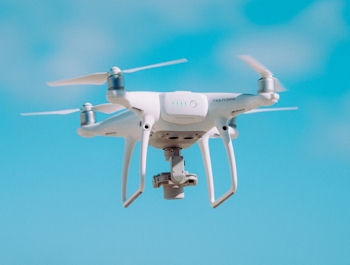 Increased availability and relaxed regulations mean that almost everyone will know someone who got a drone for Christmas and they'll be dying to use them at your wedding. And more and more professional photographers will be adding drone photography to their packages
.



Some things to be aware of

out

Taking photos using a drone requires some skill
There are still rules (laws!) about when and where a drone can be flown
Drones are noisy, and because they are still a novelty, will distract your guests if you use them during the ceremony. And you don't want your guests ducking and weaving to avoid a drone flying just above their heads
Drone batteries need frequent recharging, so you need to pick your window of opportunity for when to fly the drone for must-have pictures or footage
Rain and drones are NOT friends, neither are wind and drones

Here are some extracts from the section on drones in my book
The Wedding Etiquette Guide for Social Media Savvy Couples
Despite the immense appeal of drone photography, there are a number of short-comings to drone photography that you should consider before committing to it
Drones rely on batteries with a short life and, relative to the amount of time they can fly for (approximately 20 minutes) a long re-charge time. Whether or not the drone will be part of your photography package on the day is weather-dependant. Drones, being electronic devices, cannot be exposed to rain or snow, and are unsafe in windy conditions, so unless the day is calm and clear, the drone will have to remain grounded.

The expertise of the drone pilot, both as a pilot and as an operator of the on-board camera, is key. To avoid disappointment, before contracting with a professional photographer or videographer or accepting a friend's offer, check out their level of experience and skill.....

.... For safety reasons, drones should not be flown indoors, in or around a tent or marquee, where there are many large trees, or anywhere with overhead telephone or electrical wires.

If you are getting married at a wedding venue, you will need also to make sure that the venue is aware of your plan to fly a drone on the premises and gives approval to do so.

Any use of a drone needs to be coordinated with your professional photographer and videographer to ensure that their capacity to deliver the photographs and footage as per your contract isn't compromised.

You should also consider the potential of a drone to disrupt your wedding and distract your guests. There is no way to fly a drone discreetly. Drones are noisy, and, because they are something new, if one flies over your wedding ceremony the eyes, and attention, of every guest will be above the ceremony and not on it.

It would also be a good idea to forewarn guests, so they are not startled by the drone.

And, very important, you should ensure that you are covered by insurance.