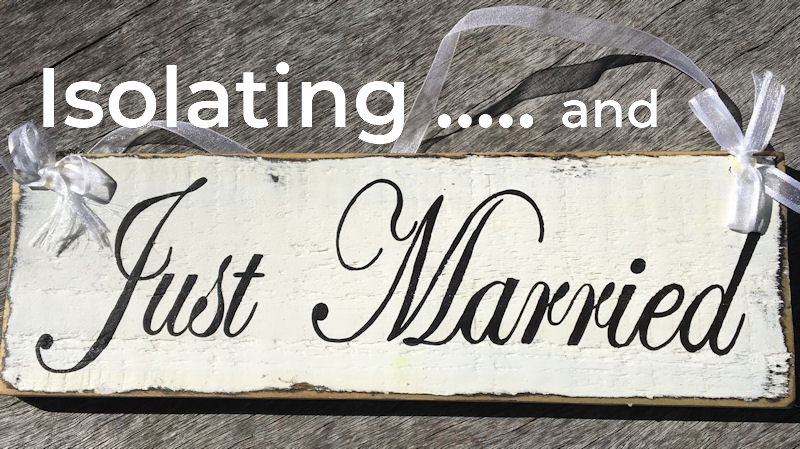 Before the new Social Isolation restrictions you would have only needed to pay attention to two legal requirements when getting married
what the Marriage Act requires you to do, and

any local bye-laws or regulations about where to hold the ceremony and things like noise restrictions.
Everything else was personal choice.
And then the virus hit and infection control measures were brought in. Which means that both the Federal Government and the various State and Territory Governments have imposed restrictions about when, where, and how you can get married. What makes the whole business of planning a wedding even more complex is that the Federal Government has set the broad restrictions but the fine detail is controlled on a state by state basis. Confusion reigns!
I've done a careful examination of how these (changing) restrictions impact on what you can and can not do. Here are the answers to frequently asked questions


Can we still get married?

out



Yes you can.
Weddings are still allowed to take place in Australia, though with some social distancing restrictions. You may, however, find that your choice of how and where to get married might be more limited than in pre-Corona Virus days. While a civil marriage celebrant can still marry you where and when you choose, you may not be able to choose to marry at a Registry Office or Courthouse at this time. In Queensland, for example, the Registry Office has closed its marriage rooms until 31 August 2020. While churches, temples, and synagogues are closed for normal services, weddings are still allowed, as long as restrictions are complied with, but it is up to the individual institution as to whether or not they will solemnise your marriage.
Will our marriage be registered?

out



Absolutely.
While some Registry Offices have temporarily closed their marriage rooms, marriages, along with births and deaths are being registered by staff working behind closed doors. If you are concerned because you have read about offices in other countries being closed, you've no need to worry. Celebrants are required to submit the details of your marriage within 14 days of it taking place, in order for it to be registered. And, because you are not required to apply for a marriage licence (here we give notice by completing and lodging a
Notice of Intended Marriage
with our chosen celebrant), closed doors won't cause you any problems.
Have the requirements of the Marriage Act changed?

out



No they haven't.
You still have to give a full calendar month's notice. You still have to provide documentary proof of your identity, sign declarations, and make vows in the approved words - as well as having two adult witnesses present. And the two of you, your two witnesses, and your celebrant must all be physically present in the same space. Here are the
Quick Facts About Getting Married
How do Coronavirus social isolating restrictions affect our wedding ceremony?

out



The Federal Government has
Restricted the number of people who can be present at a wedding.

Implemented a space requirement of 4 square metres per person (the size of a king-size mattress), which means that the smallest space in which you can hold a wedding is 20 square metres. This must be an unbroken space.

Implemented a social distancing requirement that everyone present must be no closer than 1.5 metres away from anyone else present.

The Queensland Government allows persons living in the same household to be close to one another in terms of physical distance.

Can our children be at our wedding ceremony?

out



Children are persons, so the rules apply
. No extras, even if they are toddlers. Unless they are old enough to be witnesses, they cannot attend. That doesn't apply to your fur kids, though! They are welcome to attend, as long as the venue or park in which you choose to have your wedding, allows pets.
Can we have a photographer at our ceremony?

out



Yes, but
only if your photographer is also one of your witnesse
s. It is legal for witnesses to take photographs during the ceremony.
Can someone play the music for us?

out



Yes, as long as they are counted as one of the guests
Can we have a photographer to take photos after our ceremony?

out



That would depend on individual State restrictions on the size of a gathering. Once the formalities of the marriage ceremony are completed, the wedding has ended and the rules about gatherings then apply.
What about a ceremony space stylist?

out



My understanding is that current Caronavirus restrictions allow you to hire someone to decorate the space, set up a signing table etc, but that person would have to leave before the ceremony started, and wait until everyone had left before returning to take down and pack up. Whether or not you will be allowed to have decorations, arbour, etc would therefore depend on the policy of your individual ceremony site. No problem in your own garden. But you may or may not be permitted to decorate in a park, and may have to comply with in-house policies of a venue.
Can we have catering and a bit of a celebration afterwards?

out



Again, that would depend on individual State restrictions on gatherings. Once the formalities of the marriage ceremony are completed, the wedding has ended and the rules about gatherings then apply.
How can we get round restrictions on the number of people present?

out



Social isolating rules and restrictions are in place for a very good reason - the fewer people each of us interacts with, the less chance there is of catching COVID-19, and the less chance there is of spreading it, and the quicker we will eliminate it. Short-term pain for long-term gain.
So the simple answer is
You can't
legally. If you do, you will be breaking the law and
risking huge fines all round. And the risk is real. Police are out patrolling and there has been an interesting social change. People apparently have no qualms about dobbing you in if they think you are breaking the rules. that means phoning the police. And they will show up. Celebrants have been told to refuse to officiate the ceremony if social distancing rules are not being complied with.
How can we share our wedding with those we love?

out



Just because friends and loved ones can't be present at your wedding, does not mean that they can't share and participate in it.
Use the technology at hand to share the ceremony. While you can't get married over Skype you can livestream the ceremony to anyone, anywhere. At the simplest level, just whip out your phones, dial, and speak your vows so those on the other end can also hear them.
Do some pre-prep and planning to involve loved ones in the actual ceremony. Once you get your thinking caps on you'll come up with many ways of doing this. Here are a few ideas to start you off.


Choose a reading and ask someone to record themselves reading it and send the recording to your phone. At the appropriate time, press play. You could also ask them to choose the reading.

Ask your parents to be ready to give your marriage their blessing, live, via your chosen media, or if that's not possible, to send a text or email that can be read out.

Take a photo of your rings (especially lovely if they are held in your cupped hands), send it, and ask them to hold the photo, either printed or digital, to warm and bless your rings while you exchange them.
Thanks for reading!