Uniquely Personal (Bespoke) Wedding Ceremonies
A bespoke Wedding Ceremony is a uniquely personal richly symbolic ceremony that is created to your personal specifications in much the same way as a couture wedding gown is created. It requires a great deal of skill, detailed preparation, staging, and rehearsal to ensure that the ceremony flows smoothly on the day and that the visual record of the ceremony (both still photographs and videos) is magical.
A bespoke ceremony involves your guests and builds the emotions to the kiss after the declaration of marriage. Each ceremony is different because I custom-create the ceremony to reflect your personalities, your style, your wishes and your circumstances, and because it includes elements that add richness and meaning that is relevant to the two of you and your story.
A bespoke ceremony can include rituals that offer an opportunity to give visual expression to an important part of the ceremony.
Rituals are symbolic ceremonial elements that incorporate
acts highlighting some aspect of your intention for your future.
Such rituals may add cultural and or symbolic touches meaningful in the context of your individual or shared heritage and
are often referred to as "ceremonies", as in "ring ceremony". As with the rest of the ceremony I develop each ritual to reflect it's meaning for you and to ensure it is a fabulous part of your ceremony, an integral part of the whole. I do not use standard wording copied from websites or other celebrants, so the ritual does not include unfortunate stereotyping or make assumptions about what is proper for your relationship.
The exchange of rings is the most common ritual used in marriage ceremonies, but there are many other romantic rituals, using flowers, pebbles, candles, ribbons, wine and other symbols including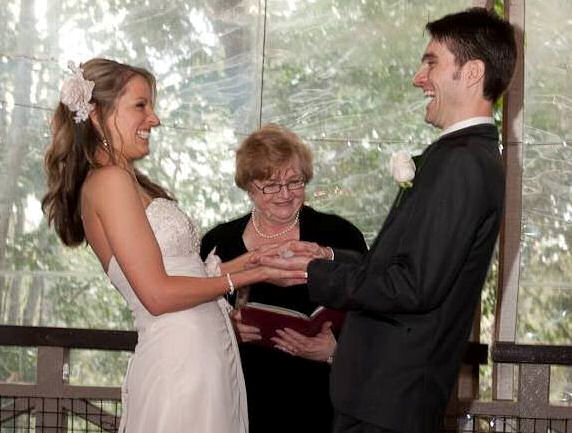 Many cultures have symbolic rituals which are a feature of their wedding ceremonies. If you have a particular cultural heritage such rituals can be included in your civil ceremony.


A bespoke ceremony may also include a reading or two of your choice. While readings are a mechanism by which more people can actively participate in your ceremony and can bring a change of pace, inject the words of an "expert", or express
many-faceted sentiments and ideas very succinctly (particularly true of poetry), they can also be used as fillers to save the celebrant the effort of writing. I advise limiting the number and length of readings because they can feel like an interruption to the ceremony. The number of readings should be limited as there is the potential to destroy the personal nature of the ceremony.