Even More Testimonials and Love Notes
Jennifer Cram, you are the most genuine, people loving woman. Thank you for all your efforts on going up and beyond the expectations of an ordinary celebrant. It was the most perfect wedding ceremony. It touched my heart and uplifted me and Yann. I'm still excited and on cloud 9 about this day 3 days after. I'm truly grateful we found you online. "Lady Cupid", you are an angel who was made to bring people into the first chapters of their lives together. At any time of my life I hear someone getting married I will recommend you. Love always.
Dom and Yann, who married on a roof top in West End. A few weeks later Dom also sent a lovely email:
It's obvious to me your purpose in life is to bring real love together and teach us the importance of a marriage in a modern world . I loved it.
Jennifer, we chose you because you default to awesome and leave out the gender bias, religion, over-explanation, tasteless jokes, awkward vows and dreary biographical readings that I've experienced in other weddings -
Tony and Leslie who married in their backyard.
The ceremony was moving, personal, not overly formal, but a good balance (a real sense of occasion). It was really 'us' - a lot of people commented that this was the case! It was lovely to have all the family involved and Rachel's dad to be acknowledged. -
Rachel and Eric, who married at The Village in Yeronga in a ceremony that was held under a flower-bedecked chuppah made of green bamboo and which included their parents, all of their siblings and three languages. A real celebration of both their cultures
.
Our experience was one of great love and emotion. Your guidance through the ceremony was very much appreciated. Your service was warm, romantic, emotional and humorous. We loved the service. It was perfect for us. Thank you so much, Jenny -
Glenn and Marites who married in a serene parkland setting
We were extremely happy with Jenny's services. Jenny was very organised and efficient, from our very first contact. At our first meeting Jenny read us very well, which gave us a nice level of comfort that she would perform the ceremony in line with our style. The ceremony was perfect, and we loved the personal touches that she included to make it extra special. Our families were very impressed. I would highly recommend Jenny as a celebrant.
Kelly and Dave who married at in their own home.
I felt that Jenny Cram was thoroughly emotionally invested in the event. I felt she was truly interested in making it the most happy moment of our lives. The wedding ceremony was performed by Jenny with freshness, interest and emotional investment and was most satisfying. It had a constant, natural flow and was intuitively arranged and carried out. Jenny is an experienced celebrant but each marriage performed is with the attention and care of a loving relative or friend. I wouldn't recommend anyone else. -
Jason and Plabplung who married in an intimate ceremony that incorporated their Hindu spiritual beliefs.
The ceremony was spot on and easy. You made if feel very comfortable and everyone loved the surprise. Thank you so much. Everything was great! -
Brooke and Luke who held their wedding at Elysium Lakeside at Victoria Point.
It was a pleasant and refreshing experience which I was pleased was performed by you. I felt relaxed and comfortable that our beliefs were incorporated and we had the freedom to express it. Everything was more than I expected. -
Heather and Daemon who married in an unstructured ceremony at their favourite coffee shop.
Our friend (Gory) said "She delivered one of the best ceremonies I have ever witnessed. It was emotionful, truthful, symbolic, and honouring of the bride and groom." -
Rita and John who held their wedding at Kesone Thai Restaurant in Corinda.
Thank you
Jennifer Cram
, you have nailed it yet again for us. 3 Naming Ceremonies and finally Our Wedding. Over the past 7 years you have become like family. Thank you from the bottom of our hearts. xx -
Samantha and Gavin who married in a lovely rural setting
Jenny, thank you so much for making our big day go off perfectly. We both enjoyed it from "Go to Whoa". It was hastily planned but the day went off perfectly due largely to you experience and advice. We certainly were (and are) happily married. -
Fred and Jess, who married at the Hilton.
Dear Jennifer, "THANK YOU", Tony and I would like to give you a massive thank you for conducting our marriage ceremony on Monday the 14/04/14. We had an amazing day and felt very comfortable and relaxed. We had great feedback from our family, they just loved your professionalism and personal touches and so did we. Scattering of the rose petals and rice with our special song was so beautiful. I would want to do it all over again. You made our very special day extra special. We appreciate the lucky copper coin you gave us for good luck, we will treasure it for the rest of our lives. Your preparation through the ceremony was amazing and we were honoured to have you as our wedding celebrant. Most sincerely -
Anita and Tony who married in an intimate ceremony at home.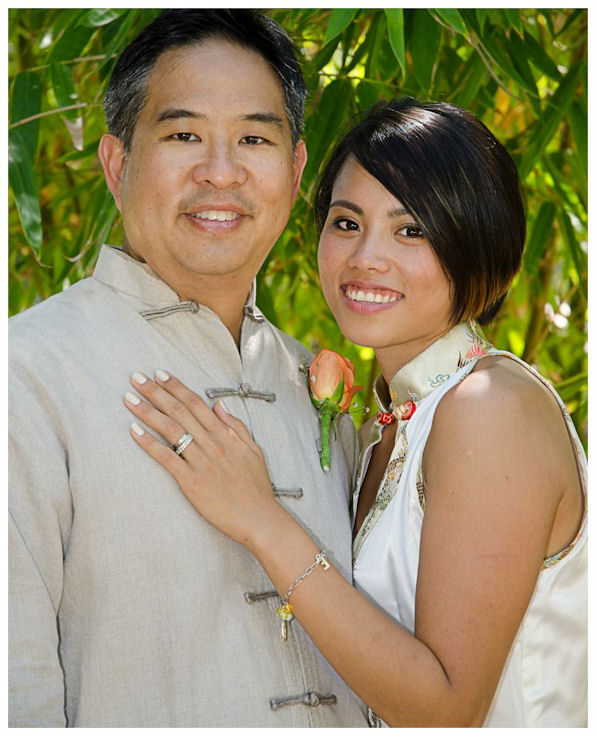 Special thanks to Jennifer Cram today for making our day incredibly sweet & simple! Everyone loved it and our friends told us it was the best ceremony they've been to yet! Thank you soo much for making this a wonderful day, Jenny! We especially love the lovely special surprise u've prepared for us. Dan & I are really glad we had you as our celebrant. Thank u!! - Facebook post from Elise and Dan who married at Rocks Riverside Park [photo courtesy of Owen Flynn]
All our guests loved the ceremony & told us that they never thought a simple ceremony could be so much fun and entertaining. It was a great ceremony & we are glad we had you as our celebrant. Testimonial: Thanks again Jenny for a wonderful, care-free, sweet & surprising ceremony. Everyone had a blast, especially with a sunny day in the park, guests were amazed at how simple, yet sweet a short ceremony can be. Thank you for making our day special. We loved and enjoyed every minute of it. -
Elise and Dan
Hi Jenny, Very sorry to only write you so late, but I wanted to thank you again for the wonderful wedding we had on March 22nd. I'm glad we left a lot of things up to you - and very glad we got such an experienced and wise hand for the job. Little things, like the position of the bridal party, the jokes and fun talk during the ceremony, and of course the wonderful surprise of the traditional gifts were so great. -
Email from Roy, who, with Konatsu held their celebration of marriage ceremony at Raby Bay Foreshore Park.
Testimonial:
The ceremony was very sincere and wonderful. We didn't want a serious or boring ceremony, for our friends and family to just switch off through. Also, being very down to earth people, we were happy that you accommodated us and that the ceremony reflected this. Thank you Jenny for making our special day as fun and stress-free as possible. We certainly made it difficult for you, flying into Brisbane only a week before the event from Japan, but you worked with us to create something very personal and unique without even having met us in person – truly a talent. The ceremony was a success, and picture perfect next to the beach at Raby Bay. Friends and family flew in with us to celebrate, and everyone had nothing but praise for the ceremony, which accommodated a Japanese translation alongside the English version. I would recommend you to anyone and everyone I can! -
Roy and Konatsu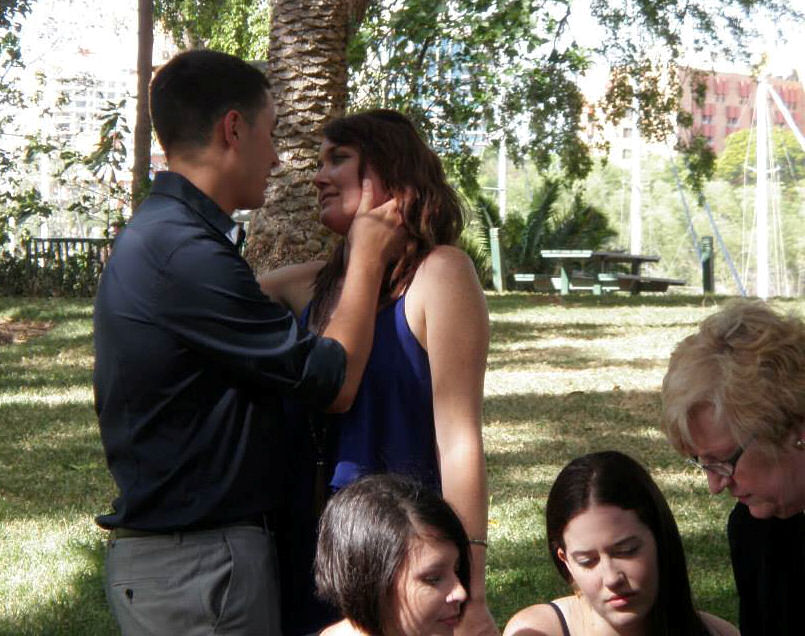 Sean and I felt elated and so comfortable. It was a perfect balance of romance and meaning and a laid back atmosphere. It was both professional and friendly and perfectly short but sweet. Exactly what we wanted and we all had a lovely time -
Emma and Sean who held their picnic wedding in the City Botanic Gardens
Your dry sense of humour along with the personal touches made it a very special and fulfilling day. Your performance was exception, a breath of fresh air from the usual bland ceremonies we have witnessed in the past. Our elopement wedding was just what we wanted and had envisaged.
Testimonial:
We are from the UK and initially were a little worried about organising a wedding overseas, but Jennifer's calm, reassuring, professional manner quickly put us at our ease. The ceremony itself was wonderful - thoughtful, personal, fun - a truly memorable experience. We are delighted that we chose Jennifer as our celebrant. . Kind regards and love,
Chris and Claire xxx
Jennet and I would like to thank you for your superb wedding ceremony. Everybody at the wedding commented what a delightful, simple but fun filled ceremony you conducted. I am glad we chose you and would not hesitate to recommend your services to any couples that are contemplating marriage Once again thank you very much for your kind and meaningful words for our special occasion. Regards -
Bill and Jennet who married at Scarborough Beach Park.
I loved how relaxed the ceremony was. I was initially doubtful about staring at guests the whole time but it turned out perfect. You made it such a warm, welcoming and involved ceremony. I had many comments to attest to that! - Sherilei who married Arren at Forestglen Park on Valentine's Day.
Exactly what we wanted. Short but sentimental. Everyone loved it. -
Kylie and John who came down from the Sunshine Coast hinterland to be married at Southbank Parklands and who told me that they chose me because I had 'the best feedback on the Internet'!
We were very happy with your service from the initial emails to the ceremony. It felt like a personal service to us, not a quick through the motions affair. We were very impressed and pleased with our choice. Thanks Jenny for a lovely ceremony. Your choice of wording was perfect. Thank you for our perfect day. -
Louise and Rich who came from a very cold England to be married at Redcliffe in a Warm and Wonderful Weekend Wedding ceremony (Registry Office style ceremony) on the hottest day ever
.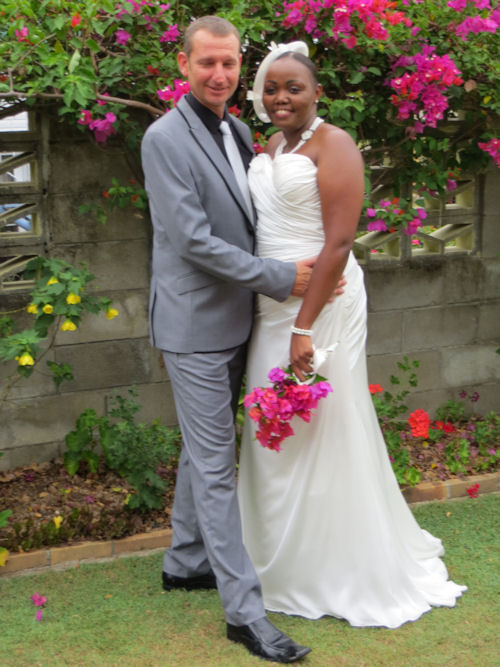 Everything about the ceremony was special. All our guests reckons our wedding was warm, romantic. We felt special and we are still talking of how our wedding ceremony was beautiful. Thank You Jenny it was fantastic, you were amazing you left everyone including our families who had celebrants for their wedding amazed at how ours was special, "Pple were talking" high recommendations!!! My sister-in-law who is next in line to he married has clearly specified she would be having you conduct her wedding. Our guests felt that you were different from other celebrants. We look forward to renewing our vows with you. No wonder you are No 1 Celebrant in QLD. -
Penny & Grant who married on New Year's Eve in a Warm and Wonderful Weekday (Registry Office Alternative Style) Wedding.
Email received the day after the wedding:
You did a amazing job, Jenny! Thank you again for all your help & understanding our needs on the surprise wedding -
Adam and Kimberly who invited their guests to their engagement party and surprised them by getting married.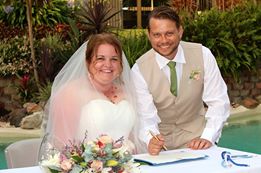 Testimonial sent a few weeks later:
You did a fantastic job of arranging what we had said in our survey and presenting it in a way that our guests felt they knew us even better. It was so personal and joyful, but also relaxed and entertaining like we asked for. We were both thrilled and over-the-moon happy. The way your performed the ceremony was beautifully done and appreciated by all. I personally am very grateful for your assistance fleshing out my vows. You, again, were great with all of this. You were fantastic with paperwork and legal requirements and we truly appreciate all of your help.
Kimberly's mother commented on Facebook:
Jennifer, thank you so much for the beautiful, personal, poignant ceremony you performed for Kimberly and Adam yesterday. From America, a civil celebrant ceremony was new to me and it really touched my heart. Thank you for all you did!
Choosing Jenny as our celebrant was one of the best decisions we made for our wedding.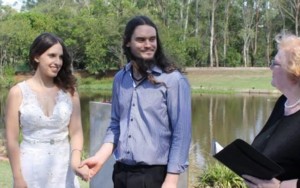 Our ceremony was perfect, everything we imagined and more. It was so "us". We have already recommended Jenny to friends. Thank you for making our day so amazing. You made everyone feel included and went above and beyond in your duties. There was no stress at all -
Amber and Anthony who married in a Warm and Wonderful Weekend Wedding (Registry Office Style ceremony) at the Pacific Peace Gardens
Email: Thank you for everything you did yesterday and in the lead up. Got lots of compliments about how well the ceremony
was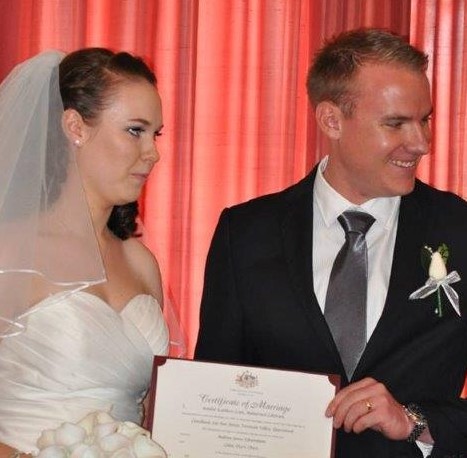 performed and the way that you organised the bridal party to face the guests. Lots of people liked how it was informal yet still meaningful. Testimonial: It was a great service. We were very well taken care of throughout the whole process. It was wonderful yet fun and entertaining experience which was what we wanted. Would recommend if you want a unique ceremony. -
Chloe and Andrew, who married in the Alice Room at Cloudland.
Barry & I really enjoyed the unique wedding service you conducted for Chloe & Andrew last Sunday All our family & friends made nice comments as well Thank you -
Chloe's mother.
Very blessed to have a celebrant that makes the ceremony meaningful, loving, and fun. All legal documents were processed with ease, making it easy for us to concentrate on our wedding day. -
Gina and Terence who married at Redlands Indigiscapes.
I thought you would like some lovely photos that were taken on the day
(even though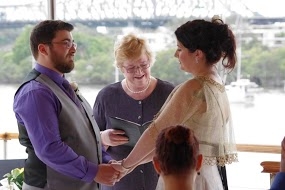 they were not professional, they turned out lovely and impromptu, which is what I wanted). Everyone mentioned how they loved the ceremony, and were very glad they were able to join in and have a laugh. It fit our family perfectly, and I am so glad it turned out perfectly. We passed on your business card to our friends, a young couple there, as they enjoyed the service very much.
Everyone was thrilled by both the LGBT statement (which made a few people in the audience come up to me and thank me profusely for including it)
,
along with the lack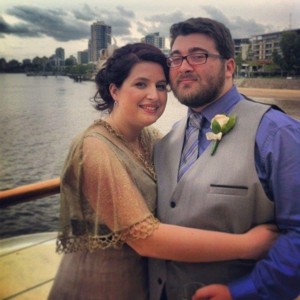 of a 'lecture'
,
and just a nice statement instead. I am also super thankful that you had a nice list of vows we could use... they fit so perfectly, and we're framing both the signed certificate and the copy of the vows you gave us. Thank you so much for the extra thought... it meant so much that you cared enough to think of such a nice thing when we had no idea what we wanted. It was perfect!) So yes, please enjoy these photos, and I will be recommending you to everyone who asks about my wedding (which I'm guessing will be everyone for the next 2-3 months!). -
Anne and Jack who married in a Warm and Wonderful Weekend Wedding ceremony on board the Kookaburra Queen II moored at Eagle Pier
.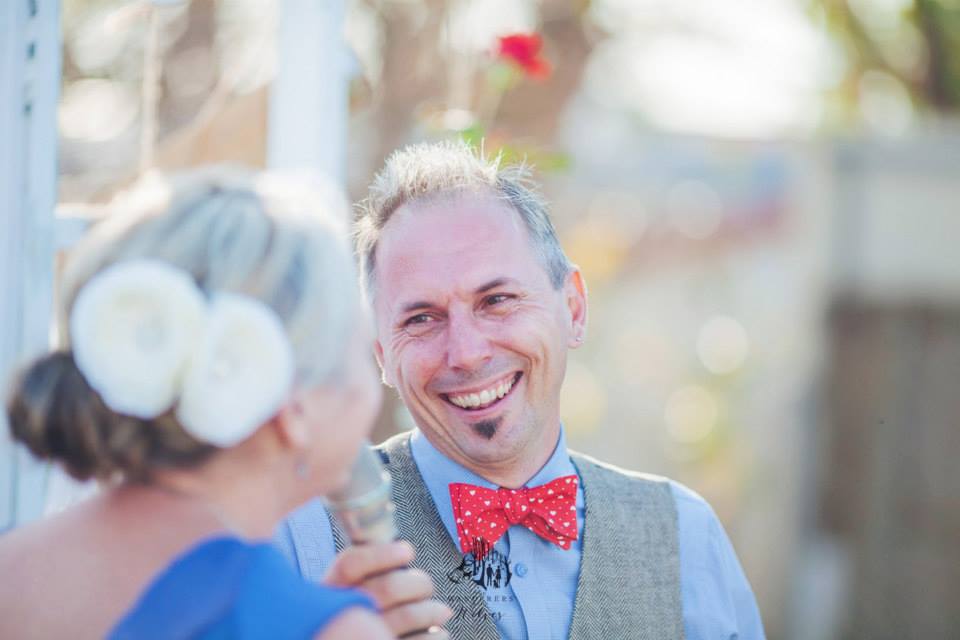 Our favourite part of the wedding was seeing people so engaged in what was happening. The best thing about the ceremony was the tone set hy you, Jenny. it made everyone relax and feel part of what was happening. -
Holly and Neil who married in their own backyard
.
Thank y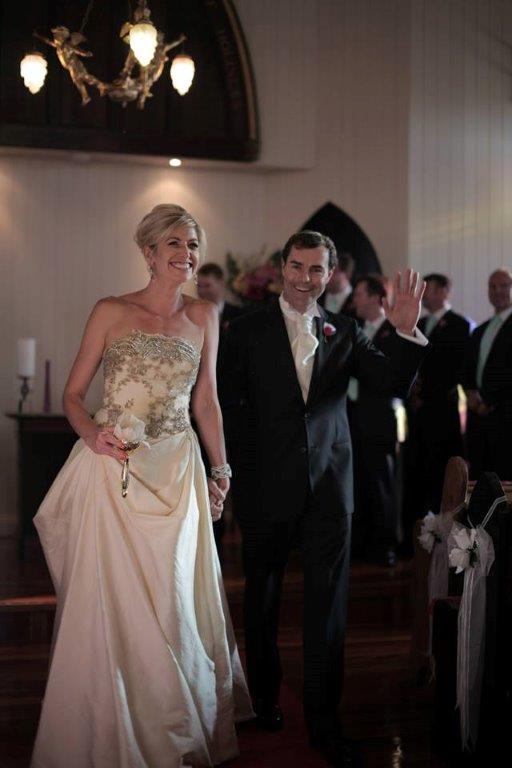 ou so so much for Saturday. The ceremony was wonderful. Many people have said it was the best wedding ceremony they have ever been to. I know people say that all the time but I actually believe them. It was wonderful, thoughtful and personal and my family and friends have said they loved your delivery and dry sense of humour along with the personal touches. We are so delighted that we chose you as our celebrant and would certainly have no hesitation in recommending you in the future. Bye for now but hopefully our paths will cross again. Katie and Lachie xxx to which Lachie added: our friends and family were genuinely saying it was the best ceremony they'd been to because it was so personal and fun. Thanks again for all your hard work and your calm and professional poise and delivery on the day. -
Emails from Katie and Lachie after their 'white wedding' renewal of vows held at the Broadway Chapel a few weeks after their legal wedding in Wales.
Katie also posted this review to the Easy Weddings Directory:
From: Katie H. Score: 5/5 Comments:"Jennifer was an amazing celebrant. Her attention to detail and planning before the wedding meant that the ceremony was very unique and meaningful. She has a humorous and captivating delivery and many of our guests said it was the most enjoyable ceremony they had been to."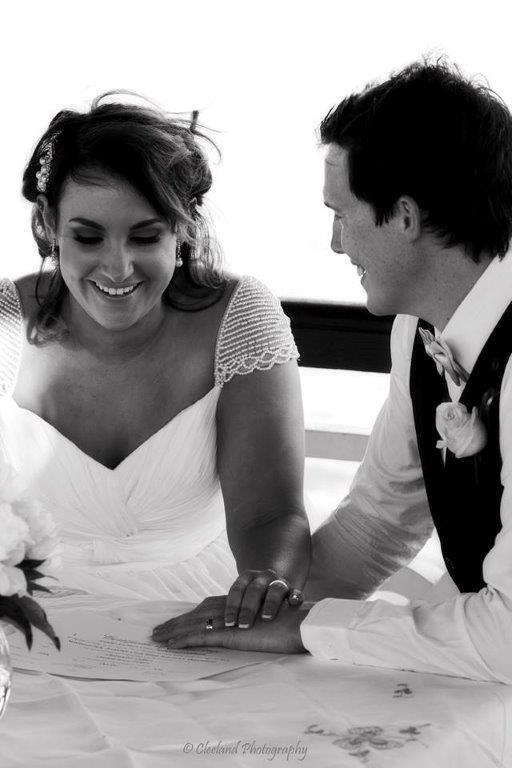 Thank you so much for making our day amazing! -
Chantal and Chris who married in the Rotunda at Newstead Park. Here they are signing the register on the vintage Irish linen tablecloth hand-embroidered with shamrocks I brought as a surprise to add a touch of home for Chris
At least two dozen people commented to us that our ceremony was the best they had ever seen and we are still receiving texts with similar comments today. We just can't thank you enough for creating a fabulous ceremony that was so warm, fun and very personal. - Email from
Liz and Cameron the day after their wedding at the Glen Hotel.
A massive thank you for our commitment ceremony, it was absolutely, exactly what we wanted. You really listened to our needs and played close attention to what we said in our questionnaires, and managed to turn it into something absolutely beautiful. Although we only met once prior to the wedding, with the help of your hard work and your excellent questionnaires it really felt like you knew us well. We've had such fantastic feedback from our friends and families. A lot of people weren't really sure what to expect from a commitment ceremony, but I think everyone felt the ceremony was very familiar, without mirroring a hetero wedding. We've even had feedback from some of our family members, encouraging us to submit our wedding video to government so they can see how 'normal' we are! :) You know how worried I was about the wedding, about panicking in front of everyone etc, but as soon as I was stood at the front I felt completely relaxed, and I really feel that the atmosphere you created really helped with that. At the reception, I even read out some trivia questions in front of everyone! Maybe it was the dutch courage from the wine ceremony ;) Thanks so much again, will highly recommend you if anyone needs a celebrant in the future :) -
Lynsay and Dani who held their ceremony at Riverlife
The scripting of the ceremony to reflect our desire to keep the event fun and loving, mingled with the "surprise" at the end, made the whole experience a favorite -
Carolyn and Peter who married in an intimate ceremony with just the two of them, their witnesses and a photographer in the Spectacle Gardens at Roma Street Parkland
The ceremony matched our requests perfectly, it was quick and concise yet showed the love and affection we have for each other. It made us feel excited to start our lives together as husband and wife. Jenny took special care to make our ceremony special, without being intrusive or adding things we didn't want. It was almost as if she knew us without ever having met us. I recommend her highly. -
Julie and Justin who held their ceremony at Flying Duck in the Roma Street Parkland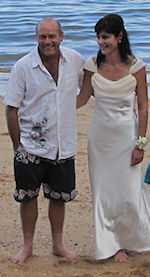 Jenny's personal touch and easy manner made our beach wedding a unique and happy day. You feel like she's become your friend. -
Tony and Michelle who married in a late afternoon ceremony in the shade under the trees at Scotts Point Beach
The ceremony was lovely and successful. It was as simple and warm as we had expected. It is the moment we will never forget. -
Wen and Jun who married in a Warm and Wonderful Weekday Wedding on Valentine's Day.
We felt great - The day was everything we wanted it to be. Thank you. It was perfect. - Nicolette & Ariki who married in their lovely garden with just their two witnesses present in a simple but meaningful Warm and Wonderful Weekday Wedding.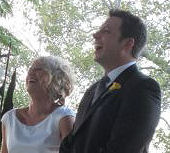 Emily and Damien married in an early evening surprise wedding at the Toowong Rowing Club (guests were invited to an engagement party and on arrival were greeted by a large mirrored sign welcoming them to the wedding). The ceremony was very relaxed and generated lots of laughter. They posted the following comments on their Facebook pages: Thanks Jenny, the ceremony was better than we could have imagined. It was a perfect day -
Damien
. Thanks Jenny. It was awesome. We loved that the ceremony was down to earth and personal. If we could do it all again, we wouldn't change a thing!!! -
Emily
We would not have done it without you, Jenny. You helped us through the preparation and guided us on the day. You made us both feel very comfortable, connected, happy, proud and relaxed on such an important day in our lives. Our friends and family still talk about feeling a rollercoaster of emotions on the day. They continue to this day to make several comments about it being the most beautiful ceremony they have ever attended. Thank you from the bottom of our hearts -
Hugo and Daniel, who held their commitment ceremony at Spicers Hidden Vale, and included a unity wine ritual in the ceremony.
Hello Jennifer, I wanted to thank you for the lovely evening my wife and I had. It was truly a special night. My wife was still crying when she went home and read through the service you gave us and she intends to carry the stone in her bag. Thanks again for helping make our night special. Regards,
Matt - who arranged for me to conduct a special 20th wedding anniversary celebratory ceremony as a surprise for his wife.
Testimonial from Stu and Katie, who married at Clear Mountain Lodge:
[from the groom]: Initially I discounted the whole ceremonial process as just being something that was fixed and had to be performed out of legal and official necessity. This remained so even through the very helpful guided process of writing the basis of our content and vows, which was then transformed into something extraordinary by Jenny Cram. Even though I was impressed with the drafts leading up to the day, in my mind it was still part of the official process. Jenny Cram totally reshaped my views about how special a wedding ceremony could be, and this became apparent for me on our wedding day. From the moment I was standing waiting for my future wife, I began to truly appreciate what Jenny had done. In creating this ceremony, Jenny had transformed something I thought was run of the mill stuff into something very personalized, and it changed the whole atmosphere of the wedding. I felt confident in Jenny where I was, under her friendly guidance, the guests were all engaged- in fact I felt they were emotionally connected with the proceedings. Jenny brought it all together and it made me feel like there was a whole other element to a wedding day that I had totally overlooked. I feel that this was the element that Jenny brought to our wedding. It could, very easily have been lost by anyone other than the most dedicated, professional and expert marriage celebrant.
[from the bride]:
Jenny, thank you so much for your commitment to crafting and facilitating exactly the kind of wedding ceremony we both wished for. Thank you for making my husband and I feel special and for upholding our vision of a relaxed, enjoyable, meaningful and personal ceremony free of waffle, cut-and-paste, and staid traditions. I could not have believed that our wedding ceremony could have been so beautiful, even though I had chosen you as our celebrant because of your professionalism, excellent feedback and gleaming testimonials. I loved the process of information gathering, and the time you took to get to know us and our story. I will treasure the memories of our wedding ceremony forever. Thank you.
Hi Jenny, Just wanted to send you a quick email to tell you how much we loved the ceremony you held for us. The touch of the stone really meant a lot to us and we see how much effort you went for us. We couldn't have asked for a nicer celebrant and ceremony and that we will ever be appreciative to you for this. I will be sure to send back our feedback and also when we receive the photos from the photographer, I will send you a copy. Go raibh mile maith aige!!! Thanks a million in Irish. Warm regards -
Antoinette & Robert who eloped in a Warm and Wonderful Weekday Wedding in Newstead Park. They later send this feedback:
The overall experience was calm, peaceful, and joyous with no anxiety, due to your personality and experience. We were both very pleased with everything.
Hello Jenny, Georgina and I wanted to express again our gratitude for all your work before and on our wedding day. Your vision and insight into what was possible made the day special and unique. As I am sure you observed, everyone was deeply moved by the ceremony. We could not have asked for anything more and we both have a memory that we will cherish. -
Wayne and Georgina, who married in the Stradbroke Pavilion at the Grand View Hotel, Cleveland Point, in a ceremony that was very different from the traditional wedding, involving lots of tears, lots of champagne, and lots of laughter.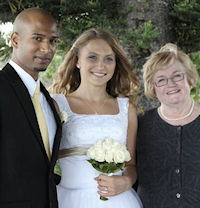 Hi Jenny, I just wanted to send you an email to convey our heartfelt gratitude for doing such a good job of conducting our marriage ceremony. Sabina and I were really happy with the way everything went off and really appreciate your efforts on the day to make the ceremony as unique and special as it was! We will definitely be referring you to anyone looking for a celebrant :) - Anban and Sabina, who married in an Intimate Wedding in the Rotunda at Newstead Park
It was a pleasant experience with genuineness and peacefulness. A lot of thought from you went into the ceremony. It was more meaningful and throughtful with something presented so simply. Thanks again, especially for helping in the Visa procedures. -
Leanne and Shadi who held their Warm and Wonderful Weekday Wedding in her mother's sitting room.
We were very happy with the ceremony. We wanted something simple and short and we were very happy to receive that. We felt very at ease and enjoyed the moment. Thank you :-)! It was perfect. -
Sarah and Dylan, who eloped, marrying in their hotel suite before embarking on a Pacific Cruise.
We were extremely happy with the content and delivery of our ceremony. Pre-ceremony nothing was too much trouble to ensure we got it right and were happy. We appreciated the effort to make the ceremony "ours". We especially enjoyed your original suggestions to make the ceremony personal. -
Wendy and Keith who married at Hillstone St Lucia and involved their children and grandchildren in the ceremony.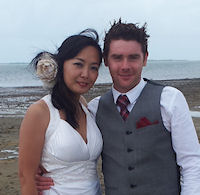 Hi Jenny! A very big THANK YOU for your services Jenny, words can't describe how good it was, you made my dad cry and that's hard to do. Everyone enjoyed how funny and interesting it was, some are still talking about it, Tosh went as far as saying "it was the best ceremony he has seen". The look on Andrew's face when you mentioned" bridesmaid" was so funny! He was still getting stick the day after. I would definitely recommend you to anyone and I can see why you have won so many awards. Gina and myself had a great day from start to finish and we are so happy we found you to wed us Thanks soooo much Jenny! -
Gina and Kevin, whose relaxed Bayside ceremony melded their Taiwanese and Irish cultures.
Hi Jenny, Thank you so much for the wonderful wedding ceremony you performed for us last Saturday. So many of our friends and family commented on what a moving, beautiful and unique wedding ceremony it was that was enjoyable, funny and so meaningful, with many of them saying it was the best wedding they had ever been to. All of our engaged friends have asked for you card, so I'm sure you will be hearing from them soon! Our parents loved it and to see the tears in Tony's Dad's eyes when you were reading the tribute to the parents was so heartwarming for us and meant so much as this man is not a cryer. It was absolutely perfect for us, represented us so accurately as a couple and was exactly what we dreamed of. We couldn't have asked for anything more. Right from our first conversation you made me feel at ease and helped us every step of the way to create and develop the amazing ceremony it was, it was such a pleasure working with you. Thank you so much for the way you dealt with the bit of a hiccup with the late start and everything, with all our guest saying you made them feel comfortable and lightened the mood with your humor and kindness. And thank you so much for the wonderful "tieing the knot" ritual. What a lovely surprise! Everyone commented on how beautiful it was. It was such a lovely way to get the kids involved and we'll have that as a keepsake from our wedding forever.
-
Laura and Tony, who married in the Butterfly Garden at Redlands Indigiscapes Centre.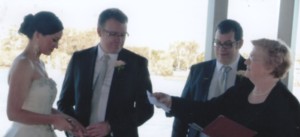 Dear Jenny, thank you so much for being such a wonderful celebrant for our wedding. Your efforts and special touches made our wedding day even better than we'd hoped for. So many people have commented on the fantastic job you did and have told us how much they loved being part of our wedding. Wishing you all the best. Kind regards,
Kate and Mika - who married at Newstead Park.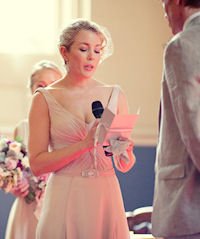 Dear Jenny, We'll do all this properly later, but I just wanted to send an early vote of thanks for the wonderful job you did for our wedding. Many, many people came up to us during the evening and said it was the best wedding they'd been to, or the most personal, or the most apt - and we wouldn't have been able to have done that without your experience, guidance, wisdom and wit. Enjoy the rest of your weekend, and thanks again for getting us off to such a good start. Cheers
- Chris who married Ali in the Great Hall at Brisbane Grammar School. Read all about it on
polkadotbride.com
and watch the lovely
highlights video
by Lumina.
While on their honeymoon they followed up their email with a beautiful (and environment-friendly) card:
Koh Samui 21.10.2011 Dear Jenny - I'm hope this one will be rather easier to write than my love-letter to Ali! Thank you again fro all you did to make Ali's and my wedding work so well. The love letters were every bit as powerful as you'd presaged; and the whole thing just seemed to flow so well. We feel that on every level the ceremony was what we were hoping for. Your counsel and experience were invaluable.
Cheers, Chris & Ali-Breeze xx.
Jennifer Cram is a top class celebrant. We would recommend her to anyone. She made our wedding a day to remember. Each stage of the organisation of our wedding was seamless and relatively stress free. We were very comfortable with everything every step of the way. You were very efficient at all times and especially in the way that you responded to emails very quickly and you provided helpful advice and information when we needed it. You always had a friendly and professional approach. The wedding day itself went without a hitch, thanks to your excellent organisational skills and we were very impressed how you delivered the ceremony. The surprise at the ceremony was a lovely touch. The marriage certificate and handbook were both beautifully presented. We were very happy with everything. -
Chantal and Graham who came from England to celebrate their marriage at Flying Duck in the Roma Street Parklands in a ceremony that
featured beautiful Australian native and flowers and
included their daughter and Chantal's sister.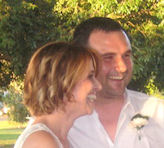 It was exactly what we wanted and hoped for
.
When our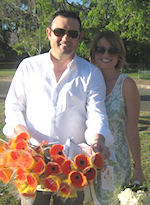 friends and
family communicated back to us how touched they were to be involved we knew for sure that the ceremony was as inclusive as we wanted to convey. It was fun, it was meaningful, it was touching. I loved the interactive nature of the ceremony. THANK YOU so much
.
- Brooke and Manny, who personally greeted all their guests with a gift of a bright orange gerbera before the ceremony when they married in a late afternoon ceremony in the Rotunda at New Farm Park.
Tarek and I were extremely happy with all aspects. Jenny made us feel very comfortable and we were confident that the ceremony would go smoothly. We especially liked the way Jenny made all our guests feel welcome. We had a lot of comments from guests about how lovely the ceremony was, and how personal. Jenny was extremely accommodating of all our suggestions and requests. She understands people and is very thoughtful!! Also very knowledgable about the legal aspects and paperwork. Thanks Jenny! We loved the ceremony - we are really happy you were our celebrant. -
Alana and Tarek who married in the Melange Cafe at Roma Street Parkland in a ceremony that incorporated both Ancient and Modern Egyptian traditions.
Jennifer truly gave us the wedding that we wanted. She understood our personalities, cultural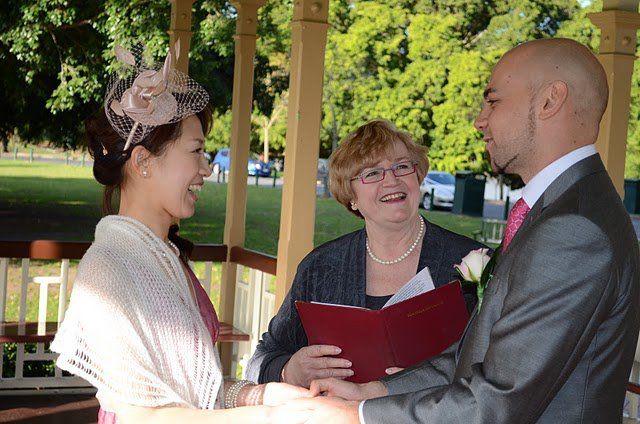 backgrounds, and approach to marriage perfectly.
Throughout the whole process we felt comfortable and confident. Most of all, we appreciate the extra care and thought that was taken, making everything feel very personal. Thank you Jennifer, we could not recommend you highly enough. -
Hiromi and Leigh who married in a Warm and Wonderful Weekday Ceremony in the New Farm Park Rotunda
Hi Jenny, Thank you so much for everything you did for us on our wedding! EVERYTHING was absolutely perfect – you co-ordinated everything just briliiantly. All through the night you were the topic of discussion – every guest we had was raving about how the ceremony was the best they'd ever attended, full of laughs and tears. Normally people switch-off during ceremonies (well, I do anyway!) because they
can be a little boring,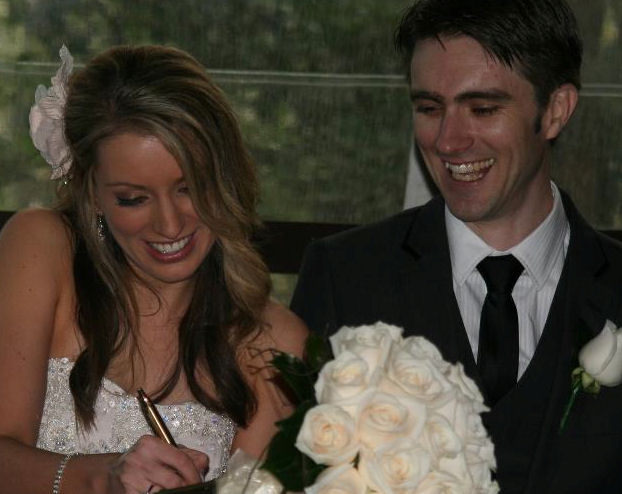 dull and predictable, but it was quite
obvious that everyone was engaged and waiting to hear what was coming up next. Comments were things like "I've never laughed so hard in a ceremony before!" and "Jenny created the ceremony as if she was telling a story, including the audience and keeping everyone interested" and "she really set the mood for the whole evening".
My Mum couldn't stop singing your praise! She was so touched that she was included in the ceremony (thanks to your suggestion about including them!) and she said that you did an absolutely amazing job in every aspect. She was really REALLY impressed and started tearing up again at how you made the day so perfect. My Dad (who is normally a man of few words) just wouldn't stop talking about you. The most interesting thing he said was "She did a better job than any priest could do". He also said that "She's not a 'normal' celebrant, she's brilliant." OK so that comment is a little mean to other celebrants, but you get the point right, he regards you as the best. He said that your ceremony made him so proud and emotional and that you really delivered just a wonderful, wonderful ceremony. All your hours of work you did Jenny, with the paperwork before and after the ceremony, your prompt responses to our Qs via email, all the work and practice you would have done for the ceremony itself, the ceremony book, the slideshow surprise and for all your personal touches and co-ordination of the ceremony is just so over-and-above what a stock-standard celebrant offers. Thanks again, Jenny. -
Kath and Cam who held their ceremony at Walkabout Creek.

Thank you for a wonderfully unique and intimate ceremony. It was all we could have ever asked for. Everyone has commented on the ceremony was "us", unique, and the best wedding they had attended. I loved how our friends and family were
incorporated into the ceremony, making them part of the day not just bystanders of an event. -
Kelly and Lucas who married at River Terrace Park.
Jennifer Cram is a professional in all aspects of the term. Being a Construction Project Manager on major projects I deal regularly with teams of Architects and Constructions companies, so have high expectations for proficiency and capability. Jennifer was able to meet and exceed my expectations an
d I would have pleasure in recommending her service to anyone looking for an experienced, ethical and above all else caring Celebrant. My new wife and I were well pleased and wish her well both now and in the future. -
Zak and Lin, who included a handfasting in which their two witnesses participated in their elopement ceremony.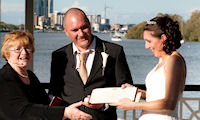 We felt the whole experience was very good. We enjoyed the ceremony as well as did our guests. We felt comfortable and were satisfied with how it went. Very professional. Our friends will probably be in touch when they get married. Thanks again for a special wedding ceremony we are both very grateful to you.-
Louise and Kris who married at Newstead Park in a ceremony
that incorporated Ir
ish Celtic customs and was shared
with overseas family and friends via Skype
We chose Jenny as our celebrant as we really liked her aura and personality, and the price for the level of involvement was brilliant! I was very emotional on the day and Jenny's involvement and words just made it perfect. I had so many lovely words said about how the ceremony went. I couldn't be happier. Thank you, Jenny, you made Steven and my day just perfect!
- Louise and Steven, who married at the waterfall in the Wineglass Gardens.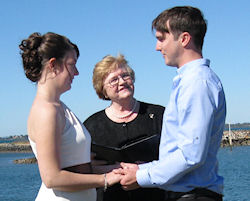 Thank you for all the effort you made to ensure our wedding was exactly how we desired. On the day it was more than I could have hoped for, magical and sincere, and we really appreciated how comfortable you made us feel. From start to finish, extremely satisfied. Thanks you. Love
Ben and Hannah who eloped with a few friends and a dog on Norfolk Point at Manly.


We could not have found a more friendly, down to earth celebrant. At first the whole experience was daunting and nerve-wracking, however we both felt comfortable with you and you were always there to guide us through and help make the ceremony a happy and special occasion. You guided us through not only the legal requirements, but also through the planning of the ceremony. We found your ceremony to be personal and romantic and you helped make all the guests feel included. It was truly a unique ceremony, delivered by a truly unique woman. Thank you for everthing, Jennifer :-) -
Sarah and Lauance, who held their Warm and Wonderful Weekday marriage ceremony in the Chapel at the Kholo Botanic Gardens
Thank you
so much for making our day the one we planned! It was fun, lighthearted, emotional, and very moving. We both felt very special and listened to! Thank you for allowing my husband's impromptu surprise! Your felxibility and understanding made all the difference to the day. We are both very happy in our new life together and thank you for your part in making the beginning of our journey together very memorable. it is a day we will never forget. Kind Regards,
Yvonne and Rodger - who married under a rose-covered gazebo at the side of the dam on their property with Yvonne's daughters and grandson who had come from England for the occasion as attendants (the surprise was the gift of a Corvette, driven down to the ceremony space while we were signing)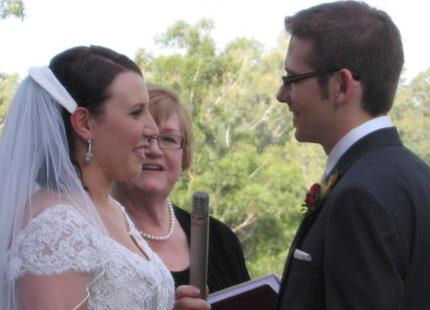 Email:

Julian and I were so impressed and touched by the ceremony that you lead, and we have received many wonderful comments from guests on the day. Many of those said it was the most intimate, fun and relaxed wedding they have ever witnessed. We particularly loved how the ceremony reflected our core values and our feelings towards each other and those close to us. For this, we are very grateful for your service and guidance on our wedding day.
Testimonial:
We could not have wished for a more tailored, beautiful, and memorable wedding ceremony. It felt intimate even with 110 guests! Jennifer was professional yet so personable and ensured that all elements, legal and meaningful, were included. At no point did we ever have to worry as it was all taken cared of so wonderfully. We felt like the ceremony perfectly reflected us and our feelings and values. Thank you for helping shape such a special part of our lives together.
-

Lena and Julian who exchanged their vows at Hillstone St Lucia.
Hi Jenny, Thank you from the bottom of our hearts for such a beautiful and perfect ceremony. So many of our guests were commenting all night that it was the best ceremony they have ever attended - we had people saying that they usually hate weddings but loved this one. It was perfect for them. More importantly, it was perfect for us. We couldn't believe it was possible to be more happy than we were, but we are. We cannot find the words to express our gratitude. Lots of Love,
Hilary and Rod - who married at dusk in a candlelit ceremony against a background of bird calls and great acoustic guitar music.