7 Surprising Facts about Getting Married in Australia
by
Jennifer Cram Brisbane Marriage Celebrant
© (16/09/2019)
Categories:
| Wedding Legals | Wedding Planning |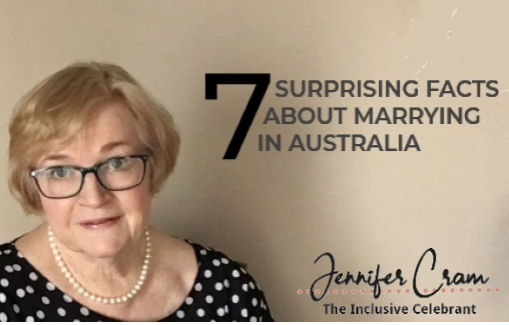 Australia is one of the easiest countries in the world to get married in simply because couples encounter so few of the rules that are common in other countries.
That there are so few rules comes as a surprise to many marrying couples, and often triggers conversations about things they expected were a rule, and aren't!
1. Your visa status is irrelevant

out



It doesn't matter whether you are an Australian citizen by birth or by naturalisation, a permanent resident, a tourist, here on a work, study, or bridging visa, or even illegally in the country. Anyone who meets the legal criteria for getting married in Australia (at least 18, not in a close relationship by blood or adoption, not married to anyone else, and marrying freely and willingly after giving a month's notice and proving ID) can marry.
2. You can marry in secret

out



No-one, other than the two of you and your celebrant needs to know that you are getting married ahead of time. You must lodge your Notice of Intended Marriage with your celebrant at least a month before, but it goes nowhere. Your celebrant keeps it until after you are married, and only then, at the point where your marriage papers are forwarded to Births, Deaths, and Marriages in the state in which you got married to register your marriage, is a government authority informed that you are married. This means you can get married in secret.
3. You must have two witnesses, no more, no fewer

out



You must have two adult witnesses present for the whole ceremony, but they don't have to have advance warning, so asking them to be your witnesses one minute before the ceremony is fine (just enough time to explain and for them to consent to being your legal witnesses).
4. Your witnesses witness your marriage, not your signatures

out



Your witnesses are witnessing your marriage, so when they sign the certificates they aren't witnessing your signatures, they are attesting to the fact that the marriage took place in their presence.
5. You marry yourselves

out



Your celebrant doesn't marry you, you marry yourselves. And you do that by saying the required words laid down in the Marriage Act in the presence of an authorised celebrant and two witnesses. Once you both have said those words you are legally married. Signing of your certificates after you have said those words just documents the fact that you are married, and registering your marriage ensures there is a public record of your marriage.
6. Your civil ceremony doesn't have to be completely secular

out



When marrying in a civil ceremony with a marriage celebrant, while most people choose to have a completely secular ceremony it is perfectly permissible to include some expression of personal religious or spiritual beliefs though your civil celebrant can't force you to include religion. You can also omit all of the traditional elements that are generally associated with a wedding ceremony - including special clothes, rings, pronouncement, kiss.
7. Sex is optional

out



Australia does not require consummation of a marriage in order to make it stick. With wonderful sensitivity our law makers realised that there would be no way to ascertain that consummation of a marriage was consensual. So, if you marry the only way to end the marriage is by divorce. Annulment is only for marriages that should never have taken place because they were unlawful.
Thanks for reading!