Valentine's Day - Pros and Cons of Getting Married on the Official Day of Love

by
Jennifer Cram - Brisbane Marriage Celebrant
© (14/10/2020)

Categories:
| Wedding Planning |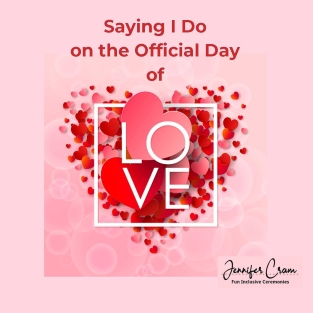 Having a long and happy marriage has nothing to do with luck. Marrying on a particular date won't guarantee that your marriage will be a roaring success, nor will it scupper your marriage. Any day on which you marry the love of your life is a very good day to choose for your wedding.
That said, Valentine's Day, February 14th, has been tagged the Official Day of Love, the most romantic day of the year, and the hype around how romantic it is just ramps up year after year. Nonetheless, there is definitely a wide divide around whether it is an unbelievably romantic day to get married, or way too cheesy to contemplate.
The haters will tell you every reason why its a bad idea to choose Valentine's Day for your wedding. The romantics will ooh and ah. And the practical people, like me, will say go for it if that's your bag, but be aware of some of the issues you will have to deal with and work round them.
If you decide not to get married on Valentine's Day, you can still make the day part of your wedding story.
Good reasons to get married on Valentine's Day

qu

You'll never forget your anniversary
Not only is Valentine's Day one of the most memorable dates, the retail sector, the media, and everyone you know will keep reminding you that the date is coming up

It makes Valentine's Day more personal
You'll be celebrating your officially forever love while the world is celebrating generic love

Its easy to pick a theme for your wedding
Selecting from the Valentine's Day palette of colours, everything from blush pink to passionate red, with touches of gold, presents you with multiple variations. Add candlelight to up the romantic vibe.

You can find pretty, and inexpensive, items to decorate your ceremony space and your reception tables
Heart-shaped choccies make inexpensive and easy to source favours for your guests
The whole flower industry works hard to grow and sell roses
Venues and vendors may offer Valentine's Day specials

Valentine's Day tends to heighten emotions
Which means your guests are likely to be high on love and in a great mood for a romantic wedding
A simple "just making it official" wedding becomes a lot more romantic
So if you are just doing the legals now with the intention of scheduling a big bash later when COVID-19 restrictions allow freer travel and gathering, marrying on Valentine's Day can make the day feel more special.

Good reasons to avoid getting married on Valentine's Day

sa

It's a bit cliché
You want to have a surprise wedding
Whatever reason you give guests to entice them to come, unless one of you actually does have a birthday on that day, your friends and family will not be fooled

Competition for venues and wedding vendors is greater on popular days
You'll need to book far ahead
Particularly if you want to get married at a popular wedding venue
Friends and family might have other plans for their Valentine's Day celebrations

It might be hard to get reservations for your anniversary celebrations
Every year you'll be competing with dating couples, proposals, and other couples celebrating their Valentine's Day anniversary
Restaurants, venues, and wedding vendors might add a premium to their prices

Flowers will be more expensive
While I don't believe that the date on which you marry has any influence on the future success of your marriage, research by University of Melbourne suggests that almost one in two couples who marry on Valentine's Day (45%) won't still be together three years down the track. That's not to say that getting married on Valentine's Day will cause a marriage to break up. But it does invite some theorising about why.

Make Valentine's Day part of your wedding story without getting married

sa

Sign and lodge your Notice of Intended Marriage on Valentine's Day
You have to give notice a minimum of one calendar month before your wedding day, but you can do so up to 18 months before. It might be a government form, but it is one of the most romantic pieces of paper you'll ever complete and submit. Don't forget to bring your selfie stick.

Schedule your cake tasting
Bring a someone with you to take candid photos

Schedule wine tasting and choose the drinks for your reception
Bring a someone with you to take candid photos
Work on your vows together
Work on your music choices

Thanks for reading!