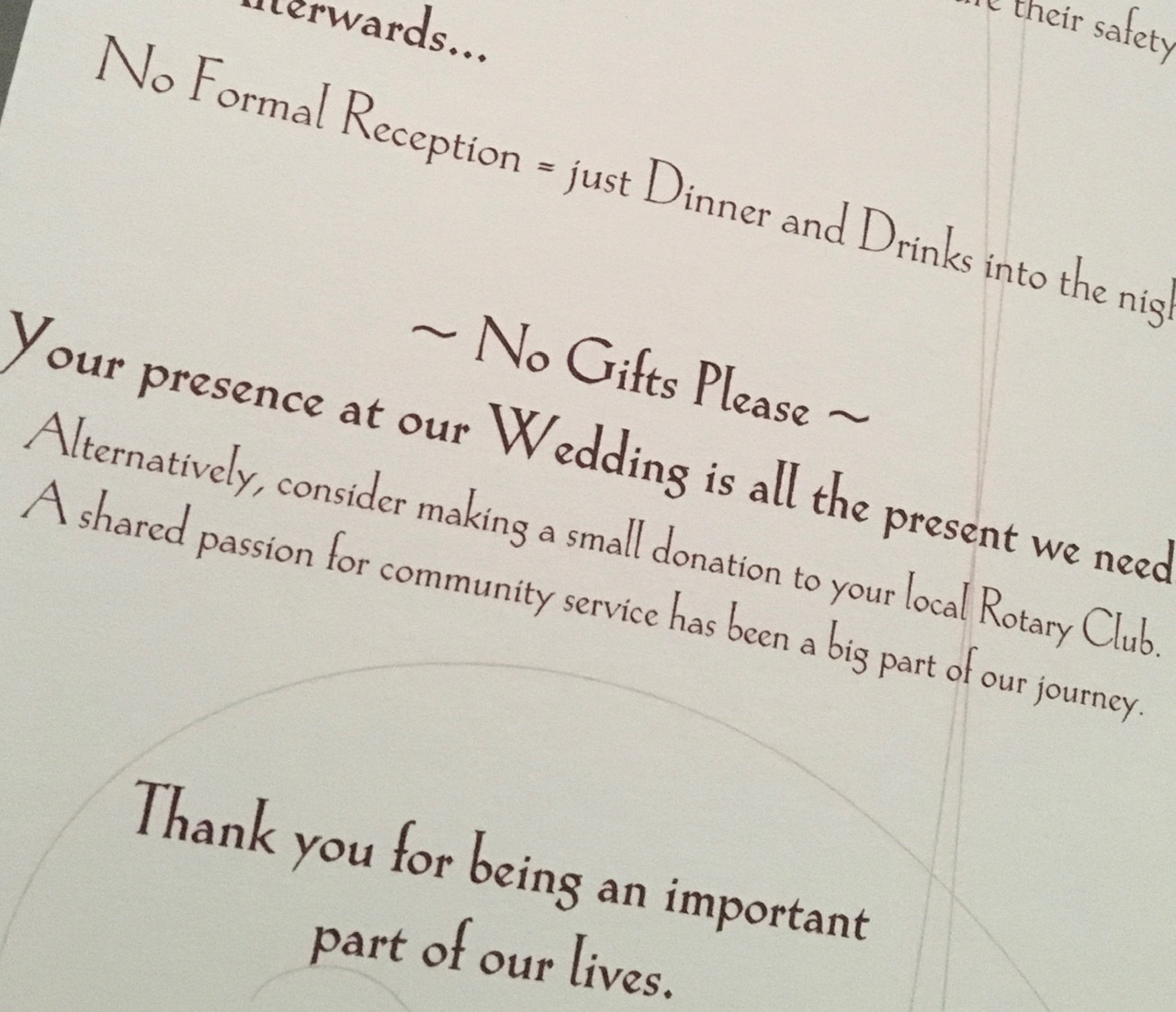 I just received this invitation from a couple I will be marrying later this year. I love the way they have shared one of the values that is important to them.
There are many ways to make charitable giving part of your wedding, including making it part of your ceremony, and it is always a good idea to give your guests a heads-up if you are asking them to give to a cause dear to you.
Support businesses that are doing it tough because of fires/drought

out



Drought, and now fires, has seen small businesses across a wide section of this country badly affected.. #BuyFromTheBush really took off last year.
You will find a wide range of products that can be ordered online. Every dollar you spend helps a rural business, and a rural community, survive.
The fires have affected many flower farms, so talk to your florist about what flowers you can order for your wedding that will help Australian farms to rebuild and replenish. They have also affected other industries, such as small wineries, gourmet foodie products and locally produced organic beauty products. See them out and support them. The
Empty Esky
campaign is an initiative to stimulate local economies by encouraging Australians to visit a local bushfire affected towns with an empty esky and fill it up with local produce and goods.
Choose a wedding venue that reflects your values

out



Many non-profit organisations, or organisations where the money you pay to hire them goes back to the community in some way, have premises that could be used for a wedding and are willing to allow you to book for functions such as wedding for a modest fee. Obviously, you would not have the same facilities as you would in a commercial venue dedicated to functions, so you would possibly have to treat the venue as a blank canvas and bring in chairs, tables, and outside caterers. Some non-profits will be able to provide and indoor space, others an outdoor space. Here are just a few suggestions to get your imagination going
Animal shelters - often have paddocks and rustic outdoor spaces
Libraries - not for profit and may have any number of suitable spaces, particularly larger libraries in historic building
Museums and art galleries - often have beautiful spaces

Historical society premises.
Food banks, Op Shops and other such premises - Quirky, yes. May be restricted to the ceremony only. And may not be able to accommodate more than an intimate wedding.
Buildings that house community service organisations such surf life saving clubs, rural fire brigades, conservations groups, guides, scouts, CWA rooms, etc

Or choose a local venue that gives back to or helps their local communities. Some examples are venues that donate unused food to food banks, venues that use only local and organic produce, or venues that use green energy.

Buy items to use in your wedding from an op shop

out



Op shops can be a rich source of inspiration as well as items you need, particularly if you are planning a vintage or rustic wedding
Buy crockery to use - mismatched vintage china can look beautiful
Buy teacups and then plant herbs or succulents in them, and give them as favours

Old books can be used in many ways - piled up to provide "stands" for centrepieces, for example

Children's games for an entertainment corner for the younger guests
Pre loved wedding-specific items, including guestbook pens, photo frames, even wedding and bridesmaids dresses
Buy new items from charity and not for profit stores

out



Charity and non-for-profit stores like Oxfam sell a wide range of decor and practical items
Handmade paper and notebooks that could be used for invitations, thank you notes, and your guest book

Handmade photo frames
Tealight holders

Fairtrade coffee and tea (if you are catering yourselves, or to use as favours)

Jewellery, silk scarves, other apparel for gifts for your bridal party, or to wear on the day.

Buy wine for charity

out



https://goodwillwine.com.au
is an organisation that donates 50% of its profits from online wine sales to charity. There are over 300 charities to choose from, but, for example, 1 bottle = 1 hot meal for clients of the Asylum Seeker Resource Centre.
Sign up for a charity register

out



Instead of a gift register ask your guests (in your invitation) to give a donation to the charity
Ask for cans instead of cash

out



Instead of a wishing well, ask your guests to bring quality canned food or pantry staples to pass on to a local food bank.
Turn your stag and hens into volunteering

out



Rather than an expensive night on the tiles, or weekend away at a resort, organise to volunteer as a group. There are a gazillion opportunities to have fun together while doing something to benefit others. Check out https://govolunteer.com.au/ for everything from event volunteering to environmental volunteering. But also seek out local opportunities by contacting local service clubs or other organisations.
Give favours that support your causes

out



Favours, those little gifts put on the table for guests as a thank you, are often left behind. Though the conventional wisdom is that if the favours are edible, that's not a problem. Here are some suggestions, edible, non-edible, and substitutes:
Instead of favours, put a note on each place telling guests that you have made a donation to the cause/organisation of your choice in their name. If donations are tax deductible make separate donations in each person's name, and provide an address (or if you donate online and the receipt is served up online, print it so they can include it in their next tax return).
If chocolates or other edibles are sold to support the cause, purchase those and put at each place, with short note explaining what the cause is and who or what the funds from sales of the edible favour supports.
Charity ball point pens - no-one turns down the chance of acquiring another pen, again with a short note
If conservation is your interest, give a seedling tree or shrub, or potplant with a request to plant it or pass it on to someone with a garden.
Hire non-profit entertainers

out



Many cultural dance troupes and community performers will perform to promote diversity and music or dance education. This can be a graceful way to highlight where you met (if you met overseas on a holiday) or where you are going to spend your honeymoon.
Donate your flowers

out



Make arrangements for your flowers to be passed on to a local nursing home. Make sure you put a little sign next to each centrepiece/arrangement alerting guests to that to ensure that no-one takes one of the centrepieces home with them. Organise a trusted friend to collect up the flowers and deliver them to the nursing home.

Include charitable giving in your ceremony

out



As part of your ceremony, have your celebrant mention that you are celebrating your special day by making a donation to the charity of your choice. Perhaps choose an amount that reflects your wedding day in some way. Then hand your celebrant a cheque or deposit slip in an envelope addressed to the charity for your celebrant to mail after the ceremony.