| Wedding Ceremony | Wedding Planning |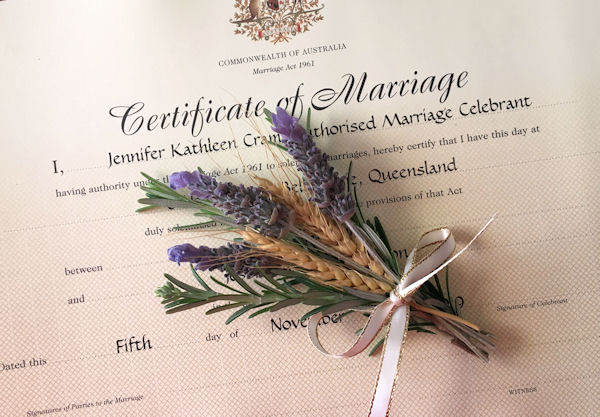 There's a new kid on the block - the Micro Wedding, a term we are seeing replacing terms like Intimate Wedding or Small Wedding. But what's the difference? Well, both Intimate and Small weddings were pretty much all about scale - the number of guests, the size of the bridal party.

Generally speaking, a Micro Wedding is interpreted to be abbreviated on all fronts. Micro Wedding usually implies a shorter, simpler ceremony and celebration with only a handful of guests (20 maximum is often quoted and the whole thing lasting 2-3 hours) that costs a lot less than a "traditional" wedding because it is held on a weekday. It may be promoted as an "upgrade" from how pop-up weddings started. So the focus tends to be on size and budget. Which, to my mind, totally misses the point! Because by choosing to have a smaller guest list, you open up all sorts of wonderful possibilities that not only allow you greater flexibility in when and where you hold your wedding, but how you do it, and even how much time you schedule for the ceremony and for the celebration that follows.


Micro Wedding Plus: Budget Bottom Line

out



Fewer guests means much lower variable costs. Let's face it, the number of guests is the biggest driver of wedding budgets, because for each guest you need to budget for some or all of the following
an invitation - plus postage
somewhere to sit during the ceremony, and the styling that might go with that (eg chair cover or sash, aisle decoration, etc)

somewhere to sit during the reception, and the styling that might go with that (eg chair cover, place card, menu, and a portion of the centrepiece, table linen, etc

a meal
drinks
a favour
stationery and postage for a thank you letter/card
A small or non-existent bridal party also reduces your variable spend on

gifts and incidentals for your bridal party

bouquets/boutonnieres

All of the above allows you to either reduce your overall budget, or redirect funds you would have spent on guests to fixed costs, such as what you wear, your rings, your honeymoon, or more luxurious options for food, drink, and styling.

Micro Wedding Plus: More Choice, More Flexibility

out



Your Micro Wedding does not have to be held on a weekday. Package deals may restrict you to early to mid-week weddings, and may specify actual dates. But many formal wedding venues have reduced their minimum spend threshold and minimum expected guest numbers for off-peak times and days in response to demand and from the need to keep their business ticking over. Minimum spend is the minimum total amount a venue requires you to spend in order to hold your wedding at the venue. It is usually worked out by multiplying the per guest charge by the expected number of guests. If you book more guests, a charge for each is added. If you book fewer, you are basically paying a higher per guest charge.
The better news is that, unlike weddings with a larger number of guests, you can virtually hold your Micro Wedding anywhere. There are very few restaurants that can't host a group of 20-25 people, many who have private rooms to hold that many, many who are willing to allow you to book out the whole restaurant so you can hold your ceremony there too. And non-traditional venues are much more likely to respond positively to a request to hold a ceremony or reception on their premises if your numbers are small.
Micro Wedding Plus: Opportunities for Your Ceremony that you just can't do with a larger number of guests

out



But it is when it comes to your ceremony that a Micro Wedding can really deliver in ways just not possible when you have a larger number of guests. All you need is open minds and a celebrant who isn't intent on making you have the shortest possible ceremony (Moi!)
Here are 10 wonderful things you can do in a Micro Wedding ceremony that you wouldn't even think of if you were planning a larger wedding
Stand in an intimate circle
Instead of theatre-style arrangement of chairs with you, your bridal party (if you have one), and your celebrant standing up the front, everyone can gather in and intimate circle of which you and your celebrant are part. One unbroken circle to symbolise the community of family and friends that you are part of.
Integrate your ceremony with your reception
Yes, that's right. Think about the traditional ceremony. Structured. In a particular order. Guests are largely an audience. Then think about the traditional reception. Structured, yes, in that there is a logical flow and interaction between meal service, toasts and speeches, and letting your hair down and partying. And then picture how you can integrate your ceremony into that - your ceremony can be the entree, or the desert, or be woven into it. You can sit with your guests during a lot of the talking heads part of the ceremony, and stand for your vows, as you would for the speeches. Speeches and toasts can be integrated into the ceremony.

Take care of your guests
A Micro Wedding creates a more comfortable and accessible environment for guests with special needs. Fewer people, quieter atmosphere, more possibility of choosing a familiar environment means that guests with special needs are less likely to be overwhelmed because it is easier to control the environment - noise levels, people movement, lighting, and so on. So whether grandpa is profoundly deaf or has cataracts , whether grandma has dementia or needs to use a walker or wheelchair, whether your best friend has a child with autism, or your favourite niece has ADHD, inviting them to your wedding does not present insurmountable problems.

Actively involve all of your guests in the ceremony
Even in larger ceremonies it is common to include a token guest participation - the Communal Vow. This is where the celebrant asks everyone present to support you in your marriage. With a one or two word answer expected - Yes, We Will, I Do, We Do. And guests being prepped before the ceremony starts as to how they should answer. Fair enough when you are trying to control input. But what if you try to actively invite participation? What if you incorporate numerous ways in which guests can be involved?
Here are some ideas


Ring Warming Ritual
The traditional approach to a Ring Warming is that the rings are passed around and the guests make a silent wish. With fewer guests you can invite each guest to speak to you directly. That adds a personal touch that is so warm and loving that I've yet to see it done without tears all round.
A Community Candle Ceremony
Each guest is given a candle when they arrive. At the front there is a Unity Candle setting - the larger pillar candle representing the marriage, and two tapers representing the marrying couple. At an appropriate time in the ceremony one or two of the guests' candles is lit. The couple can do this - as a way of asking for support, the parents or witnesses can do this as a way of asking the guests to join with them in supporting the couple, and then the flame is passed from candle to candle until all is lit. The final two guests who have their candles lit then come forward to light the couple's candles. Finally, the couple, together light the central pillar candle. Of course, I craft appropriate and personal words.
NB this ritual is suitable for evening ceremonies, or ceremonies held indoors. Venue policies and total fire bans need to be taken into account before you decide to include it.
Bouquet of Love and Support
Guests hand you flowers as you enter the ceremony space, and these are tied together to form your bouquet, or placed in a vase at the front
Handfasting
There are a number of ways you can involve your guests in your handfasting.
Those "I Will" Questions
While all the US sitcoms and movies we see day in and day out might lead us to believe that it is the celebrant who must ask that question, in Australia it is merely tradition, not a legal requirement to include it. So anyone can ask you. Even all the guests in unison.


Include your shy fur kids
Some wedding venues will allow you to include your well-trained dog in the ceremony Very few will allow you to bring any other type of animal or have your dog present for the reception. Other types of venues that are available for smaller events can be more flexible. And fewer people mean a happier fur kid.

It is SO much easier to come up with a Plan B for a micro wedding
Trying to find and book a wedding for 150+ guests is difficult at the best of times. Supply is limited. Trying to plan for an alternative (or more than one alternative) in the case of bad weather or other necessity, is therefore even more difficult. For 20 or so people, not such a big deal.

Choose alternative catering
Say the word wedding and the term alternative drop springs to mind. A preset menu you have to choose courses from - typically three courses, or two courses plus the cake, with guests needing to tell you their diet preferences so you can accommodate allergies or arrange vegetarian or vegan alternatives if necessary A Micro Wedding allows you to step away from that. Book a restaurant and allow guests to pick off the a la carte menu, have a caterer dish up cultural delights (I once officiated a Micro Wedding in a couples' backyard to the delicious smell of paella cooking away up the back of the ceremony space, and on other occasions it has been woodfired pizza or spit roast), have a breakfast wedding, a high tea wedding, food trucks or whatever. Picnic wedding with Bento boxes? Go for it.

Rewrite the fashion rules
Formal clothing is virtually obligatory for a larger wedding. In fact even veils and trains on wedding dresses have names that imply that - eg the Cathedral Length Train. Have a large wedding and everyone expects that you will do the whole white wedding thing. A Micro Wedding broadens your choice. By all means do the whole white wedding thing if you wish. But no-one is going to bat an eyelid if you go in a different direction.

Spend quality time with your guests
A simple rule of thumb is to take the number of minutes your reception is booked for. Subtract the time needed for the formal bits - the meal service, cake cutting, speeches, and toasts, and for formal entertainment if you've scheduled that. And then divide the remaining number of minutes by your number of guests. That's how long you have to spend one on one with each guest. In most big weddings that can come down to a miserable minute or two! And because that time will be broken into by the formal bits, it is easy to miss out someone inadvertently. None of which is a problem if you've got a handful of guests.
Do the unexpected
What that might be, is entirely up to you.
Thanks for reading!