More than one Plan B for your wedding is a must!
by
Jennifer Cram Brisbane Marriage Celebrant
© (26/09/2019) |
Categories:
| Wedding Planning |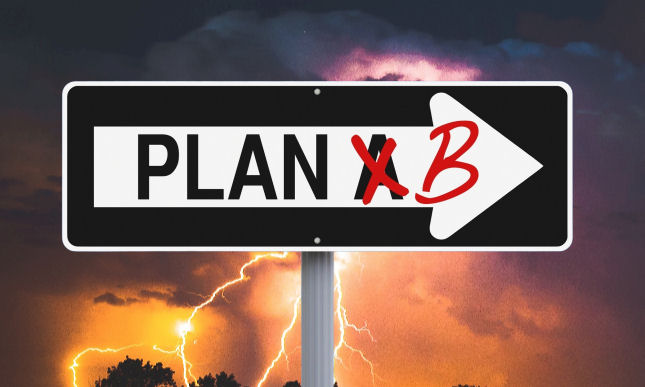 In the past 3 weeks, since September 4, 2019, Queensland has experienced a total of 1810 bushfires.During this period, iconic locations such as Binna Burra Lodge, very popular for weddings, have been lost, and access to others has been cut off for varying periods of time, including access to the Sunshine Coast when the Bruce Highway was closed to traffic. Just across the border in New South Wales, many more fires have burned.
We are also being told that fire season is extending both ends - starting earlier and ending later, so that it now covers both spring and autumn, the most popular seasons for weddings. And in recent years in different parts of the country, floods have caused havoc. The 2011 flood in Brisbane saw the Brisbane River rise 14 metres, on a lovely sunny day.
All of which is a reminder of the importance of a Plan B (alternative arrangements) for your wedding.
Here in Queensland choosing an outdoor location for your ceremony is almost the norm and, of course, you hope that the weather will be perfect – nice and sunny but not too hot. But we can't control the weather so you should have a back-up plan that is as good as the original.
But a single Plan B, which is generally interpreted as alternative arrangements in case it rains, and, in many instances, just consists of moving the ceremony undercover or indoors at the same location, is clearly not enough, because Issues that can arise on the day fall into three broad categories, any one of which can impact on what you will need for an alternative.
Conditions at ceremony site
Conditions at the venue
Conditions on the way to the venue
So it is clear that you will need is a multi-purpose Plan B (or realistically, a plan B1, Plan B2, Plan B3) because differing reasons for needing to activate your Plan B may well require differing solutions. An alternative venue suitable for heavy rain, for example, may not be available in case of bush-fire or flooding..
Plan B1 - when the actual ceremony site is no longer suitable/available

Where you have booked an outdoor site at a wedding venue or you are planning to have the ceremony in a private garden, it is common that, should the weather be wet on the day, the ceremony will be moved indoors or under cover. And when your ceremony site is in a park, your Plan B may involve a rotunda, gazebo, sound shell or other area under cover but also open to the weather.
Rain, Hail, and Storms
There is rain, and there is
rain
. Wet weather can be anything from a drizzle to a downpour. Rain might be accompanied by hail, thunder, or lightning, or all three.
When considering an alternative wet weather plan for your outdoor ceremony venue should ask yourselves
How will we, our guests, and our celebrant, get to the venue from where we need to park?
How likely is it that the car park, or the route from it, will be awash?
How weather-proof is the alternative? A rotunda may work well in a drizzle, but driving rain will blow in under the roof, and everyone will be drenched before they reach it.
Will the location be dangerous in a thunderstorm? Remember, being near or under a tree is extremely dangerous when there is lightning – and don't forget the possibility of dry lightning out of a clear sky when there are storms in the greater area.
How audible will the ceremony in heavy rain? Many rotundas and shelters have an unlined metal roof and the noise of rain or hail will drown out voices.

Even if it doesn't rain, other weather conditions may make a ceremony site relocation advisable
High winds
Wind is not only unpleasant, it is noisy, it can turn furniture into missiles (I've had the signing table blown from one side of the Newstead Park rotunda to the other, play havoc with hair, veils, hats, and skirts, and there is a high risk that the legal paperwork, including your marriage certificate, will take off, never to be seen again. High winds can also create dust storms. Very high winds can bring trees down and severely damage or demolish built structures.

Extreme Heat
Extreme heat is dangerous. Many outdoor venues have inadequate shade or no shade at all, and everyone may have to walk some distance in the heat from where they park their cars. A pop-up shelter is not a very satisfactory solution because it will exacerbate the heat unless it has very efficient vents to allow hot air to escape – which is almost never the case. And, of course, not only will one of the marrying couple, one of the witnesses, or for that matter, the celebrant, collapsing bring your ceremony to a crashing halt, if the person who collapses is one of the marrying couple, the wedding will have to be postponed until a medical clearance is obtained to make sure that your capacity to give real consent (a legal requirement) is not compromised.
Extreme Cold
Not usually a problem in Queensland, though unseasonable snow in South East Queensland a few weeks ago proves it can happen.
Flooding
In a flood the ceremony site, or indeed the whole venue, may be inundated or access to it cut off. Is your Plan A venue in an area prone to flooding? Do you have an alternative that is not only above flood level, but where access will be unimpeded by flooding? Don't forget that flash-flooding can be a last-minute problem with little or no warning.
Bush Fire or Total Fire Ban
When there is a high risk of bushfire or a fire is in progress, the following issues may prompt relocation indoors even though the venue is not under threat.
Heavy smoke
Extreme Heat
Total Fire Ban
Making it illegal to have a planned Unity Candle ritual or a Memorial Candle honouring loved ones who have passed

Plan B2 - when your venue is no longer suitable/available

Any of the above conditions can compromise having your wedding at your Plan A venue. So you need to ask yourselves all the above questions. And ensure that your Plan B2 is a venue that will be suitable and available should Plan B1 options not be available.
But you also need to plan for non-weather-related events that can stop you from having either your ceremony or your reception at your Plan A venue.
A fire in the building damages or destroys the venue
Sewerage backup, leak, or overflow
Water leaks from broken pipes or failed washers
Venue was double-booked
Business failure (venue closed by administrators)
Plan B3 - when your venue is fine, but you just can't get there

Fires and floods cut roads. Simple as that. While your venue might not be affected, it, or the route to it for you, your celebrant, and/or your guests might be cut off, or within an exclusion zone.
When choosing an alternative Plan B3, it is wise to choose somewhere that's unlikely to be affected by the same event.
Put an Activation Plan in place

You need a plan to activate the plan

Your Activation Plan should include answers to the following
What is the deadline by which the decision will be made?
Who will be responsible for making the decision

How will the change of plan be communicated?
You will need to notify key people
(which for a wedding is
everyone
!) that your Plan B is being activated.
The alternative venue (should be told first as preparations may need to be done)
Anyone providing styling, decorating, or outside catering services as they would all need to be at the venue for some hours in order to set up.

Your celebrant (should be told next as paperwork has to be accurate and will need to be reprinted)
Your DJ

Anyone doing deliveries to the venue (eg your cake maker)

Your photographer
Your videographer
Your witnesses and guests
Limo company (may need to collect you earlier than originally planned)
Don't forget to Plan your Plan B space

Just because it's your backup plan doesn't make it any less important—you want to be happy with it if you have to implement it, so plan how you want your Plan B space to look, where everyone will stand for the ceremony (as your celebrant I'll help you, even if we're only able to plan using a floor-plan of the space), and how the reception will be laid out.
Investigate wedding insurance

Wedding insurance will minimise the amount you lose in the event of being unable to hold your wedding because of local natural disaster or other unforeseen event.
Read the fine print to be sure you are clear what is covered and what is not. You may only be paid out in cases of cancellation. If your wedding or reception is relocated you are unlikely to be paid out.
Do the maths. Insurance might cost you more than you will be able to recoup if your wedding can't go ahead on the day. Don't forget that insurance covers time-dependant events. Your rings, wedding dress, and so on can be worn even if the wedding has to be rescheduled.

Protect yourselves

Read your contracts very carefully. Many venues spell out terms and conditions relating to you cancelling, but say little about what they will do should they be unable to fulfil their contract with you.
Do your best to get in writing what they will do for you. At the very least you should get a guarantee of full refund of monies paid if they are unable to provide an alternate venue of equivalent or superior quality at their expense.
In the case of some local weather event or natural disaster rendering your venue unusable do not cancel as this may allow the venue to invoke their terms and conditions and refuse you a refund. Rather contact the venue and ask what they can/will do to help.
Thanks for reading