| Wedding Ceremony | Wedding Rituals |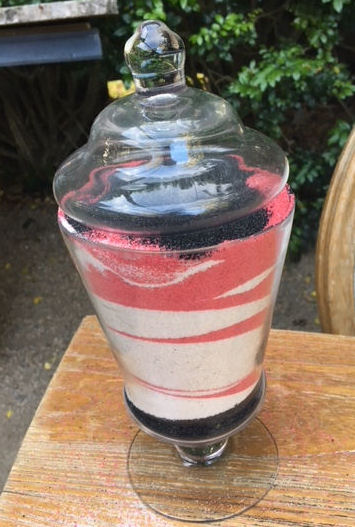 The Sand Ceremony involves the pouring of sand, representing individuals, from separate smaller containers into one large one, either consecutively to form identifiable layers, or simultaneously, blending the sands. It is therefore particularly suitable for situations where the lighting candles of is impractical (such as outdoors).
It is a unity ritual that has many layers of symbolism that differ from the more ephemeral symbolism of the Unity Candle and reach further back in time and human history than the invention of candles or the discovery of fire.
While the Unity Candle will eventually be consumed by burning, the permanent artifact of a Sand Ceremony is a glass container filled with non-biodegradable sand that is structurally millions of years old, a powerful representation of stability, continuity and eternity.
A sand ceremony can take a number of different forms:

emphasising the merging of two lives
recognising that while two lives join, each person remains an individual
emphasising the merging of two families
using coloured sands to represent individual qualities or intentions

How much attention you pay to the visual aspects of the sand ceremony, the sand, the containers, and the way it is poured, will contribute a great deal to ensuring that your inclusion of the ritual in your ceremony is successful and memorable.
What you will need
Minimum requirements are:
A glass container into which to pour the sand
Two smaller glass containers for the couple
A smaller glass container for each additional person (if any) participating in the ritual
Sand
Sand Containers
You will need two different types of container: the larger central container, representing your relationship, your marriage, and your new life, to pour the sand into, and smaller containers to pour the sand from. Because you will want to keep the larger container with the blended sand in it, you'll require some means of making sure the sand stays in it.
The containers should be glass because glass is made from sand and other ingredients fused by heat; therefore glass is a powerful symbol of permanence.
You can add your own unique touch to the ceremony by choosing containers that hold personal meaning or reflect your own personal style. Some of the more unusual containers chosen by couples I have officiated for include the bride's grandmother's crystal powder bowl, a decanter sourced from a charity store for a few dollars, a vase engraved with their names and wedding date, a decorative bottle, and the empty bottle from the wine they shared on their first date.
Consider also the form of Sand Ceremony you will use. If you are blending the sand your objective can easily be achieved regardless of the shape, size or diameter of the container. If you are planning to pour the sand in distinct layers, a taller container, symmetrically shaped, of a smaller diameter will allow the layers to be deeper and therefore create a greater impact.
For the containers from which you pour the sand, you can use smaller bottles, shells, shot glasses, wine glasses, champagne flutes, or any container that will hold an appropriate amount of sand and be comfortable to hold and pour from. If you have purchased a pair of engraved champagne flutes for your toast to each other, use those. Just make sure you delegate someone to retrieve them, give them a quick wash and dry, and ensure that they are taken to the reception venue and added to your place settings.
A number of retailers sell kits for sand rituals, some of which are more practical than others. Most of the sand ceremony kits have relatively wide mouthed vases, though some come with corks (requiring you to use some sort of funnel to make sure the sand doesn't go everywhere while you're pouring it).
For open mouthed vases or containers, you can seal the top of the sand with melted candle wax after the ceremony, or you can fill the space with clear gel wax and embed a wick in it. Or you could use a lidded container.
Sand
Crystalline sands can be purchased in numerous colors. However, it is a simple matter to color your own.
Buy white sand from an aquarium supply store
Measure out the amount you need for a particular color on a metal oven tray (or use an aluminum foil pie plate or loaf pan)
Add food coloring a drop at a time stirring until you have the color evenly distributed through the sand
Place in the oven at a very low heat until thoroughly dry.

Then pour it into a clean dry bottle and seal until ready to use.
You will need to carefully calculate how much sand you need. A simple way to decide how much to buy is to work on volume. Fill your container with water, note how many ounces (milliliters) it holds, and then divide that by the number of colors you plan to use.
It is important to keep the sand dry so that it flows freely when poured. In conditions of high humidity, the sand may become damp and will clump, inhibiting flowing. So ensure that your sand is kept thoroughly dry by keeping it sealed until you are ready to use it.
On the day, give it a good stir to break up any lumps.
If you're interested in learning more about the history of the Sand Ceremony and the related Unity Candle Ceremony, together with specific examples of different types of Sand Ceremony, my book
Unity Candle & Sand Ceremony
:
A Definitive Guide to the Creative Use of Candle and Sand Rituals in Wedding and Commitment Ceremonies
is available from
Amazon.com