Trash the Dress and other things to do with your wedding gown after the big day

by
Jennifer Cram Brisbane Marriage Celebrant
© (05/04/2019)
Categories:
| Wedding Attire |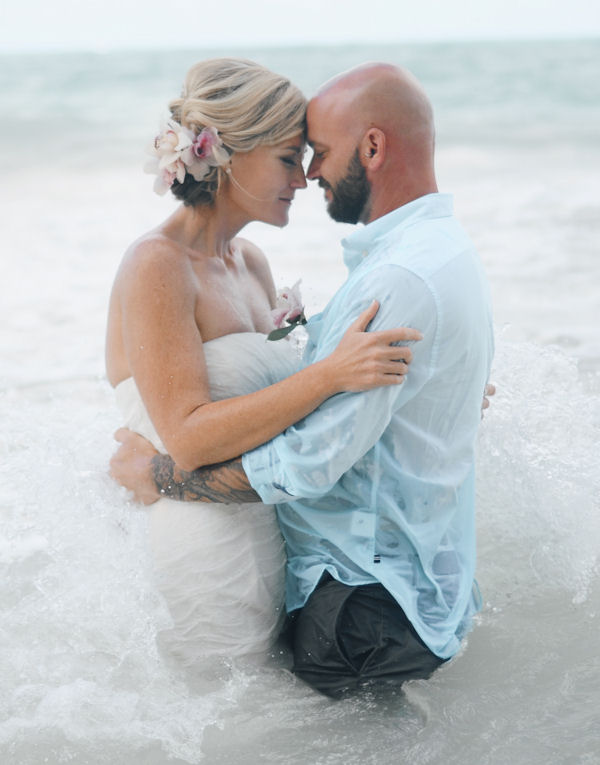 Your wedding day has been and gone. And now you have that lovely dress hanging in your closet. What to do with it?
1. Trash the Dress
.
At the moment it is fashionable, and quite fun, to schedule a post-wedding photo session in which you trash the dress - get wet, get down and dirty, whatever the child within wants to do to experience the dress in a very different way. The time of the year, the options available, and what would be authentic to you will all drive the decision as to
a. you want to go down this route and
b. how and where you're going to do it.
One word of caution:
Any lifesaver will tell you that having a lot of wet fabric on your body could be extremely hazardous if you are out of your depth. To put it bluntly. Clothing increases the risk of drowning. So, whether you are going to immerse yourself in a swimming pool, a river, a lake, a dam, or the sea, make sure that you don't get out of your depth and that there are several people with you whose only job is to keep an eye on you and be ready to jump in and pull you out if necessary. Rolling around in mud, or involving yourself in a paintball game are other possibilities. You'll get just as wet, but in a different way.
2. Sell it

Make someone else's day by helping her have the dress of her dreams within the budget she can afford. There are plenty of avenues for advertising used wedding dresses, or you can hand it over to a consignment store to sell on your behalf.


3. Donate it

Give it to
Angel Gowns Australia
, the charity that specialises in supplying Angel Gown garments to hospitals, funeral homes, and families that have sadly had a baby pass away. Through its Tutu Program, it also uses salvaged tulle from the Angel Gown Program to make tutu skirts for gifting to children suffering from a long term illness or undergoing ongoing medical procedures or tests.
Various charities that run op shops have a shop specialising in all things wedding, or a wedding dress section in selected stores. The profit from the sale of your dress will go to support the charity that runs the shop.


4. Wear it again

If you've chosen a tea-length dress, more of a cocktail style, or a dress without a train, you should be able to wear it again, perhaps with different, more colourful accessories, for all sorts of different occasions. It could even become your LWD (little white dress)!
Each time you wear it you will trigger memories of romance of the day.
A variation on wearing it again is to wear it for milestone photos - every anniversary, for example.


5. Save it and have fun with it years later.

Wear it to a fancy-dress party, on Halloween with corpse bride makeup, or just when you want to do something surprising - like serving breakfast wearing it
,
or turning up to vote.

6. Alter, Adjust, and Give it a New Life

I had the sleeves and train of my wedding dress removed. I added different coloured sashes or belts and wore the dress to a number of balls. The train was carefully preserved and later made into a christening gown. And eventually, I handed it on to a friend who gave it a new life in a drag show.
How your dress can be altered depends on the style. Find a skilled dressmaker and explore the options. Lift the hemline, add, remove, or change sleeves, change the bodice. The possibilities are endless
7. Hand it down

If you're sentimental, you might think of preserving your dress to hand down to another bride. Perhaps your daughter? This can be a lovely thing, but remember fashions (and tastes) change. But if you are open-minded about your dress being altered, or cut apart to be used in a different way as a feature or embellishment on what is essentially a new dress, it can work. Write a note (on acid-free paper) to attach to the box, so your intentions are clear.
8. Add it to the dressing-up box

Allowing your children to play dress-ups with your dress makes for the sweetest photo ops and the best memories for both you and them.
9. Save it for a special occasion - like your 25th or 50th wedding anniversary renewal of vows

There is nothing lovelier than a renewal of vows where the bride is wearing her original wedding gown. But let's face it, bodies change over the years, so alterations might be needed, or a new dress created from the old one. Even if the dress changes, the fact that it is the same fabric you wore on your wedding day, preserves the romance and the sentiment.
Thanks for reading
!