Wedding Budget Hidden Costs that Everyone Forgets




by

Jennifer Cram Brisbane Marriage Celebrant ©

(22/08/2016)


Categories:

| Wedding Budget |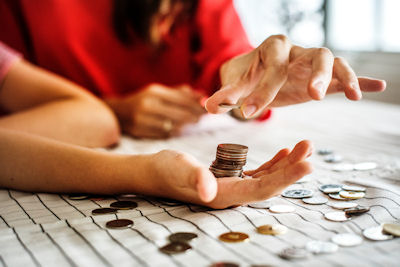 Virtually every wedding planning tool, bridal magazine, and wedding website will give you a long list of wedding expenses that incorporates everything you need to budget for, or so they say. I have two words to say about that.
Hidden Costs.
I've yet to see one that lists all of the major sources of hidden costs, because they are the bits that you usually don't notice, even when you are starting to go over budget and wondering why.
Here are the four major sources of hidden costs that you need to be aware of, and budget for when planning your wedding.
Expenses that are additional to the things in the contract. Of course you are savvy. You've carefully read the quotes and contracts from every wedding supplier you've hired. You've made sure that everything is itemised and covered. But down the track you realise that there are costs of doing business with these suppliers that you haven't factored into your budget:
The cost of traveling to meet with each of your vendors - these can be considerable if you've chosen a wedding venue that isn't exactly round the corner from where you live or work. You've done the sensible thing, you've hired wedding suppliers (decorator, florist, cake maker, photographer, makeup artist etc) who are local to the venue so you won't have to pay traveling costs for them all. But that means that you have to travel to them for meetings. Which can add up. But it won't show up on your wedding budget unless you've calculated what these trips will cost and included them in the budget.
postage costs for anything you have to send to these vendors or to your venue
Expenses you incur because of the wedding. Now, you might not resent this sort of spending, but without the wedding, maybe you wouldn't have needed to buy someone a make-up gift because wedding stresses made you blow up at them, or all the rushing around (and dieting to fit into your dream wedding outfit) has made you drop a size or two, so you treat yourself to some new clothes. Or you decide to have some cosmetic dentistry so you can flash perfect pearly whites in the photos. And then there is the costs that pop up after the wedding, like having your dress dry-cleaned. It can all add up.
Money you didn't earn because you were busy doing wedding planning. Maybe you do less paid overtime. Maybe because your focus is elsewhere you don't do as much unpaid overtime and that affects your annual bonus. Maybe you take some unpaid leave to deal with wedding-related crises. Maybe, if you're running your own business, you don't take on as many jobs as you would normally do. All of this might not show up straight away, but come tax time, if you haven't noticed before, you'll get a bit of a shock, and a much smaller tax refund.
Interest. When you set your budget, did you envisage that some of the money would come from a loan, or did you plan to spread your expenditure by using a credit card? Either way, you will be paying interest.
Thanks for reading!