Fund your Wedding and Include your Loved Ones with a Wedding Registry

by
Jennifer Cram - Brisbane Marriage Celebrant
© (05/12/2020)
Categories:
| Wedding Budget | Wedding Ceremony | Wedding Planning |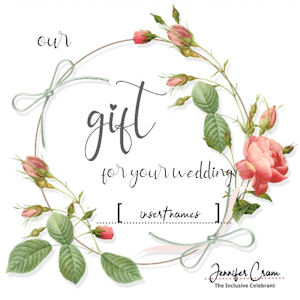 2020 has been a challenging year for weddings. Whether you forged ahead with changed plans, or rescheduled until 2021 or beyond, two issues, both requiring innovative and creative solutions, have been a common issue:
how to include loved ones who have been prevented from being with you in person

how to deal with radically changed budgets
Wouldn't it be good if you could solve both of these with a single solution? The good news is that you can. All it takes is that you rethink your gift registry and/or wishing well.

Instead of a Wishing Well create a Wish List

Wishing Wells are a great innovation with one huge flaw. The money comes in after you've already paid for everything and you have no idea how much you are going to end up with, so, for many couples, part of that money will go to paying interest charges on credit card purchases or the loan they had to take out to fund their wedding.
The alternative to the Wishing Well for many has been the Wedding Registry. Couples choose a store, register and choose what they would like, and include where they've registered in the information they send with their invites. The store manages the rest. A spinoff has been the Honeymoon Register, which gives guests the opportunity to contribute to the cost of your honeymoon. But, again, you'll have no idea about how much you'll end up with and how much you'll have to fund yourselves.
A Wedding Wish List works differently. You provide your guests with a list of services and items to be used on your wedding day for your ceremony or your reception, together with, where relevant, information about who you've already contracted to provide them, the cost, and whether guests can part-pay or contribute in kind.
Before finalising your list of what you need/want, you should consult, where applicable, with any professional vendors you've chosen to provide services to ask how they will accept payment, whether they will accept part payment from multiple sources, and how they wish to handle that.
Alternatively, you can provide a gift card with room for guests to write what they wish the money enclosed to go towards.
Ask for the Gift of Skills

Way back when, and in small country towns where professional services might not have been easily available, weddings were very much a community affair, with various people conributing skills, time, and often materials, to create what was needed for the wedding. Not only does borrowing this save money and spread the load, it also allows friends and loved ones to feel vested in your wedding.
Where you can, take the direct approach. Draw up a list of the skills you need and people who have those skills, choose who you will approach for each skill you need, and make a personal request. One of my brides worked with her father to design their wedding arch, and he made it, transported it to their wedding ceremony venue, and set it up ready for their florist to decorate. Another couple provided squares of fabric to all of their guests,asked them to decorate it in any way they wished, leaving a seam margin clear. They had a loved aunt who was also a keen quilter, turn the squares into a quilt top, which they used as a canopy on their wedding arbour for their ceremony and as a backdrop to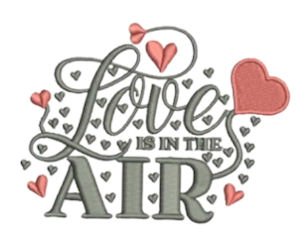 the wedding party table at the reception. Afterwards the quilt was completed and used in the normal way. At a third wedding, a friend who was a lab technician created aisle decorations by tying test tubes filled with water onto the chairs with a big satin ribbon bow and popping one agapanthus (symbol of love - its name derives from the Greek word meaning love) picked that morning from her garden into each. Fabulous and simple.
Here are some suggestions. I'm sure you can come up with many more.
Is someone who means a lot to you a skilled embroiderer - by hand or machine. Ways in which that person could gift you skills include

personalise your ring bag or stitch a design you can photograph and use on your invitations, your menus, or other printed matter - or blow up and use as a backdrop for your DIY photobooth
embroider wishes or affirmation words on you handfasting ribbons
personalise a white handkerchief for both of you to carry in case of happy tears

embroider your initials or names and date of your wedding on the inside hem of your wedding dress, vest, or the back of your tie

Does someone who means a lot to you have mixology skills? Ask them to create the recipe for your wedding signature cocktail and signature mocktail. Then pass those recipes on to the people who will be running the bar on the day.

Know one or more awesome cake makers? Ask them to make your cake - or ask several to each make a tier each of your cake which you then have someone ice. You could even have several cakes.
Any keen gardeners? Ask them to grow you potplants, flowers, or foliage that can be used for centrepieces, ceremony decor, or for bouquets and boutonnieres.
Someone who is great with flowers? Ask them to put together your centrepieces or other floral decorations from flowers they source at the markets or other places.
Someone who is great with a camera?

Ask them to be a backup photographer or second shooter at your ceremony, perhaps concentrating on taking pictures of the guests. Make sure you choose someone who will respect the role of the professional photographer you've hired and also talk to your professional photographer about it.

Ask them to photograph pre-wedding preparations or celebrations
Ask them to take photos of the two of you to be used as backing to you table numbers or thank-you notes at each place setting


Someone who knows all there is to know about music and your music tastes? Ask them to help choose your ceremony music - processional, signing, and recessional music, and perhaps to create the playlist for each.
There is nothing wrong with asking for skills but providing the materials.

When drawing up your list, please don't include professionals who make their living selling the skill you need unless they are your close, close relatives.
Something Borrowed

Something Borrowed,
carried or worn by a bride, is a tradition, Victorian in origin, but still widely observed. Virtually anything you can buy, make, or hire, could also be borrowed, saving money, possibly reducing the carbon footprint of your wedding, and definitely giving more people a stake in your wedding. If you're going down that route try to avoid putting anyone in a position where they feel they can't say no, particularly if what you're asking to borrow is valuable, has sentimental value, or is otherwise irreplaceable, and accept that having everything perfectly matching may not be possible.
Pro Tip.
If borrowing china (mismatched but pretty cups, saucers, plates, and glasses work beautifully for High-Tea weddings and for a Boho style), ask people to mark the bottom of each so you will be sure to be able to return them. It is also a good idea to ask for a list to be delivered with the items