Food, Flowers, and Furniture


(Why I don't supply ceremony styling)
by
Jennifer Cram Brisbane Marriage Celebrant
© (17/07/2016, updated 30/08/2018) |
Categories:
| Celebrant | Wedding Ceremony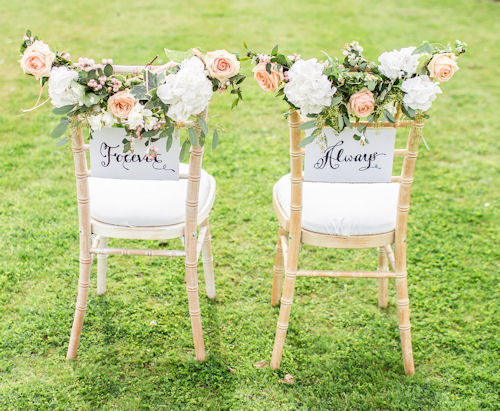 Every now and then someone asks me what I supply in terms of "additional services" for a wedding. Yes, questions about signing and chairs are common, but I've been asked whether I supply an arch, a carpet, chairs for guests, aisle decorations, and fresh flowers for the signing table. I was once even asked if I would supply chicken sandwiches for 25 people!
The simple reality is that I would have to put my fee up considerably. And there are also many other very good reasons for why I do not and should not fo furniture, flowers, or food.
My primary role is to ensure you are legally married. This is the only thing the Australian Government has authorised me to do and entrusted me with. The last thing you need is a problem in your marriage papers because I didn't have the time or the headspace to check them over for the umpteenth time. So I need to spend the hours leading up to the ceremony double-checking the paperwork and reviewing the ceremony, not making sandwiches or loading up chairs, rolls of carpet and other things.

Another important aspect of my role is to ensure that you have a relaxed, happy, entertaining ceremony that everyone present enjoys. Being red-faced and sweaty after hauling in furniture isn't conducive to that. Nor is the knowledge that my insurance wouldn't cover any mishaps. Nor, for that matter, is short-changing you on the look of the ceremony space because my mind was on the ceremony, or alternatively, short-changing you on the ceremony because I was concentrating on getting it all look nice.
The ceremony I create for you is individual, unique, and includes many upbeat and original ways of getting you married. Guests at weddings often come to me afterwards to tell me how much they enjoyed the ceremony because it was so different. I've never seen a wedding like that is a common comment. As is most weddings I've been to it seems like the celebrants are all reading from the same script. If I was to provide an arch, carpet, table, and chairs all of my ceremonies would look the same, and therefore your guests would have the expectation that the ceremony would be the same. Not only is that the exact opposite of what I promise you and what I deliver, because they subliminally expect a boring same-old, same-old ceremony your guests could well turn off before it even starts.

There is a little thing called Conflict of Interest. Basically, while, to a certain extent, a celebrant is allowed to offer other services of another business they have an interest in at a wedding he/she is officiating, it can become a very murky area. So I carefully avoid conflict of interest situations, situations where there is any potential for conflict of interest, and any perception of conflict of interest. This is for your protection, so you are not steered in the direction of a business that benefits me but may not be the best deal for you.

A healthy wedding industry that offers couples lots of choice is in everyone's interest. My view is that if I provide services that are the primary focus of other wedding-related businesses, the health of the wedding industry is compromised.

There are so many fantastic wedding styling companies, florists, and caterers out there who are experienced professionals in what they do who will work with you to achieve the result you want. Ask me.
Celebrant Public Liability Insurance just doesn't cover additional services.

So the short answer is I don't do furniture, flowers, or food
because my focus is your marriage, your relationship, and a wonderful start to it -
Forever and Always!
So, on the day, what I do is a fantastic, personal, heartfelt ceremony, that is, as are all my ceremonies, notable for the way I've removed old-fashioned sexist tradition and wording and for the interesting and fresh way the business of marrying you is accomplished.
Thanks for reading!