I am appointed by the Attorney-General to conduct civil marriage ceremonies in compliance with the requirements of the Marriage Act, and have been doing so since 2006. While appointed by government to solemnise marriages, I am an independent small business owner specialising in the provision of a wide range of ceremonies.

As an accredited Naming Celebrant and General Celebrant I also offer ceremonies to acknowledge or celebrate other events

the loving commitment of partners who are not legally marrying
the naming and welcoming of a child into the family
renewal of marriage vows for couples celebrating staying married
a divorce or end of a relationship
reaching puberty or maturity (wise-woman ceremonies also known as croning)
launching of businesses or other ventures
house-warming
other ceremonies
My Personal Belief System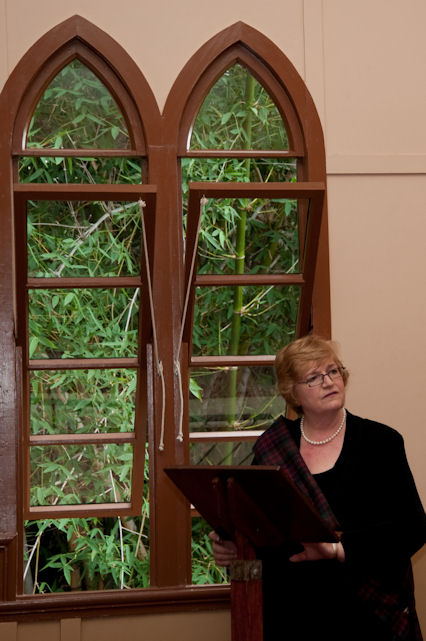 I classify myself as a Secular Humanist. That is, I adhere to a rational philosophy informed by science, inspired by art, and motivated by compassion, and therefore I focus on delivering meaningful non-religious ceremonies so you can be confident that I will not see your ceremony as an opportunity to indulge in missionary activities and spring religious content on you without warning. But you can also be confident that I will respect your belief system, whatever it is, and if you wish, include expressions of your spirituality in your ceremony.
Read more about what differentiates a
Humanist Celebrant
Who I Work For

I strongly affirm the dignity of each human being, support the maximisation of individual liberty and opportunity consonant with both social and environmental responsibility, and endorse democracy, education, equality, justice, tolerance, reason and environmental responsibility. I am non-judgmental. I welcome all couples with open arms, and therefore I provide
ceremonies for everyone
regardless of culture, age, gender, religion, sexual orientation, or the time of day or type of setting in which the ceremony is being held (with a few exceptions relating to legality or safety).
Where I am

I am based in the western suburbs of Brisbane, Queensland, Australia and conduct ceremonies throughout Brisbane, Ipswich, Redlands, Redcliffe, Logan, Pine Rivers and surrounding areas.

My Philosophy

My business philosophy is simple: I focus on not following the pack. What this means is that I do not provide standard ceremonies indistinguishable from the many ceremonies you've experienced as a guest - ceremonies that frankly alienate and bore the guests and do little to enhance relationships.

Instead I concentrate on being original, on giving exceptional value for money, great service, and a joyous and meaningful ceremonial experience for you and for your guests. It also means that I don't need to obsessively control every part of the ceremony. I'm relaxed about spontaneity, about not being the person who does all the talking (though I'm happy to be that person if you wish), and have offered unstructured*, free-flowing ceremonies for many years, along with more formal ceremonies where you get to see the script well before the ceremony.

*Unstructured does not mean unprepared!