More Testimonials and Love Notes
Brian and I would like to thank you so much for making our day truly amazing!!! You definitely went above and beyond for us and we can not thank you enough. All of our guests said that it was one of the best weddings they have attended, they liked that the ceremony didn't drag on and really enjoyed your presence. - Melissa and Brian who married in the Kholo Chapel.


You were very explicit with all the legal aspects which made us fully aware of our legal responsibilities. I don't think other celebrants would have bothered giving us as much information as you, in fact Yolanda sat and read all of the literature and she understood what was to happen on the day. The experience was exciting and you made us and all who attended very happy with the way the ceremony was conducted. Yolanda and I agree that the whole ceremony was very relaxing and we enjoyed the way you performed the ceremony - Tom and Yolanda who married at Drevesen Park. Yolanda wore a stunning red dress in keeping with Chinese tradition.

Jenny made us feel like she got it all covered while preparing the ceremony. She made our ceremony meaningful and symbolic, just what we wanted. Our guests loved her too. One of them, male, 27 years old, even told us that his perspective about weddings was completely changed after attending ours, as Jenny made it different, meaningful and fun. Thank you Jenny! - Mariangela and Roger who married in the City Botanic Gardens.


Thank you so much Jenny for making our ceremony so perfect. It was so personalised and meaningful and was the highlight of our day. xxo - Email from Emma and Jeremy who married at the Gardens C
lub in a vintage themed ceremony, who followed it up with a longer message:
The way you conduct a ceremony is amazing.
You make the guests feel like you've known us for years.
The whole ceremony was perfect. We loved how you made us fill in-depth questionnaires to create a ceremony that reflected us. We loved that you took our love of cats and used it to create a beautiful gift and ceremony. All our guests commented on how lovely our ceremony was.
Vintage Bride story
about this wedding, in which they said: For their celebrant the couple chose
Jennifer Cram
,
"Absolutely brilliant. Couldn't recommend more highly. She made the ceremony so personal and also mentioned our cats!"
The way you performed the ceremony was perfect. It was real, honest, simple, and funny. -
Annette and Brendan who married on Woody Point Pier.
Jenny you are with us right from the very beginning. The ceremony you created for us yesterday was so lovely, personal and romantic, our family&friends feel intimate & included, also we love the "extended warranty" teamwork exercise as well as learned the new Australian culture! Thank you so much again for everything you do for us Jenny, we couldnt feel more blessed and lucky to have you! -
Facebook Review from Jemy and Hiro who married at Wilson Outlook.
This was followed by a lovely email when they arrived back in Japan:
Hi Jenny We had great time / great memories back in Brisbane thanks to you~
From the very beginning of our journey to getting married, Jenny was 100% on top of everything and was keen to give us the best possible ceremony tailor made to fit is perfectly as a couple. As soon as we had our first meeting I knew we had found the perfect celebrant for us. Through the wedding day and the next day we had so many people who had been guests come up to us and say how amazing our ceremony was and how good that it wasn't your standard cookie cutter ceremony. We would definitely recommend Jenny to anyone getting married without hesitation. It was the best decision we made, and Jenny made our wedding day one that we will always remember -
Annika and Nathan who married at Boulevard Gardens.
Hi Jenny, Just wanted to thank you for our lovely service on Saturday. It was all that we had hoped for, casual, relaxed and personal. Kind Regards Tracy and Byron
A very huge thank you darling...flawless and beautiful...everyone said multiple times was the best ceremony they have ever been 2... Thank you...you are now a part of our extended clan.... Thank you thank you you wonderful woman and special soul. Any reviews anything send my way happy to do 1000 much much love Shannon, Mark, Anthea, Sebastian, Connor and Alana -
Shannon and Mark's Scottish-Irish-Fusion Handfasting was held under the fig trees at Old Petrie Town
Jennifer you created such a beautiful and heartfelt wedding ceremony for us that really captured the essence of us, the moment, the setting and all our family and friends present. We all appreciated the warmth and personal nature of the ceremony. You are delightful, informative, relaxed and funny. Your knowledge of your profession is vast and impressive and you're always available to advise, make suggestions, soothe and surprise in fantastic ways. A true professional, we highly recommend you to any couple going down the same path. Thank you so much Jenny! :)
Vanessa and Patrick - who married in a delightful AirBNB property near Fernvale with a skype link to family overseas.
Thanks everyone it was a lovely day. Jennifer Cram we also read through our ceremony again, it really was beautiful, thank you again for helping to making our wedding such a special day! -
Facebook comment from Jen and Matthew on the first anniversary of their wedding at the Old Church, Mt Tamborine
.
Hey Jennifer, Me and Tan just wanted to say thank you for Saturday it was just how we wanted it. Our friends also thought the ceremony was lovely.
Regards Kelly and Tan, who made their vows at the Mt Coot-tha Summit Lookout on a magical Brisbane winter day in the presence of the couple who introduced them.
Firstly, thank you Jennifer Cram, our celebrant - without her it wouldn't be a wedding at all. She kept us well informed, took care of all the legal things, created a ceremony that suited our needs, and was a pleasure to work with. If you ever need a celebrant for a wedding, civil partnership, naming... we recommend her! -
Facebook post by Charelle and Sebastian, whose ceremony was held on the verandah of the Ship Inn, Southbank.
Dear Jennifer, Simon and I wanted to thank you for the beautiful and warm ceremony that you led for us. All our family and friends have commented on how wonderfully warm and personal the ceremony was and how beautifully gentle, warm and reassuring you are. I know I really enjoyed every minute of it and I will remember that day with a smile forever. Thanks for the 'surprise', what a wonderfully sweet and thoughtful gesture. We are thrilled to have chosen you as our celebrant on our special day and could not have imagined better- so thank-you! -
Michelle and Simon, who married in the New Farm Park Rotunda as a loving tribute to Simon's father who grew up playing in New Farm Park.
Bruce and I would like to thank you for the beautiful wedding ceremony in which you delivered for us together with the Families. All our family members commented on what a wonderful job you did, and reminded us of what we already knew, and that being how lucky we were to have found a fantastic celebrant and how good you are at what you do. -
Email from Rachel and Bruce who married by the side of the Pine River in a ceremony that celebrated and included the families and all their friends present.
This was followed up with their formal testimonial:
We just had Jennifer for our wedding and may I say she did a magnificent job. She was very professional at her job in all formats as she made us very comfortable plus all guests. She makes everyone laugh and get involved in the ceremony. A big thanks to Jennifer and may many more couples enjoy your professionalism.
Thank you so much for making our ceremony so personal. It was exactly what we were hoping for. We loved the way that you included our backgrounds and family and had special surprises for us. It was wonderful - thank you!
- Emma and Brett who eloped to the Botanic Gardens, Mt Coot-tha with their photographer and one of the volunteer guides as witnesses.
You made us feel at ease and understood exact what sort of ceremony we wanted and worked out a ceremony based upon our wishes and the legal aspect of the night. Honestly I can't fault any aspect of the service you provided.
- Sharyn and Grant who married in an ultra-casual family occasion full of love and back-chatting.


The whole ceremony was so special for us. It's wonderful even if it's simple. We are very happy. You helped us a lot to make things easy. Thank you.
- Joy and Tony who married in a simple ceremony in the Mount Coot-tha Botanic Gardens with a passing stranger (who proceeded to take fantastic photos for them) as a fill-in witness when one of their witnesses couldn't make it.


We loved our ceremony. It was personal, meaningful and intimate. But above all friendly and casual. -
Kylie and Lima
Jennifer, we wish to tell you about your feedback... everyone loves you! In our private conversations with other friends & guests present they thought that your presentation was fabulous so don't be in the least bit surprised you will be contacted by a number them for their nuptials -
Facebook post by Trudi and Sophia after their Declaration Ceremony.
Thank you Jen for giving us the wedding that we wanted. Light, Easy and no Fuss. And I do appreciate you bringing up my Filipino tradition on our wedding. My parents were happy when I told them what you did. -
Chery Mae who married Nathan at the Kholo Chapel.
Jenny was a delight. Jenny was very prompt, and thorough, in all her communications and she made the process of creating our ceremony very easy and stress free. Jenny tailored our ceremony to suit us, and our guests and circumstances. The extra touches that Jenny included, as a surprise for us, were delightful and will long be remembered. Jenny was the only celebrant, that I contacted, who respected my wishes for a very, very simple ceremony and who didn't assume that I was misunderstanding my own wants/needs by asserting that I needed a whole lot of useless extras that somehow validated the overinflated price that they had quoted. I found that Jenny was the only celebrant who actually listened to us and our desires for our wedding and didn't assert her own wishes for our wedding on to us. We all very much enjoyed have Jenny as part of our special day and we would recommend her to anyone.
Amanda and Tony who married in a very informal weekday ceremony at work!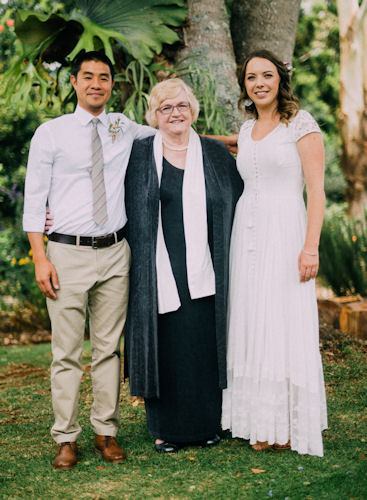 We chose Jenny as our celebrant due to her open-minded approach. She was incredibly professional and thorough in the lead-up to our wedding and planning the ceremony. The wedding ceremony was engaging, thoughtful, and respectful. So many of our guests commented on how wonderful she was and what a meaningful ceremony it was. We are grateful to have had Jenny as our celebrant and would highly recommend her to others.
Cara and Ron who married in Ron's parents' lovely garden.
Hicham and I are pleased to recommend Jennifer to anyone looking for a warm, funny, personal wedding ceremony. Her attention to detail in the lead up to the day meant nothing was forgotten and she found a way to tie in cultures and traditions from both sides beautifully -
Testimonial from Gabby and Hicham who married in Gabby's parents lovely garden. They also sent a lovely personal note in which they said
"Thank you for your hard work and organisa
tional skills that you displayed in the time leading up to the day. You created a ceremony even more beautiful than we could have ever imagined. We cannot express to you how blown away our guests were. We were told over and over by our friends and family that the ceremony you conducted was one of the best they had ever seen and that you were absolutely fantastic. They loved how you told the story of our relationship and brought the many different cultures together. They loved how personal it was and felt it really came from the heart. Without your help the day would not have been as special as it was. We will take great pleasure in recommending you to anyone seeking a fabulous celebrant."
Very happy with all the help and service Jenny has given us in this very long process over the last 2 years. Jenny had great knowledge and understanding of what it takes to do when bringing a fiancee to Australia from overseas. Jenny will not take short cuts or do anything that may jeopardize the success of the visa. We are more than happy to recommend Jenny -
Graeme and Le Ha, who married in a small park near their home.
Anthony and I just wanted to send you a belated thank you from us for the 5th of December. The ceremony was absolutely beautiful and we were very grateful for the way you performed it. Our guests loved it too. Thank you for all of the thought and time you put into making our day so very special. Regards -
Carolyn and Anthony who married in her parents' garden.
Thank you so much Jenny for the Warm and Wonderful wedding you gave us - it really lived up to its name - warm and wonderful - because that is what we felt on our wedding day and more. You exceeded our expectations and you made us feel very special on our wedding day. Prior to that, you warmly welcomed us and gave us a hassle-free experience from day one give the short time-frame of only one month wedding preparation. Furthermore, all of our guests, especially our families, complimented that it was a beautiful, heartwarming and intimate (with a few laughs) wedding ceremony. Being together as a couple for 13 years we wanted a celebrant to make our union extra special and person with a touch of funny moments and we gladly chose the right celebrant. Thank you Jenny. -
Honey and Ruel who married under the Moreton Bay Fig trees at Old Petrie Town. It was a special treat to catch up with Honey's sister and brother-in-law, and good friends Lyza and Calvin, whose weddings I had also officiated a couple of years ago.

Thank you so much for yesterday! Well, not only yesterday actually, but from the moment we contacted you :) you have been so upfront and direct, you made it easy to understand what we had to do from the start. Joshua and I are so happy! It was such an intimate ceremony. And thank you for the surprise! You made it so meaningful and cultural too! You are wonderful and I gladly recommend you to any persons I know to be their celebrant. -
Benita and Joshua who married at Underwood Park.
Thank you so much! You did a wonderful job and everyone was raving about how funny and clever our ceremony was!! -
Emily and Tony who married on a private rural property.
Jenn did her best to make sure everything went smoothly on the day and had the knowledge to make sure all the legal aspects were correct and covered. We both enjoyed our ceremony very much and it had a nice personal feel and a few personal touches as well. I feel I could say it would sure beat a Registry Office Ceremony. We wanted a ceremony with the minimum amount of fuss and nothing over the top so it was good to have so many wedding style 'choices'. The custom vows were also very nice, very happy with everything. Perfect. Thank you. -
Cam and Chris who married at Lake Samsonvale with 3 swans in the background and their 2 children involved in the ceremony. Chris looked fabulous in a navy polkadot 50s style dress with touches of red.
We weren't sure what to expect and what to do. You made it very simple and easy and explained everything. We both felt confident, at ease, all the time. We enjoyed filling out the information - made it more personal. [On the day] you made us both relax. Personal and funny! -
Kerry and James who eloped early in the morning at New Farm Park, with a friend and their photographer as witnesses.
Well tomorrow will be 2 months since I walked that garden path, up to my beautiful partner and we become one. I can't put into words how I felt on that day, because no words can describe the pure joy, love, excitement, nervousness I experienced. I would love to thank you to our wonderful celebrant Jennifer Cram, what an awesome lady you are. You made us feel very beautiful and let us glowing inside, never have I felt such joy and wonder what was to happen next. You are a ...treasure to our world. -
Facebook post by Lyn who committed to Sunny at Wineglass Falls Gardens
Hi Jenny, Thank you so much for our special ceremony yesterday. We loved the personal and memorable touches you added. You made it fantastic for us. Thank you. Off to our honeymoon now in Fiji!! Thank you xox -
Aline and Stuart, who married at Brookwater Golf Club in a ceremony that included vows in English and Portuguese.
Hi Jennifer, We just wanted to thank you for such a lovely day. We both feel you are so good at what you do and we are so lucky to have you in our special day. I also wanted to thank you for the booklet and thoughtful gifts your gave us. The meaning behind is means so much to us. Wishing you all the best! You are a great person and do such meaningful things that impact peoples lives in such a positive way. -
Cindy and Charles, who eloped in a very private ceremony at the Powerhouse with their photographer and a passing stranger as their witnesses.
We just wanted to say a massive thank-you for yesterday. We had the best time and everything was perfect (and exactly what we wanted). We really appreciate the extra effort you put in! Biggest thank-you for making our dream wedding/elopement a reality! -
Emma and Martin who eloped with 2 witnesses, 1 photographer and 1 very large and very friendly dog on the Woody Point Jetty.
Hi Jenny, I just wanted to say thank you so much for our beautiful ceremony, it was everything we wanted and more. I have had so many people comment on how much they enjoyed our ceremony and others saying it was the best one they have been to. One of my friends from work said that when her and her partner eventually get married they would like to have you do their ceremony because you made it fun, another friend said they wished they had you as their celebrant because their celebrant was stiff and boring. I must say for me the ceremony was the highlight of the day, you made our wedding day so special, you made us laugh and cry and have the best time, you made it so personal to us that every one of the guests would of possibly learned something about us they may not of known, I have never actually been to a ceremony that was so enjoyable that you almost don't want it to end except for ours, I had so much fun, I will be recommending you to everyone, thank you so much. xxx
Lots of Love Sherie & Andy xxx - who married in the chapel at Old Petrie Town in a ceremony chock full of Irish customs.
Jermaine & I just wanted to say a huge thank you for being our celebrant and making the main part and beginning of our day so amazing. Our ceremony was exactly as we dreamed - we got all the comments we were after and so many more. We got several comments from our guests that you were the best celebrant they have seen & they will be asking for your details when it comes time that they get married. It really set the tone for the rest of the day which all turned out just perfect. -
Emma and Jermaine who married at Links Hope Island Golf Resort.
Mary and I wanted to take some time out to thank you. We only have positive things to say in all dealings with you as our celebrant. From the first phone call enquiry, to the endless email chain and prompt replies from you, to the wedding day itself. We could not have asked for an easier and more relaxed and enjoyable wedding day than the one you helped us to create. You not only tailored us the perfect package but you created a memory that we will never forget. You went above and beyond your role as a Celebrant and assisted us in so many ways.Everything went smoothly yesterday and felt very relaxed and personal. We had guests comment that they had been to many weddings before but none that were as enjoyable to watch and listen as ours. The ceremony you deliver and the way you deliver it made our day everything we could have ever dreamed of and more. We both appreciate th extra customised services that you offer to your clients out of th kindness of your heart, and we will both highly recommend you as a celebrant in the future. Kind Regards -
Mark and Mary who held their wedding at Collins Park, Redland Bay.
I just wanted to thank you for your wonderful service yesterday at the ceremony. Monique, myself and all our guests were very happy with how everything went and I thank you for that. You were fun, professional and everything we wanted in a celebrant! Thank you for your excellent work and enthusiasm on our special day. Kind regards -
Cassandra and Monique who held their commitment ceremony in Cass' mother's back garden.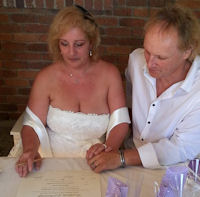 Dear Jennifer, I would like to thank you once again for our beautiful, sweet and wonderful wedding we have had Richard and I. I am back in France (Paris) now but for a few weeks as you already know that my visa has finally been granted and we are so,so,so HAPPY. So I wanted to send to you some pictures from us of a memorable day etched in my heart forever..... Take of yourself, Kind regards
Laurence - who married her one true love Richard in a simple backyard ceremony
Dear Jenny, We cannot believe it has been over 12 months since our wedding day. It has been a very big year since our beautiful ceremony. We must apologize at length for not contacting you earlier to say thank you so much for the wonderful ceremony you created for us. Not a day goes by when we don't say to each other we must contact Jenny to thank her!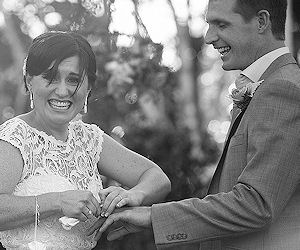 Within the first 5 minutes of meeting we knew you were our celebrant. (Kimmy knew after speaking with you over the phone :-) We loved your matter of fact, practical approach that helped us break away from some of the more cliche'd arrangements on offer. It was hardly surprising that time raced away during our initial meeting! We were so grateful to you for traveling the extra distance when we had a late venue change as we are sure our ceremony would not have been so special without you and your special gift for personalizing our day the way you did. Our Mum's loved being involved and Gigi was so touched by the way you included Kimmy's Grandpa in such a subtle and considered way. The ceremony was so special, low key as we had hoped but with a few twists to keep everyone on their toes and having a few laughs as well. The words you spoke were polished and touching. Particularly the reference to what our government legally terms as marriage and what our opinion of this is. That was significant given our close friend was in attendance with her partner. Your attention to detail and organisation were reassuring even when we threw the birth certificate curve ball at you! You always kept a sense of humor with us during the process. You even saved Brendan's finger from certain amputation! Kimmy cannot thank you enough for all of your suggestions and editing of the vows. It was so important to her that we were clear on what we were promising each other and the keepsake copies of our ceremony were so thoughtful. We can now look back on these as the years pass by and make sure we're always maintaining our end of the bargain! We know this thank you is far too late. But we hope that does not undermine it's sincerity. You truly are gifted at what you do. -
Brendan and Kim who married in the garden of a lovely Italian restaurant.

We are so excited when we hear of upcoming nuptials - because we really enjoy recommending Jennifer's professional services, and raving about our cleverness in selecting such a wonderful celebrant. The best part about working with Jennifer is her intelligent reading of people. We didn't know exactly what we wanted out of a wedding ceremony - but after meeting with us, Jennifer did. She skilfully evaluated what was important to us and wrote us the ceremony we never knew we always wanted. Working with Jennifer was so easy, and we will always treasure our bespoke ceremony. - Sarah and Will.

Jennifer thank you so much for a wonderful ceremony! You are a superstar! Many many wonderful positive comments about the ceremony. Thank you again. - Facebook comment from Jacquie after her wedding to Steve at Topiaries.

Everyone was amazing to fix that disaster Thank you Jennifer Cram it was a beautiful ceremony and thank you for staying while they frantically found somewhere for us. Facebook message from Lee the morning after her wedding to John. A dangerous storm and heavy rain necessitated a last minute change of venue and a delayed start to the ceremony. John followed up with this email: Hi Jenny, On behalf of my bride and I , thank you for conducting our wedding on Saturday, through very trying times indeed. We received a significant amount of very positive feedback in relation to your service, people appreciated the delivery and tone in which you delivered our service and the result was exactly what we were hoping for.

Thanks so much for a lovely ceremony - everyone was very impressed with you and thoroughly enjoyed your delivery. Dad (Jim) said it was the best ceremony he has been to. - Email from Janine, the morning after her intimate handfasting wedding to Paul at their home.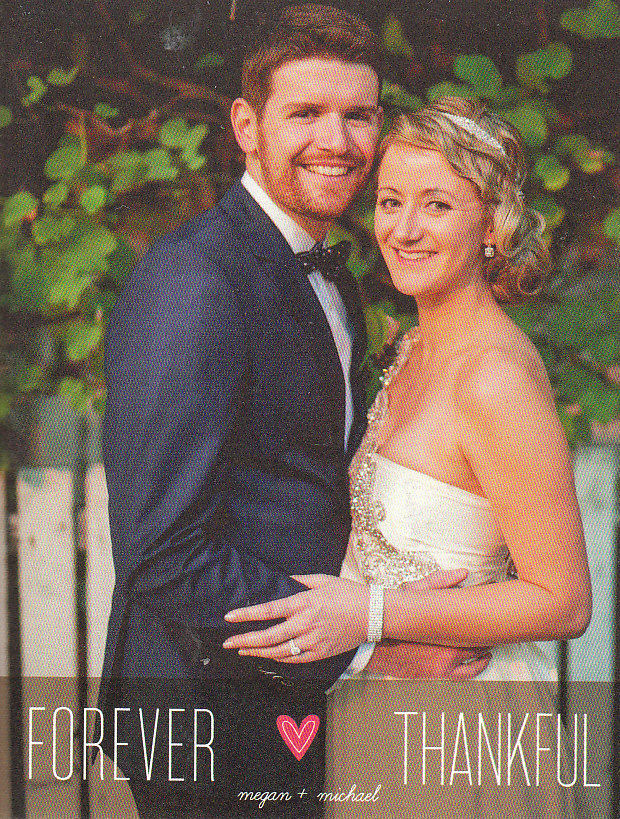 Thank you for the wonderful job you did as our wedding celebrant last year. We will forever hold fond memories of our unique ceremony. Your extra additions were a wonderful special touch. many thanks again and best wishes - Megan and Michael who married at the Powerhouse, New Farm.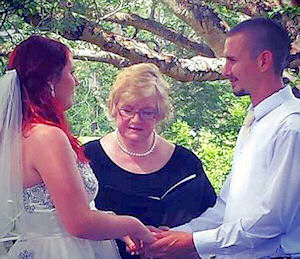 Thank you to our amazing celebrant we had an amazing ceremony - Facebook comment from Jordan and Darryl who married at the Thomas Park Bougainvillea Gardens




Ryan and I would just like to say thank you for all the behind the scenes effort that you put together to help make our day spectacular! We really loved the English/German heritage touch and little items that you bought for the day (I'm now looking to get them framed along with my bouquet which I have sent off for freeze drying). You really went over and above what I was expecting. It was definitely a good surprise! You are definitely deserving of the awards you have earned. Our guests have not stopped raving about what an awesome job you did. We even have friends that said they wished they would have had you as their celebrant when they got married. I have no hesitation in recommending you to others that are looking to get married. Regards, Natalie - who married her sweetheart, Ryan, in the Broadway Chapel on Valentine's Day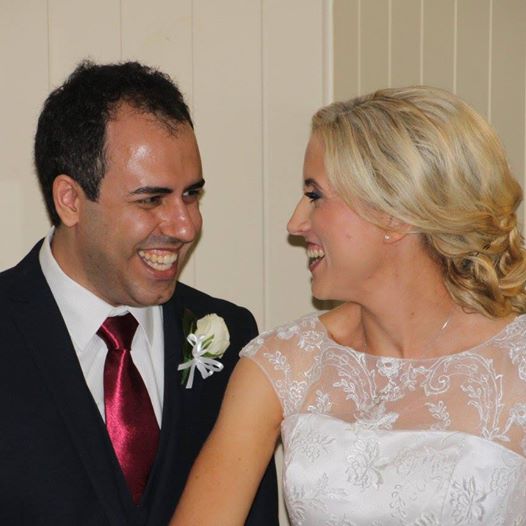 Hi Jenny, Arvin and I are back from our honeymoon and wanted to say a huge thank you for all your efforts for our wedding ceremony. You were fantastic! We will complete the feedback form and send it soon. We will definitely recommend your services. Our marriage certificate also arrived today too so I will start the process in changing my name now (officially, woo hoo) Take care X - Janna and Arvin who married at Topiaries, Samford. Later they sent this testimonial with the post-it attached: From our first meeting with Jenny, Arvin and I felt very comfortable and at ease. She was very responsive when communicating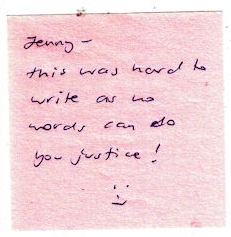 with us. All of our guests commented on how good our ceremony was and are still talking about it. It was obvious how much effort Jenny put into the ceremony which shows her commitment and passion for her job as a celebrant. Definitely recommend Jenny!


If you are looking for a wedding celebrant with a friendly face - speaks very well - honest and forthright in explaining what is required in documents and is punctual in all she does and on arrival to your venue - then look no further than Jennifer Cram. She spent countless hours and at times making phone calls to myself to ensure all is OK. Even to texting me to see how I was going and also my wife. Thank you Jennifer for making our day such a wonderful and joyous wedding. You made us feel very important and you were so patient. We only wanted a simple, old-fashioned wedding and you had no problems with that. -
Neville and Trang who married in their garden.
Thank you so much for Saturday. Me and Adam had the most wonderful day. Thanks you for giving us exactly what we wanted. You made it so stress free and fun thank you so much. -
Carol and Adam who married in the Rotunda at New Farm Park.
Despite the simple and low key ceremony request from our side you managed to make it a very special and warm and unforgettable experience. -
Jana and Francois.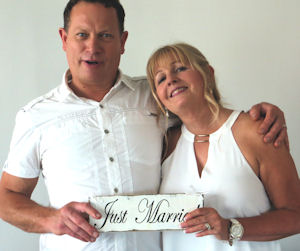 Email shortly after the ceremony from Shanna and Kirk who eloped from Tasmania:
We loved it so much, you made it very special for us xx
Testimonial:
When we first decided we would get married while on holiday in Qld, we started by searching marriage celebrants online. I think Jennifer was the first one I search. It didn't take long to realise I didn't need to look any further. I sent a brief email, just making enquiries and had a quick, friendly, informative response. We chose the Couture Elopement which suited our needs perfectly. Jenny guided us through the paperwork and you really need someone who is experienced and knows what they are doing. On the day, as well as being professional, Jenny also made it fun. She went above and beyond her obligations as a celebrant, which made the day extra special for us. We are already talking about renewing our vows on our anniversary!
Jennifer gave us a unforgettable wedding ceremony. We came to Australia from the USA and really didn't know what to expect. Jennifer was so warm and welcoming and maintained such great communication throughout our whole planning process. We would recommend Jennifer for all ceremonies. I felt she was so creative and had a really good feel for our relationship. Thank you so much for everything. You truly gave us a gift we will never forget. Thank you for taking the time to make it so special for us. -
Brianna and Randy who eloped to Spicers Hiddenvale and used their photographer and the wedding coordinator as their witnesses.
Hi Jenny, Just to say thank you so much for everything and your relentless efforts. You came at a time we needed you most, God bless you -
Beverley and Nonsi who married with a shortening of time.

Our favourite part of the ceremony was how you made us and our families relaxed and comfortable. We were very impressed with the personal touches you added. The way you performed the ceremony was memorable and the assistance you gave us with the legal paperwork was outstanding. -
Pru and Simon who married in their lovely garden with a shortening of time.
Hi Jenny, thanks so much again for yesterday! We had a lot of compliments on the ceremony, and one friend said you got the tone exactly right. Thanks! Annaliese and Johann who married at the Brisbane Botanic Gardens, Mt Coot-tha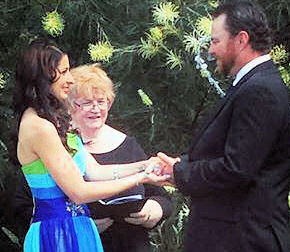 Thank you so much
Jennifer
for a beautiful lovely ceremony on Saturday. Everyone enjoyed themselves and complimented how great you were -
Facebook post from Leonie who married Mark at Mt Crosby Bowls Club in a simple ceremony that involved Mark's three children
.
Later they sent this:
Jennifer Cram was an excellent celebrant. The ceremony was absolutely beautiful. I would highly recommend her for future services. It made us feel very special and it was great that we could have a bit of a laugh through it all. It was magical. Thank you so much for making our special day one to remember (in more ways than one).
Thank you so much again for making our day so special. You were amazing for us, I'm so glad to have chosen you. If I get the chance to recommend a celebrant any time soon, you can be sure yours will be the name I give :) -
Ashleigh & Darren, who had a very intimate ceremony on the Wynnum foreshore with their mothers and several dozen pelicans as witnesses.
Jenny was extremely professional, entertaining, experienced, and friendly. She obviously has a passion for her work and this comes across to all those that interact with her. We fully recommend her to anyone looking for a celebrant. Everything was professional, considerate of us, audible, and pitched correctly to our personalities and audience. Thank you Jenny for making our day exactly what we wanted! It surpassed our expectations -
Hwee Sin and Nick who married at Bundaleer Rainforest Gardens.
Gareth and I would like to thank Jenny for making our wedding better than we could have possibly imagined - to anyone who reads this testimonial I cannot recommend Jenny enough. I was initially impressed by Jenny's website when I was cautiously looking for a celebrant in Australia (on the other side of the world!) to perform our wedding. I needn't have been cautious as Jenny's thorough and impressive website is a clear indication of what you are going to get!
!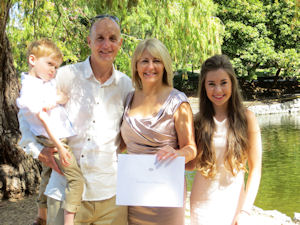 We noted how quick Jenny responded to any emails we sent - when working out the time difference between Australia and the UK it was clear that Jenny responded to any questions sent overnight first thing in the morning!! Not only did Jenny respond straight away but was thorough and responded in a friendly and welcoming way. I was worried that the whole paperwork process would be difficult and complicated but Jenny talked us through it every step of the way and made it a breeze!! Gareth and I chose a 'simple-no frills' ceremony as we were on the other side of the world away from the majority of our family and friends. Jenny made our 'simple' ceremony an absolute delight from start to finish with her sense of humour, friendly manner, and extra touches of gifts with symbolism that Jenny had obviously put extra thought in to. All in all I can honestly say that Jenny deserves all the awards that she has previously won - and I am sure will continue to win - as she puts her heart and soul into all her weddings - simple or extravagant. Thank you Jenny from the bottom of our hearts. Gareth and I couldn't have asked for anything better X -
Michelle and Gareth who came from the English Midlands to be married at the Brisbane Botanic Gardens, Mt Coot-tha.
Thank you again Jennifer for all you put together for us. We really enjoyed the experience and appreciate how simple you made everything. It was lovely but to the point - exactly what we wanted! Many thanks and many blessings. -
Email sent the day of the wedding from a couple who married in an intimate ceremony sitting around a table on the deck at the Botanical Café. They've requested to remain anonymous until they've told their families! A few days later they sent this testimonial:
Our wedding ceremony with Jennifer was perfect. It was exactly what we asked for without any hiccups or issues. This can definitely be attributed to Jennifer's exemplary attention to detail and very thoughtful guidance and advice. She literally considered every detail and was always available and willing to assist us in preparing. We did a registry style wedding because we really just need to get the certificate for international visa purposes - while the experience was simple Jennifer definitely made it lovely and emotive. We really appreciated how simple she made the paperwork. Jennifer really took care of all our needs and requests for our big day!
Dear Jenny, Thank you for a lovely and intimate ceremony. It was special and heartwarming for us. Your professionalism, attention to detail, and sense of humor was highly appreciated. We could not have asked for a better ceremony. -
Jay and Rhuna, who married at the Chermside Bowls Club surrounded by close family and friends.
I would like to thank you with all my heart. The ceremony was truly inspirational, your professionalism, wisdom and dedication to your work and Jennifer as a person I am speechless. Jennifer how you value people and uphold values, we never will forget. The way you speak truthfully and with certainty, is humbling. You could create and mend the broken with your passion and beliefs. Everyone needs a Jennifer to be there in their life !!. You have given me more than you could ever imagine. Truly thankful kindest regards -
Brendan, who married the love of his life, Michelle, in an intimate ceremony at home. Michelle also sent a very long thank you letter with the feedback form. Here are some extracts:
How do I thank you enough? What an amazing gift you have given Brendan and I ......From the start with your patience with my never-ending emails of enquiry to our first meeting which sealed the deal for me you made us feel so comfortable!.... You were incredibly accommodating and especially kind .... When you sent me the draft of our ceremony I read it a thousand times and every time I was reduced to tears ....[On the day, the ceremony was] Amazing. A sensory overload. It was everything and more. It was comfortable but important, light, but romantic. Beautiful in every sense...you hit the nail on the head .... Your experience shows in all the ways you conducted yourself from dealing with our crazy family, to a show-stealing doggy and an over emotional bride who got a giggle fit. Out of 10 you're 100!"