Kind Words from Naming Ceremony Clients

Here are just a few of the many thank you notes and testimonials from naming ceremony clients I've received in addition to the many positive remarks from guests who love the ceremonies, the unique additions, the light-hearted moments, and heartfelt expression of the personalities, values and beliefs of the families for whom my naming ceremonies are created and performed.
Jenny was wonderful. The ceremony for my sons Naming Day and First birthday was flawless, and managed to bring a tear to many guests eyes. None of my friends had been to such a ceremony and were amazed at how lovely it was. - Mandy
It was a lovely morning and the ceremony was exactly what we were hoping for. -
Alyce
I would highly recommend Jenny's services for Naming Day ceremonies. From start to finish Jenny was lovely to interact with and always very friendly and polite. The initial 'getting to know you' form is a little bit daunting at first glance, but the end result of gathering all that nitty-gritty detail is a ceremony that has depth and nuance specific to your family. The guests at our Naming Day all commented that they felt privileged to have been part of something so lovely and special. I'm so glad that we invested the time and effort into the form because we were left feeling like we'd had a really special and meaningful ceremony for our son -
Julie
I just wanted to say a massive thank you for yesterday! It was so perfect and tailored to us to a tee! I loved the sentimental sections about her christening gown & fruits of the earth. It was an incredible ceremony and will definitely be recommending you to others and giving you another call if we need a celebrant anytime soon! Amazing work, thanks again :) -
Chelsea
Jenny is an amazing celebrant who has made our children's naming days special and relaxed without going over the top. Jenny is so easy to deal with and makes everyone feel included and important. I would definitely recommend anyone searching for a friendly celebrant to assist with their special day. -
Jess and Jared.
We wanted to say thank you so much for conducting the naming ceremony. Everyone said it was so beautiful and it was. So thank you once again -
Christine and Shane, who held the naming ceremony for their twins in conjunction with their first birthday celebrations.
It was a beautiful ceremony, wonderfully written and well presented. You were fantastic, we wished we had used you when we got married. Your certificates are beautiful. -
Kelly and Chris, who held their son's naming ceremony at Scotts Point Progress Park.
Jennifer, you provide such a professional and personal ceremony, we wish we had you for our wedding 6 years ago. You make the ceremonies humorous and fun and really know how to engage an audience. Our guests once again commented on what a fantastic personal ceremony you did. Many thanks for being part of our day. Regards,
- Brad and Kristy, who held the naming ceremony for their second daughter in their backyard. It was great catching up with everyone who had been present when I conducted the naming ceremony for their first daughter and seeing how she has grown into quite the little lady.
Manning and I just wanted to sincerely thank you for conducting Isla's naming ceremony on Sunday. You did such a wonderful job and many of our guests have since asked for your details so that they can contact you for future occasions :-). -
Email from Bree and Manning who held the naming ceremony for their beautiful daughter at the Berrinba Wetlands. Their testimonial followed a few days later
: Jenny, we wanted to sincerely thank you for conducting our daughter's naming ceremony. The personalised touches and your overall presence/nature made it absolutely perfect. We cannot fault you in any way. We were particularly blown away by the amount of information you were able to direct us towards and how all the answers you got from us were turned into a TRULY personal ceremony. The mementos (certificates and copy of the ceremony) were also a beautiful touch and will be treasured. Thank you, thank you, thank you!
Email:
We just wanted to say a big thank you for today's beautiful ceremony. We felt that it was very true to our family and was said in a beautiful manner, which everyone commented on afterwards. Everyone thought that it was a beautiful service and enjoyed the days celebrations. Thank you for your patience with Marianna, she is not normally unsettled like that, she was much happier when she got changed out of the dress! But overall thank you for a beautiful ceremony, with words which we will treasure forever. Should we be blessed with another child in the future, we will certainly be getting in touch for another Naming Ceremony!! Many kind regards,
Gemma, Mark and Marianna
.
Testimonial:
I loved the whole experience. I loved how it was personalised to us, putting all of our information together and putting into a beautiful ceremony. I loved the patience that you had when the party preparations were happening and your understanding when Marianna was unsettled. We were pleased with all aspects of the ceremony. Again many, many thanks for a beautiful ceremony -
Gemma
It was simple and effective, which was
exactly
what we wanted. I had a lot of comments on how nice it was. You are great at what you do. Hope to use you again one day! Thank you, Jenny! -
Taryn and Daniel who held the naming ceremony for their daughter at their home.
Jenny, my Nan said it was the loveliest naming ceremony she had ever been to. She loved the detail and depth you went into - thank you so much! -
Facebook comment from Rebecka whose daughter wore the family heirloom christening gown for the occasion.


Thank you for a very special & personal ceremony Jenny.
- Facebook comment from Jacqui, whose son's Jake and Heath were named in a combined ceremony held at Spring Lake Park

Hi Jenny, Just wanted to say thank you very much for yesterday! It was a lovely ceremony and just what I was after. It was a beautiful way to celebrate Caitlin's first year and also to affirm the special relationship we have with dear friends and family. Many thanks -
Jen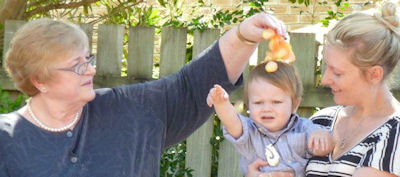 Thank you for making Benji's Naming Day such a special experience. Cam and I received so many comments about how beautiful and personalised the ceremony was. We also loved the opportunity to honour Benji's grandparents during the ceremony and enjoyed the fact that all the guests were made to feel included. -
Bethany and Cameron who held their son's 1st Birthday Naming Ceremony in their backyard.
Hi Jennif
er, Just an email to thank you for performing Lily's naming ceremony. It was absolutely beautiful and both Brody and I are very happy to have had you there. -
Alexandra and Brody who held the ceremony at Underwood Park where the abundant water lilies in bloom on the lagoon added a ver
y festive and appropriate touch.
Thank you Jennifer Cram, such a fantastic ceremony we had lots of comments on how personalised the ceremony was. - Facebook comment from Kristy and Brad whose daughter was named in their backyard while wearing her father's christening gown.

Thank you, Jenny, for performing such a lovely personal naming ceremony for Hamish. It was fantastic! We had lots of positive feedback from our families. You were so professional and clearly have lots of experience. It has been a day we will alwyas remember with fond memories. - Shannon and Sean whose son's naming on the Sandgate Foreshores included a flower blessing.

Thank you so much for today, it was soo perfect! Everyone commented on your service, that you were by far the best celebrant in an event they've attended, and will refer you when someone is looking for a special occasion. - Kami, whose son's naming ceremony on their back deck included a blessing with fruits of the earth.
Thank you so much for the wonderful Dedication service you did for us today it was a wonderful experience that we will never forget. Lots of love Monique and Andrew, whose daughter's naming and dedication ceremony was held in the Brisbane Botanic Gardens, Mt Coot-tha

Just a quick note to say thank you for the ceremony on Saturday. We had a great day and Simon and I really enjoyed the ceremony - it was exactly what we had in mind. We also had very positive feedback from our guests about how well the ceremony went. Thanks again - Amanda and Simon whose naming ceremony for their son included a water blessing.

Just wanted to thank you again for the beautiful and professional ceremony you performed for Alexandra! It was a truly memorable day and very special for Aaron and I and our family. Thanks for making it that way! Here are a few photos from the ceremony. - Melissa and Aaron who including blessing bubbles in the ceremony held at Mt Coot-tha Botanic Gardens

Hey Jenny, Just wanted to thank you again for the wonderful ceremony. Everyone commented on how personalized it was :) I really appreciate how great it was in such a short time, thank you so so so so so much. Was lovely to meet you and all the best.
Emily, whose daughter's naming ceremony was held in the tranquil surroundings of her grandparents' backyard, adjacent to bushland.
Jenny,
Thank you so much for helping us create a beautiful and personalised ceremony for our son. Everyone attending on the day commented on how lovely it was! It was such an easy process and a pleasure to work with you. Will be recommending your DIY Ceremonies to all our friends and family.
Regards, Michael and Jodi - whose son's naming ceremony was held in Western Queensland and including a candle-lighting
.


Jenny, you were fantastic. You had a pleasant manner and we enjoyed your emotion and humour within the ceremony. It made Jaxon's day truly special. Thank you! -
Kirsty and Jason who held their son's naming ceremony in the tranquil surroundings of Kalinga Park and included a balloon release in the ceremony.
The experience allowed us to help create the service, It made it extremely personal. Jenny was thorough, caring, and detailed in bringing the script/service to life. She met our timeframes, given the limited notice, which was terrific. She captured everything we wanted in the day and found special ways to include those important to us. -
Shannon, who used the
DIY Naming Ceremonies
service for her daughter's naming ceremony held in Sydney.
The whole experience was easy thanks to you. We had the family in tears, they were all very moved by the ceremony. I received wonderful feedback all afternoon. My inlaws were not very happy about the idea to start, but after it was finished they said it was the most beautiful ceremony they had attended, far better than a christening in church, as it came from our hearts. Thank you. The process was great fun to go through, and the presentation of the ceremony script was beautifully done. It was very self-explanatory, very easy to follow. I don't think you could make it better. We're very satisfied and thankful for your time and help. The certificates are beautiful
11
/
10
-
Anne, who used the DIY Naming Ceremonies service for her son's naming ceremony held in the Blue Mountains.


Once again you exceeded our expectations. The way you included Jazmyn with Addison's naming was breathtaking. Thank you once again for an amazing, heart-warming day. Words can't describe how we feel after each ceremony. Well done! - Melissa and Phillip after the naming of their second daughter, the third ceremony at which I'd been their celebrant, having also had the pleasure of marrying them.
Dear Jennifer, I have been meaning to send you this email for some weeks. On October 24th 2010, I was honoured to attend the naming ceremony of my darling grandson. I was very impressed with the ceremony and your delivery of it. Numerous other guests commented favourably as well. As a practicing Christian, I would have preferred a baptism but acknowledge that my daughter and son-in-law have the right to make decisions for their child. Your words at the ceremony reflected this and took into account that we all have our own journey in life. I also thought it was lovely to include the grandparents as you did and will treasure my Certificate. I know Aaron and Elana were very happy with the ceremony. Once again, thanks for a experience and I wish you all the best.
Kindest Regards - Angela
We had a great day. All of our friends and family made comments about the ceremony! They thought it was personal and about family and love. thanks for making it a great day. We would have no hesitations in recommending you to others. Many thanks -
Ursula, Andrew, Elodie and Nicolas
Was extremely happy with the ceremony. It set the mood for the rest of the day. Thank you so much. -
Andrea and Simon. It was a great pleasure to conduct the naming ceremony for their second son and to catch up with the family and marvel at how their older son, whose naming I performed a couple of years ago, has grown.
Hi Jennifer, How are you? I just wanted to say a big thank you for making Jayden and Maya's Naming Day so magical! EVERYONE is still talking about how unique and personal the ceremony was. You do an outstanding job and I could not fault the day. So thank you for sharing the special day with us all, I shall be sure to recommend you to anyone in need of a celebrant. Thank you, I appreciate everything you did for us! Regards,
Alanna and Caleb whose children were named at Alanna's mother's home in Forest Lake
Hi Jenny, Mat and i would just like to thank you again for a wonderful ceremony. Everyone said how lovely it was and well suited to us! It was just what we wanted! Thanks so much and we'll be sure to recommend you! Thanks -
Jess and Mat who held the naming ceremony for their son at his grandparents lovely home.
Jenny, both Bryan and I were thrilled with the ceremony. It was so personal, so relaxed, & you conveyed our feelings, thoughts, beliefs, values, dreams & love beautifully to everyone there. A number of the guests came up to us after the ceremony, during brunch, & said how lovely it was. Joanie said "better than any christening she's ever been to" & she's very religious. Thank you so much Jenny - a beautiful, wonderful, lasting memory -
Heidi and Bryan, who held a naming ceremony for their two children on Bryan's parents back deck.
6/7/2010 Dear Jenny, We just wanted to thank you for performing the most wonderful naming ceremony for our two children, Renae and Mitchel. Your professionalism and attention to detail were second to none.
Casey participating in the naming of his little sister. We chose you because you stood out from other celebrants. Your web site was not only the most informative but also compassionate. We really loved your meaning behind naming ceremonies and were taken by your understanding that naming ceremonies are applicable to older children as well as infants. You believed like us that they are all special people in our lives. The ceremony that was as personal as if we had written it ourselves. You also spent a lot of time on countless drafts to make sure we were happy with the final product. On the day, you arrived on time and introduced yourself to all of our guests and the guests of honour, our children. You also took the time to have a private discussion with the Godparents. The ceremony was flawless (except for the crows in the trees that thought they'd join in!) and a number of the guests made the comment that you had a presence about you that drew everyone. They loved the personal nature of the ceremony. We in particular liked that you involved our eldest child, Casey, letting him sprinkle rose petals on his brother and sister as part of the ceremony. His Godparents, who were also present, re-lit his candle when the others were lit which held great symbolism for us. All in all, you have impressed us immensely and we would not hesitate to use your services again or recommend you to others. In our eyes you're fantastic! Thank you very much and we wish you all the very best.
Suzanne and Dean
Mitchell's Naming by Jennifer Cram, Brisbane Naming CelebrantJenny produced a beautiful ceremony that was very personal and tailored to include everyone. Many people have commented since that it was the loveliest ceremony of its type they've been to and certainly the most personal. The information included in the ceremony about the godparents and grandparents was particularly lovely and really distinguished it from other ceremonies I've been to. The rose petals were a gorgeous touch. Thanks so much -
Karen, who celebrated the naming of her son on his first birthday.
I thought it was very well laid out, therefore it made it a wonderful experience that my family and I will remember forever. -
Jasmine, whose son Domanic's naming included a sand ceremony.
Hi Jenny. I just wanted to drop you a quick email to thank you again for the lovely ceremony you conducted today. We received so many comments from our friends and family after the ceremony saying they thought it was excellent. We shall certainly recommend your services to anyone else we know who is getting married or having a naming ceremony in the future. Many thanks,
Geleeta, James and Sage.
Hi Jenny, We just wanted to thank you for your lovely ceremony last Saturday. It was exactly what we wanted and was enjoyed by all. We especially liked the personalised touch you gave. We also appreciate you performing this at such sort notice. Perhaps we will see you in another year or so with the next one!! Kind regards,
Danielle and Will whose naming for their daughter Charlotte was arranged to coincide with a short trip back home from overseas.
Thank you for such a beautiful & perfect naming ceremony for both our children. The words,& readings were both inspirational & thoughtful. Everyone felt included in the ceremony & commented such afterwards. A beautiful memory for our family. Thank you.
Kerrie, Brendan, Gemma & Cooper who celebrated the naming of Gemma in their own backyard and two years later held a naming ceremony for Cooper in the same place.
The ceremony was a wonderful experience - everything said was beautiful. Guests commented it was so nice it was like a wedding. it made us feel the day was a very special way to introduce our baby. We'll never forget it. -
Tamara and Greg, who celebrated the naming of their lovely daughter Ruby at home with the planting of a rose bush.
It was great your level of interest in adding so many personal details in. It felt like such a special day for us as my family is all over here and doing this made the trip so much more special. - E
Our experience with Jennifer doing our Naming Ceremony went above & beyond our expectations. The day went perfectly. She was able to understand and deliver exactly what we felt in our hearts. Thanks for making it so personal & special. x - M & G
Just wanted to let you know again how happy we are with how everything went. The ceremony went perfectly, it was just how I imagined it to be. I will be recommending you to anyone who needs a good celebrant!! - M
Very emotional. You made everyone feel part of the ceremony and a part of G***'s life. - K & B
Thank you for another great ceremony. You're awesome at what you do. - K
You are a complete package Jennifer. You offer everything on your website we required, all of exceptional quality. We didn't need to be afraid of asking any silly question - you lovingly answered all. [Your performing of the ceremony] was exceptional - very clear and patient. Ability to help us out with words and directions was excellent. -
Heidi and Michael, who held their combo wedding and naming ceremony for their two sons in a family oriented ceremony in their own garden.
Dear Jenny, We cannot thank you enough for the most wonderfully moving naming ceremony ever. We were all so touched; there wasn't a dry eye in the park! We loved how you made Lily's day so special and personalised. I have had phone calls from people tonight just to say how much they enjoyed the day, and how it was the best ceremony they have ever been to. We thank you for being so amazingly talented at what you do; you have a very kind heart and that showed in your service. Thank goodness we found your website! Thank you, thank you, and thank you, a million times over. What a wonderful day.-
Rose, Daniel & Lily whose naming ceremony was held at Moora Park, Shorncliffe
Our experience with Jennifer doing our Naming Ceremony went above and beyond our expectations. The day went perfectly. She was able to understand and deliver exactly what we felt in our hearts. Thanks for making it so personal and special -
Mel and Grant
Good morning Jennifer, Thank you for you ceremony on Sunday, everyone commented how beautiful it was, especially the certificates. Kind regards,
Kim, Jeffrey and Katelyn
.
Dear Jennifer, Thank you so much for working with us on our wedding and naming of Sam. The whole process from first meeting to ceremony was a pleasure. The ceremony was great and met all our expectations (exceeded them). Ws felt your attention to getting all things perfect paid off and we had a stress free and forever memorable ceremony. We were really pleased with how the day went and all had a great time -
Michelle, Ben, and Sam who had a combination wedding and naming ceremony at the Latrobe Chapel.
Everyone present found it a moving and very enjoyable ceremony. Wonderful job. Thank you so much for a wonderful morning we will never forget. M & P
We loved, and everyone present commented on the service being so personal. You are so easy to talk to, like someone we'd known for years. When we have baby number 2, we will give you a call for his/her ceremony. Wish we'd met you when we were getting married. Z & B
Thanks so much for a fabulous ceremony, it went far beyond our expectations. Thanks for all the work you put into the ceremony it meant a lot to our family, Love C, D & E
When I think back to my initial hopes of what the day would be, they were certainly fulfilled .... and more. It was an emotional day for all and I am certian it will always give us warm and fuzzies when we think about it. Guests are still raving about the ceremony and how personal it was to all. - D, E & M
Oh thank you Jennifer, it was beautiful and all because you turned our words into something wonderful that touched all of our hearts. i was amazed at how choked up i got with emotion ... everyone said it was a beautiful afternoon and i dont know how i can ever thank you enough. so thank you a million thank you's. - M
Thank you Jennifer, Thank you. We had a lovely day and so did everyone we invited. We had lots of people tell us how beautiful and personal the ceremony was. So Thank you from the bottom of our hearts. - L, J & O
Thank you so much for making a beautiful day 'perfect' in every possible way. Everyone who attended commented on what an absolutely beautiful ceremony it was with personal touches that made all the difference. Jennifer, you made everyone present feel a part of the ceremony and made every word and action meaningful. Thank you once again for making L******'s day more special than we could have ever imagined. - L & L
All of our guests commented on how personal, professional & genuine your service was ....we agree

Thank you for a wonderful ceremony. our guests are still talking about it, as are we. ... D*** and I hope to use you again sooner rather than later. - A & D
It was so personal & brought a tear to many eyes. Professional & the certificates & folders made everything even better for memories sake. Thank you so much! - L & J
Thank you so much for E****'s lovely naming ceremony. So many people have complimented us on what a wonderful heartfelt ceremony it was. We enjoyed the whole experience and felt that it was a true reflection of our sentiments. -