Kind Words, Testimonials, and Love Notes about Weddings




Here are just a few of the many thank you notes and testimonials I have received about weddings I've officiated. I also receive many positive remarks on the day from guests who love the heartfelt expression of the personalities, values, and beliefs of the couples for whom I create and perform the ceremony, and the unique additions and light-hearted moments that are a feature of all of my marriage, commitment, and renewal of vows ceremonies. These are genuine testimonials. The originals can be viewed when you meet with me.

From Couples


Our wedding last weekend was magical. The ceremony was so special. A and I loved every minute of it and our guests were so moved by it - we've had such beautiful feedback from family and friends about how meaningful and truly unique the ceremony was. People genuinely felt really privileged to be a part of it. I can't put into words what it means to us that D. married A. and I - it really made the whole experience so personal and everybody in attendance felt the gravity of it. None of this would have been possible had we not found you. You encouraged us to be brave and make this wedding our own. Your care, expertise, deep thought and support throughout encouraged us to believe in ourselves and enabled us to create the wedding ceremony of our dreams. Words cannot express the deep gratitude that we feel for you and everything that you have done to make this possible. Thank you so much. With deepest gratitude and much love -

S & A

who used my

Undercover Celebrant

Ceremony Writing and Coaching Service to create their unique handfasting wedding.

Thank you again for such a beautiful ceremony - we could not have asked for anything more, the level of detail and emotion was heartwarming and it all felt perfect! We also greatly appreciate your gift of luck - we have it hanging up already. Thank you endlessly once again for the perfect ceremony - we will never forget it -

J & L who had a Married-in-a-Minute ceremony at the Brisbane Botanic Gardens, Mt Coot-tha

We wanted an intimate backyard wedding with the shortest ceremony possible, and Jenny was perfection from the first interaction. She's incredibly professional, thorough, and understanding in exactly what you want for your wedding. She communicates frequently during the entire process and her website is unbelievably informative and full of lots of interesting ideas on how to make your wedding ceremony uniquely yours. Our ceremony was the shortest legal option available, with an additional handfasting thrown in, and it went seamlessly. She arrived early, ran through how the ceremony will go with us (which she also had already sent a few days before via email), was very personable with all our guests and relaxed throughout, even when our toddler got excitement overload! She is exceptionally priced, and offered the best prices I had come across especially given her experience. Would HIGHLY recommend! Thank you for helping make our perfect day! -

Google Review from Gillian and Nick



A perfect experience! Everything about dealing with Jenny is amazing. Professional, thorough, full of plenty of ideas and understanding in exactly what you want for your ceremony. I don't have enough praise for her and no other celebrant is worth considering! Thank you for helping make our day perfect!

- G

We cannot thank you enough for being our celebrant. From the start, you have been so accommodating with all the date changes and when we finally got to the day, everything was so perfect and we are so grateful that you were involved. Thank you for sending the keepsake through, we are so appreciative of memories from our special day. Also, thank you for being so reassuring with Christopher's mum about our ceremony. You are so correct in saying that our signing in Perth was the boring paperwork part and the ceremony was the emotional part. We never looked at it that way, but it is so very true. Our families mean so much to us and we are so happy to proclaim our love in front of them. From the bottom of our hearts, we thank you again. - Christopher and Kz

Again, we are very grateful for the thought that you are putting into helping us realise a really heartfelt and meaningful ceremony. - Email received from an upcoming bride


Can I say a massive thank you from the 'bottom' of our hearts (and coffee ) for such a thoughtful and beautiful ceremony. You are such a delight and we feel truly blessed to have you officiate today. It was certainly a great way to end 2022. My parents also want to say a huge thank you as well, they made several comments about your professionalism and also cheeky side. Hope 2023 is a wonderful year and brings bountiful opportunities for others to experience your beautiful presence. And C and I chatted that when we renew our vows we would love to have you again. Much love to you, Happy New Year, stay safe Love and hugs -

S and C Jennifer Cram Celebrant best celebrant ever my wedding was awesome funny and full of love - Cindy

Jennifer is amazing at what she does, we chose her because she is professional, but easygoing, and just like a caring mother, this was perfect, as both our own parents could not travel. Our ceremony was small but with Jennifer's help felt intimate and just right. Her experience, advice and support leading up to and on the day, certainly helped us out and gave us a positive start to our new married life. My now wife and I thank you Jenny, from the bottom of our hearts. -

Che and Amity

Jennifer was absolutely amazing. We chose to do a hand fasting for our vow renewal. She wrote the most perfect ceremony for us. Filled with humour, interesting parts of our relationship and sprinkled it with magic. Everyone loved the ceremony. Simply the perfect start to an amazing day for us. -

Kim & Tung
Jennifer conducted our commitment ceremony and then 13 years later when we got married we were certain Jennifer was the perfect celebrant for us. She includes amazing, meaningful parts in the ceremony and is so thoughtful. She makes the whole process relaxing and enjoyable and leaves you with tears/goosebumps and amazing memories of your special day. - Paula and Michelle, who married at Mercure Clear Mountain Lodge, both times.



Jennifer was an incredibly helpful and accommodating celebrant, even though we wanted a quick ceremony with minimal fanfare, she still made the entire ceremony feel unique and special and was an absolute pleasure to deal with. I highly recommend her! -

M. who married his love in a Married in a Minute LITE ceremony.

We would like to thank you so much for all you did for us on Saturday. As A. said, you spread good energy amongst the audience. We will always remember you. -

Ali and Yasi who married in a beautifully styled ceremony in their back yard.

It was such a pleasure having Jenny as our celebrant , she was so easy to deal with from start to finish and she helped personalise our ceremony to make it not only fun but captured all the special moments about our life together , and she wasn't phased when our dogs got excited dogs barking during the ceremony if anything she made it very fun and entertaining would thoroughly recommend her to anyone wanting to make their day extra special -

Sherryn and Pete who married on their own rural property


Thank you Jenny for helping to make our wedding day so memorable, and making the entire process so straightforward. The combination of your professionalism and relaxed good humour brought a perfect balance to the ceremony, and I cannot recommend you highly enough

- Richard who married the love of his life on their own deck in a wedding we pulled together in 10 days (with shortening of time permission) What a wonderful experience we had with Jenny - from the initial engagement, to the planning process and the ceremony itself, she was absolutely amazing. Jenny was so helpful in creating our special day and she added wonderful, thoughtful and personalised touches. We are so grateful that we had her guidance and I couldn't imagine anyone else to see our special day come together. Her passion for her work is evident and she carries her duties with high integrity. A true professional in every sense of the word! - Suz & Matt who married in the New Farm Park Rotunda
Good morning Jenny. Wow what a day, we were so sorry that we didn't get chance to say goodbye or thank you. We absolutely loved the ceremony it honestly was so much fun and was light hearted and exactly how we wanted it to be. You went above and beyond and really made it personal and I LOVED the Hungarian twist and scouse custom at the end that really did top it for us. Everyone said through the night you were fabulous and they enjoyed it so much. We will honestly remember it and you for the rest of our lives. Thank you again. Emma and Laz (text received 6.45 am the morning after their wedding at High Church). They followed it up with a lovely Facebook review:

Thank you Jenny for making our day super special.

We had our fair share or drama with contracting covid a couple of days out from our previous date but Jenny was SO understanding and was easily and fuss free available on our new date.

Even though we built our vows and went through the process with Jenny she absolutely smashed it out the park for us on the day with some off script additions which made it totally personable and heart felt. She captured the raw emotion and what was important to us thank you so much Jenny.

After the ceremony and in to the evening and the days after guests said what a wonderful celebrant she was.

I would 110% recommend Jenny

Thank you again

Emma and Laszlo xx


My husband and I had the privilege of having Jennifer Cram as our marriage celebrant many many years ago. This is how we first met. Our marriage traditions were somewhat different to the way it is usually conducted in Australia as we come from Iran and have the Persian culture but I was amazed how Jenny was accommodating and she did her own research and surprised not only us but the guests with her knowledge of the culture and implementing it with the Australian marriage ceremony. Working as a migration agent and specialising on partner visas, I have since referred all my prospective visa applicants to Jenny and they have all been very pleased with her services as their marriage celebrant. I would definitely recommend Jenny as an excellent marriage celebrant and have no doubt that her professionalism, warm character and lovely personality would create a memorable wedding ceremony for you! Thank you Jenny :) - Roya Majd

An amazing celebrant. Really listened to what we wanted and put together a ceremony that built on our ideas. Would recommend to anyone who wants a marriage or commitment ceremony. - Lachlan

Jennifer was an incredibly thoughtful and conscientious celebrant who went out of her way to deliver the wedding *we* wanted, rather than trying to push towards more traditional vision of a wedding - Peter


Jennifer married us in a Irish themed wedding full of Irish customs , she is very pleasant, thorough and engaging as a celebrant. Her services are very professional, personable and her indepth knowledge of Irish customs suprised me as an Irishman. I cant rate her high enough.

- Andrew

Thank you so much Jennifer for being part of our happiest experience of our life. Your flexibility as well as promptness to our enquiries made this process, is greatly appreciated. I would highly recommend you to all my friends or anyone who would like to register their marriage in Australia. Thanks :-) L & H

Jennifer was amazing! Always available to answer silly questions that popped up - and handle emergencies like my husband not having any photo ID - and made every step of the planning process easy and straightforward. We had included handfasting as part of our ceremony (Irish, Scottish, Swedish heritages) to honour both sides of our families being joined. It was magical and Jennifer made it feel like a natural part of the ceremony. I honestly cannot recommend Jennifer's services enough! She is the calm presence you need when you have wedding brain for sure! -

Ellysa and Huw who had a backyard wedding We decided to get married in the middle of Covid. Jennifer gently guided us through the whole process. From the paperwork, our vows & how to keep it Covid safe. Originally we were only just get the paperwork done, but Jennifer offered for us to have a small ceremony at her house. We ended up having a small intimate ceremony, which we both cherish. She went above and beyond to make sure we had a special day and we can't thank her enough. - Peta
Jenny, once again you have worked your magic and made getting married such a beautiful and memorable experience. Barry and I can't thank you enough for all your hard work in making our day truly special. Your depth and breadth of knowledge of international traditions as well as the added bonus of Afrikaans language skills is incredible. Baie dankie, liefde Barry and Sharon xxx, who married in the Chapel at Macarthur Park Wedding Gardens.

We wanted to thank you from the bottom of our hearts for creating the perfect ceremony for us. Many of our family told us that it was the best ceremony they had ever been to (we're mostly confident that they weren't just flattering us and truly felt that). We loved the surprise horseshoe – such a lovely ritual during the ceremony and now a lifelong totem hanging in our home. Of course, we got so much more out of this process, including the sneaky time capsules and useful relationship resources. - Email received from Tia and Brenton on their "Oneweekversary"


Jenny married Lena and I in August of 2020. Lena was migrating from overseas and we needed someone who knew the ins and outs of all the legal requirements, as well understanding our needs as a couple. Jenny absolutely nailed our ceremony, and we could not have been more thrilled with the way she conducted the gathering. If you are looking for a kindhearted, down to earth and loving person to marry you on your special day, then Jenny is the celebrant for you.

You are a wonderful person Jenny and Lena and I both think very highly of you. We will be in touch one day again when it's time to renew our vows, or if you ever just want to catch up for coffee and cake.
- Shane and Lena who married at The Lighthouse Restaurant, Cleveland


Jenny did such a wonderful job at our wedding. She was warm, friendly and professional and was always quick to respond to our queries. Our family commented on how she kept things light and fun while still investing meaning into our ceremony. Thanks for an amazing day Jenny! We're so glad we chose you to share it with us!! - Hayley and Shawn, who married under a beautiful old tree in the City Botanic Gardens.

Jenny made us a wonderful marriage ceremony. She was wonderfully friendly but also professional. She responded to our questions quickly (even when we didn't) and made the day very special by listening to what we wanted. Thank you Jenny!
- Lucy and Max, who married in their back garden

I can't thank you enough for your help. You're very professional, but give very personal service. The sixpence you gave us is a wonderful keepsake, along with printing our vows for us. Thank you for caring xxxx
-
Peta and Terry, the morning after their wedding
We highly recommend her professionalism, kindness, support and how she made our day special.
Jennifer even researched about filipino culture wedding .
The process is simple for US and effortless. All information is given by her.thank you so much! -
Brenda and Oliver, who married on the deck at The Gap Tavern
Just want to say a big Thank you for being our celebrant, we both loved our little ceremony, -
Adam & Max who married in a COVID-19 "Rule of Five" ceremony.
A humanist ceremony blended with our own words, physics and psychology quotes, ancient ritual and modern law. A tall order which was easily achieved by Jennifer. Our ceremony was both joyous and dignified. Thank you x -
Kym & David
I highly recommend Jennifer as your celebrant, particularly for couples who don't want an overly religious ceremony and those who come from different cultural backgrounds. Jennifer is INCREDIBLY professional and very knowledgeable about the legal side of marriage. She came up with an amazing ceremony for us, including suggesting the involvement of a traditional marriage ritual from my husband's cultural background. She thinks about details such as how to be positioned so your photographer can get the best angles for your wedding photos. Please meet with Jennifer, I am sure you will be thrilled with her service!

❤️
-
Jess
You have been amazing, I can not thank you enough for all the help you have given us, the visa is stressful enough but you made this process so much easier, thank you from the bottom of our hearts it's been a tough long road -
Sheree
Thank you for the very genuine and loving aura you brought to our registration of marriage ceremony. Shiv and I are blessed by your presence and tokens. Thank you again. -Shweta
Jennifer was an outstanding marriage celebrant!! She helped us with everything, was aware of all the small details and thanks to her we had a beautiful, warm and wonderful ceremony that touched our hearts! -
Constanza and Gonzalo.
Jenny was an AMAZING celebrant, made our day so personal and did a lot of prep work to get to know us, what sort of day we were looking for. We wanted something quite intimate and relaxed, and very personal. The ceremony was a beautiful representation of us as a couple, and I can't recommend this woman enough if you are looking like we did for something that isn't generic, that is really 'you'. -
Floraidh
I would recommend Jennifer !! We are so lucky to have her as our celebrant ! She is creative and gives you lots of useful information to guide you. She is a wonderful person and very thoughtful .She cares about you and she will definitely make your wedding day the best ever. Because she really cares.
Thank you Jennifer
the wedding won't be the same without you,
we are truly blessed to have you -
Amanda and Thomas who married at Hillstone St Lucia.
We had Jennifer as our marriage celebrant. She was excellent, from start to finish! She was very detailed in her communication with us. She was also understanding when we had to start the ceremony late waiting for the arrival of other people. The ceremony went on perfectly! She even had some nice meaningful words to say with a token to remember for our special day! We would definitely recommend her services to anyone seeking a celebrant ! -
Scott and Fah who married at Scotts Point Beach.

Thank you so much for a wonderful ceremony, Elke and I were very touched with your conduct and attention to details, as well as your understanding of the shenanigans. -
Clive and Elke, whose best man co-ordinated a hilarious prank during the ceremony that had everyone in fits of laughter, particularly the bride and groom.
Thanks for everything, loved our little ceremony and the cruise was great. -
Lyle and Maureen, whose Married-in-a-Minute
TM
ceremony was held in their hotel apartment the afternoon before they departed on their honeymoon cruise
Jennifer was excellent at making our special day comfortable and personal. I would highly recommend
her to anyone looking for a reliable celebrant with a personal touch. Thank you again - Julie
Jennifer was a perfect choice for us when we decided to have our legal wedding ceremony. We had a commitment ceremony 8 years ago and Jennifer helped us to make our day incredibly special, unique and lots of fun without replacing our original wedding -
Jayne
.
Jennifer gave an extremely wonderful and heartfelt service at our wedding. Both my husband and I wer
e in awe by how wonderful Jennifer was. She took the time to dig deep into our wishes and put together a personal, fantastic ceremony for us. I would recommend Pride Ceremonies to any couple who are looking for a more personal touch. Thanks Jennifer - Mitchell and Stephen
We want to say an enormous, gigantic thank you for all of your amazing work I will have the feedback form completed soon. I won't say goodbye because I'm confidant our paths will cross again. The ceremony was beautifully written and performed. We were so grateful to have you marry us and I simply can't thank you enough. Our guests were all moved with your ceremony - especially our families. -
Christopher and Michael who married at Eco Studio Fellini
Jenny was absolutely wonderful, she made our wedding extra special, great value for money, such a very relaxed ceremony, everything we wanted and more -
Nici and Sharon,
who also commented: [The ceremony] made us both feel extra special, and the relaxed atmosphere that you brought to us and our guests. We both loved how you welcomed our parents, even the ones that are no longer with us. And how you included the kids and grandchild. Everyone that we talked to loved how the ceremony free flowed and the original layout you presented to us. It was wonderful and amazing. There was not a dry eye in the house.
Thank you so much for helping us make our wedding day the success that it was. You made the process so easy for us so we could focus on other details. Again. Thank you so much!! Lotsa love -
Rod and Yohan xoxoxo


We found Jenny through her website and knew our search for a celebrant was over. We booked her 'Warm and Wonderful Weekend Wedding' which was perfect for our garden wedding, simple and to the point. Jenny is knowledgeable, prompt, appropriately attired, excellent value for money, and most importantly to us, very precise with legal paperwork. Jenny is 100% professional and she
WONT
let you down! Don't worry about the rest, she's the best! -
Rebekah and Glen
Our wedding was the best event we have ever been part of. Jennifer's calm and thoughtful approach encouraged us to make it entirely our own, with all of the bits we wanted and none of the longwinded elements that are so often part of a wedding. The most precious gift Jenny gave us was encouraging us to think about what we most needed to hear from each other in our vows, and to write those things as a conversation between us. We actually wrote our vows in the car, driving back home from our first meeting with Jennifer. The attention to detail was perfect, and Jenny gave us sound advice on seemingly unimportant little things like where to secrete the rings prior to the ceremony, and how to hold hands so that the exchange of rings wouldn't be awkward. We have heard so many people say that they didn't actually enjoy their own weddings as they were so stressed - we had a ball, and not even a week into married life we are wondering how soon we can renew our vows and do it all over again!
- De and Graham who tied the knot at Arts Tree. They also commented:
You were super organized and very clear on all the things that needed to happen. It was fun meeting with you too. We both loved that it was simple, respectful, and not tedious at all. Many of our friends have commented that it was the best wedding they have ever been to! "All of the good bits, none of the shit bits".
>Brandon & I both found Jennifer to be warm, down to earth, and incredibly helpful (think: like the cool Aunty who tells it like it is, and helps where it's needed ). The process was simple for us, so very simple & effortless. We were given plenty of information, and we absolutely loved Jennifer sharing her knowledge of customs & traditions of different cultures, her background knowledge is absolutely incredible. I personally felt like Jennifer is a celebrant because she truly loves it, not just because a course became available or there was an opening in the market, like some! My mother actually asked how much time we had spent with Jennifer prior to the ceremony, when I replied 1 sitting and a few emails back and forth mum's jaw hit the floor. It was like Jennifer had a true insight into who we were as individuals & a couple, you could have sworn she had known us for years. We would highly recommend Jennifer as a celebrant for her professionalism, knowledge, support, kind words and how special she made our day. Could not be happier! Thanks again,
Brandon & Nickie
.
We are both very happy with the service from you, you were so helpful with the visa process, very accommodating, and made us feel very welcome. You made it feel extra special even though it was mostly 'formalities' before the big day. -
Sharon and Martin

It was very relaxed and friendly. So many people have said how happy we both looked when looking at our photos. We felt very special and we both feel different now that we are officially married. - Jo & Adrianna, who married on the back deck of a friend's home.

Hi Jenny, Miles and I would like to thank you so much for the wonderful ceremony you performed yesterday in our home. It truly was warm and wonderful! So many of the guests said the ceremony was the best they'd been to. Your manner was warm, friendly and sincere. You were able to weave a personal and unique ceremony from our answers to your questionnaire. We were most impressed with how you delivered a ceremony that was a true reflection of us. It went beyond our expectations and we would highly recommend you as would many of our guests. We couldn't help but be moved by your beautiful and meaningful words regarding what marriage signifies. It was pure artistry. We really appreciated the professional and efficient way you dealt with any queries. Thank you for making our day extra special. Warm wishes - Eileen and Miles, who married at home.

Allan and Claire each wrote a testimonial after their wedding at The Landing at Dockside. From Allan: Jennifer was wonderful. The ceremony was relaxed and enjoyable. Our guests all enjoyed the ceremony and all commented on Jennifer's knowledge and passion for the process. Jennifer's knowledge of Claire and myself and involving that in the ceremony was so nice. From Claire: Thank you Jenny - loved the relaxed format of our ceremony and the passion and enthusiasm you have for your work. So many people had good things to say. We would certainly recommend you to anyone needing a celebrant.


Michael and I knew we wanted to get married in a small and personal ceremony before the birth of our child, but we had no idea how to put it together, and Jenny was full of helpful suggestions and led us through the process until we had a venue and process that felt right for us. On the day of the wedding, she soothed my partner out of his nerves about public speaking and led us easily and naturally through our vows and all of the legal parts of the ceremony. Our guests all commented afterward that Jenny was an engaging celebrant and the ceremony was more interesting and personal than a regular wedding. She had a surprise for us mid-ceremony that will become a fond memory and something for us to share with our child in the future. Our wedding was perfect for us and we're very happy we selected her to guide us through the first day of our marriage. -
Jamie and Michael, who married at Saké Restaurant, Eagle Street Pier.
Jennifer was the perfect celebrant for our wedding. We wanted a casual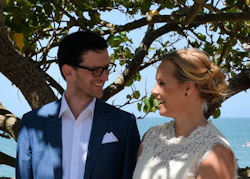 ceremony in a place that felt 'Australian' for us with a happy gathering of a few important friends. Jennifer made it extremely easy to tailor one of her wedding packages exactly to our wishes with only the necessary amount of legal and formal parts and the majority focusing on the two of us and how happy we are to get married in Australia. I would highly recommend Jennifer to anyone any time. -
Eva & Andreas married at Scotts Point.
Dear Jennifer, Mark and I can not thank you enough for your services. As effortlessly as you delivered the whole ceremony, the guests would not have known how much work you had put in to making our day as wonderful as it was. We knew!! We completed all those surveys and sent multiple emails which you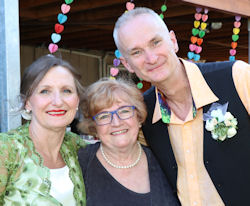 took in your stride and handled so professionally and with due sensitivity. We had so much fun at our own wedding and even though we had read the ceremony, it still amazed and touched us. We especially loved the surprise portion. We were not going to video the wedding, though after having a hint of something a little extra occurring we had the photographer set up a video, although we have all sorts of other sounds, planes, wind and lots and lots of laughter, it was great to capture the surprise you had for us and how we handled it. The service you deliver is absolutely, hands down terrific value for money. Our ceremony was everything we wanted and a true reflection of us, you captured the best of us and delivered it marvelously. Thank you!! You have our highest recommendation. Gratefully -
Hanna & Mark
Thank you very much for our lovely ceremony yesterday afternoon. It was a wonderful stress free ceremony and exactly what we were after to ensure the legalities were met prior to our ceremony in [ ]. Thank you - Sharon and David


The experience was more beautiful than I expected, as I had expected a stiff formal ceremony! - Zino, who came from the UK to marry Gboyega, who wrote: It felt wonderful and the celebrant was patient, thoughtful, and a mother figure. They both commented: The written information you gave us was wonderful, as was the process of creating and developing the ceremony. The way you performed the ceremony on the day was extraordinarily simple and lovely.

You were a great help through the whole process. You gave us detailed advice while we were still traveling through Australia and you gave us confidence through the whole process, even finding witnesses on the scene at the same day. - Melanie and Michael, who married at Wellington Point while on an extended holiday from Germany

You made our quick budget wedding something so amazing we can't even believe it. All of the special touches you surprised us with really made the ceremony a stand-out day for us! Your hard work and such attention to detail really made the day so much more special. Thank you so much for all of the dedication and advice you gave us. We will be telling all our friends who are getting married to look you up if they want an excellent ceremony. Much love - J & J who married in a secret elopement on Redcliffe Jetty.
They followed this lovely thank-you up with a formal testimonial:
Our wedding was an amazing, incredible, joyful experience thanks to Jennifer! We decided to get married a month before the date we set. Jenny worked tirelessly to make our day so special. Our visa wedding turned into something so incredibly meaningful all by Jenny's amazing skills and thorough work. She surprised us with many unique touches in the ceremony. We will always be grateful to Jenny for making our dream come true.

Thanks Jenny for our beautiful ceremony! I wouldn't have changed a single thing, it was perfect xxx - Facebook post - Chelbi and Corey who married with a bridal party of 15 at Raby Bay Foreshore Park.

I just want to pass on a very quick extra thank you for yesterday. It was the most wonderful ceremony and the work you put into it and the warmth that you put into it was very much appreciated by David and me and everybody there said how fantastic it was. I'll definitely send you a testimonial when we get back - answering machine message left by Sarah the day after their wedding at Boulevard Gardens.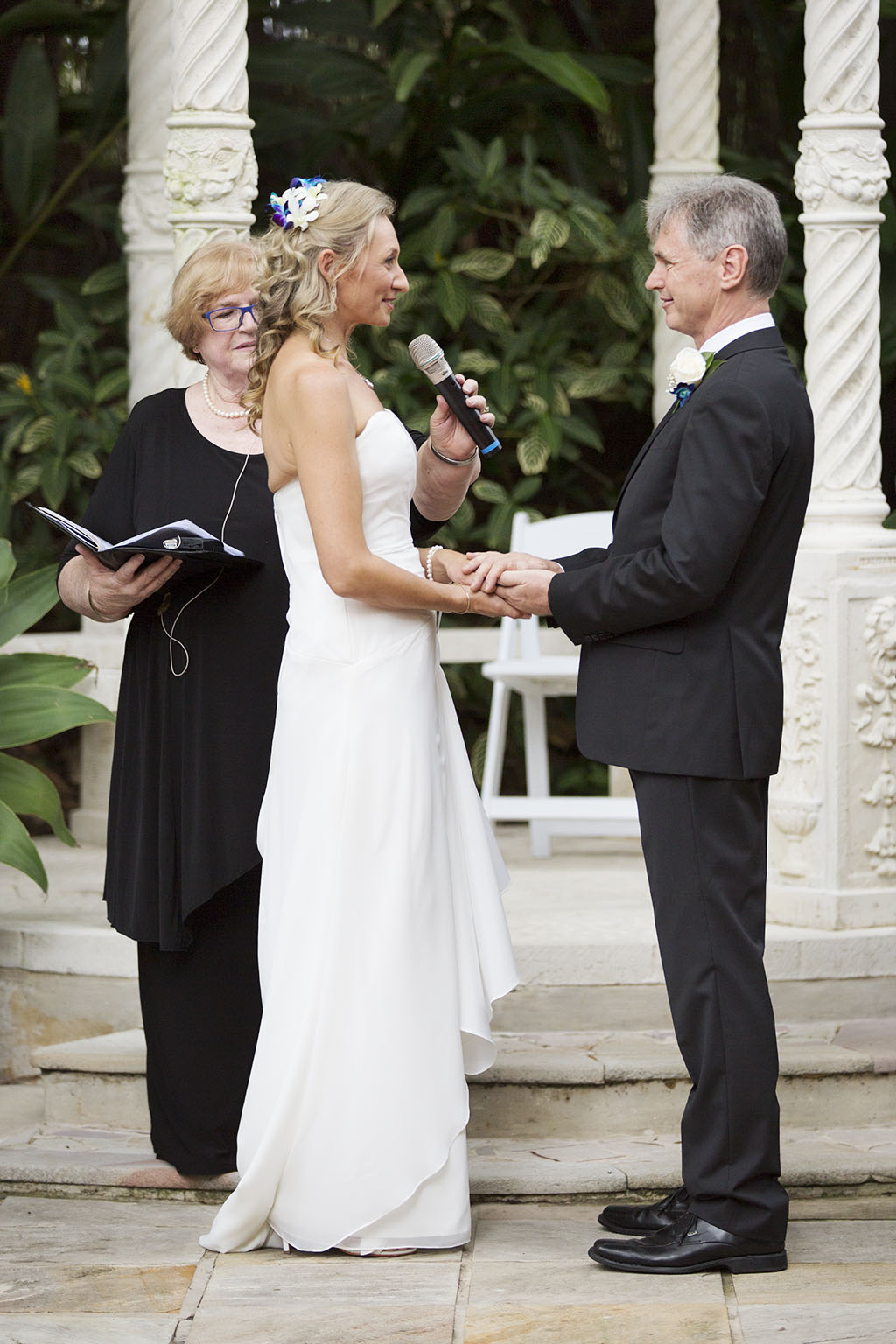 Testi
monial: Jenny is friendly, professional, incredibly knowledgeable and an amazing guide through the maze of wedding preparation. We did not realise how much work was involved in arranging a wedding ceremony - there is so much to think about and so much to do. Without Jenny's guidance, we would have been lost. Thankfully, though, Jenny provided everything we needed and our wedding ceremony went beautifully. Some of our guests told us how impressed they were with how Jenny conducted the ceremony, and we agreed fully. Jenny provided expert guidance in preparing for the ceremony and she was masterful in making it "all about us" on our special day. - Sarah and David, who married at Boulevard Gardens
Just like to say thank you for being part of our special day. We were very pleased with how it all went and all our guests have commented that they had an amazing day. The ceremony that you provided was perfect and helped capture exactly the atmosphere that we wanted. Thanks again for your help and making our day special.-
Scott and Leah, who married in a quirky corner shop.
We just wanted to express our sincere thanks for the beautiful wedding service you conducted for us on Sunday. The whole experience felt so personal and intimate, thanks to the effort you made in customising it to be this way. We had many positive comments from our guests referring to this aspect of the service as well :-) We also really enjoyed the little surprises you incorporated. These added an element of fun and made the ceremony quite unique. (Neither of us, or our guests, had seen this at a wedding before!) And a huge thanks for the copy of the 'Order of Service" for us to have as a keepsake :-) I could honestly go on and on. But overall, Jenny, we couldn't be happier. You put so much time and effort into making our wedding special and we now have many wonderful memories to treasure. So thank you very much!!! -
Stacey and Shaun who married in the Courtyard at Hillstone St Lucia.

You made our wedding day so beautiful and completely stress free. Joh and I could not have wished for a better celebrant or a nicer person to conduct our wedding and we will happily refer you to anyone wishing to have a beautiful, romantic and hassle free wedding. Thank you so much again Jenny. Joh and I could not have wished for a better start to our married life together than with your beautiful wedding ceremony. -
Julie and Joh who opted for a Married-in-a-MinuteTM ceremony at Northshore Riverside Park.
We would like to say a very big "Thank-you" for your wonderfully personalised wedding ceremony. We loved the surprises and they were very much in keeping with our personalities. Everyone who attended on the day sang your praises and enjoyed the ceremony. Chris and I took heed of your advice prior to the day - Accepting "The best laid plans of men and mice often go awry" - our cake maker got the wrong date...LOL! But it didn't matter. Chris and I truly had the best day! We really appreciate your wise words and satire to make our ceremony to make our ceremony unique and true to who we are. Thank you.-
Sharna and Chris who married at the Glen Hotel.
Kieran and I cannot thank you enough for your wonderful ceremony. You were extremely helpful in the lead up to the wedding and made us feel calm and prepared. The ceremony itself was so beautiful, warm and personal, and you made both mothers cry which is a win! We could not ask for our day to be any better in your capable hands. Thank you again, and perhaps we'll see you one day for a naming ceremony! -
5 star review on my facebook page by Rebecca, 2 days after their wedding at Eagle Farm Racecourse
Jenny your personal touches to the ceremony truly made it special. We appreciate the time and effort you put into it to make it personal for us. We absolutely loved our surprise! Everyone enjoyed the ceremony and thought you were great. Big hugs from us. We were very lucky to have found you. Best wishes and warmest regards -
Carmel and Keith, whose intimate St Patrick's Day wedding was held at Shorncliffe Pier
Hi Jenny, John and I would like to thank you for all you did for us to make our night a very special one. We loved the true loves knot and the meaningful coin toss. Your words rang with so much meaning to the both of us and we were very glad to have had you as our celebrant last night. It has been an absolute pleasure to have met you and worked alongside you to join John and I in marriage. Thank you again for everything and we wish you all the best in life -
Vanessa and John who married at the top of Kangaroo Point Cliffs.
The experience was really satisfying. No awkwardness. No drama. Just simply fun and intimate. We don't think there is anyone out there who can do what Jenny can do. It's not just about "doing" the ceremony. She's like a mother looking after her children. She's heart from the beginning, listening to our love story! She has the patience to acknowledge our woes and worries. And her knowledge is just incredible. Our ceremony was fun and intimate and Jenny acknowledged every else's presence like they're all her friends. Like a family. We're so thankful that we found her. It's like a gem - she is. Throw your worries away, Jenny will give you a ceremony more than what you expected. -
Anne and Trevor who married on Australia Day at Forestglen Park.
We thoroughly enjoyed the personal touches associated to the ceremony. We, as bride and groom, were surprised at times throughout, which was a very nice feeling. You drew upon analogies and symbolism that show a deep understanding of what you were conveying. We were both really happy with it all! -
Anna and Sam who married in the Mount Coot-tha Botanic Gardens.
Jenny was the perfect choice for our wedding for a number of reasons:
Extensive experience - having helped perform literally hundreds of marriages, we were in great hands! As our ceremony was in our backyard, with four kids in the wedding party, and our dog, there were quite a few variables in play. And if anything went wrong, we knew Jenny would have it covered.
A smooth process that was easy to understand. As lawyers, we very much appreciated having all the legal aspects clearly explained. And that included having the different parts of the ceremony broken down into manageable parts, so that decisions were far easier to make. Jenny gave great advice about everything from the music, the readings, the way that loved ones could be remembered, even how to include our dog!
Excellent service - Jenny was on time, well prepared, and answered all our questions.
Best of all - Jenny helped us to design the ceremony into something that was special for us. The questionnaires we submitted were shaped into a touching and yet entertaining ceremony that our guests enjoyed. Everyone said the ceremony and wedding as a whole was very "us". And one of our favourite parts was something that Jenny had suggested: incorporating a Bavarian log cutting as part of the ceremony, to commemorate our German heritage. It was unique, fun and definitely memorable! - Dana and Nigel, who, with their dog Ripley, married at home.
Hi Jenny, Thank you so much for your work over the last few weeks and the ceremony yesterday, it was magnificent. I was sorry I didn't see you immediately after to thank you in person, got caught up in the moment :), So many thanks for the ceremony! So many people congratulating us on a lovely ceremony! Ah, so happy :D Email from the groom - Kristin and Joel married at Bundaleer Rainforest Gardens with the Brisbane Concert Choir providing the music. This was followed up with a Testimonial: From the first meeting, Jenny instilled us with confidence that she could and would craft a wedding ceremony that suited the two of us exactly - and that is exactly what she did. She provided a wealth of information, on both weddings and marriage. Being involved with the drafting of our ceremony was immensely valuable, allowed us to balance what we both wanted said on the day, consider and reflect, and get it exactly right. Her suggestions of what to add to (and what to leave out of) the ceremony were spot on. The ceremony was wonderful. It went smoothly, Jenny spoke warmly, it was lighthearted and yet retained the dignity appropriate to the event - just as we'd hoped. The two moments when the ceremony went off-script only added to the occasion, and feature regularly in fond re-tellings of the day. Many of our guests commented on how well Jenny had made and delivered a ceremony that was unique and exactly true to us.- Kristin and Joel

Ok so I've been sitting trying to string some words together to say thankyou … however I believe my lack of good quality sleep is making it impossible to make any sense … for those who came last night thankyou for helping make Kylie's 30th what she dreamed and for those who have called or messaged its amazing to see how many people we have who love and support our relationship ….one very special thank you must go to Jennifer Cram you are truly amazing … … now people I must SLEEP—
Facebook post from Leith
the day after their surprise commitment ceremony.
ABIA Reviews
(These are reviews by couples who I have married and who have rated my services as part of the ABIA annual awards. I'm very grateful for their nominations - I've been a finalist for the past 11 years - and for their kind words).
Our whole experience with Jennifer was wonderful. She took the time to understand us and our relationship. Jennifer guided us through every step of the process including the legal aspects. She accommodated our specific requests and offered excellent advice. The ceremony, which brought together unique aspects of our cultural backgrounds, was exactly what we wanted. We are an Indian and Australian couple, our day was beautiful. Thank you Jennifer!
Jenny was an awesome Celebrant who was very willing to change certain aspects of the ceremony due to extenuating circumstances we had. Some of these changes were last minute and we appreciated her flexibility concerning this. We had two ceremonies as it turned out and we were very happy to celebrate with family in very relaxed settings with a genuine Celebrant.
Excellent service and very helpful website. The day went exactly as planned and Jennifer put everyone at ease.
We travelled a long way to celebrate our marriage in Brisbane and it was a tremendous relief to know that our ceremony - the highlight of our day - was in excellent hands with Jennifer Cram Marriage Celebrant. She maintained close contact with us throughout the process and developed and delivered a beautiful ceremony.
Thanks to Jennifer Cram we have very fond memories of our wedding day. When looking for a marriage celebrant we came across Jennifers website, it was very informative and contained a detailed description of her services. The website was written in a friendly manner and left an impression of high professionalism. Meeting in person later confirmed this. Jennifer organised a warm and memorable wedding ceremony for us, following all the COVID restrictions. We are very grateful for her attitude and work, and highly recommend her services!
You will not find a better celebrant than Jenny Cram. She puts a lot of effort into her ceremonies and makes you feel welcome and comfortable when going through the paperwork. She can tailor your ceremony to anything you like, and for us, she was very funny and very casual. Nothing was a problem for her and at the end of the day we were sorry to see her leave. If I could rate Jenny higher that 100 I would.We could not be happier with our celebrant. We will renew our vows with her also. Thank you Jenny.
Jenny did such a wonderful job at our wedding. She was warm, friendly and professional and was always quick to respond to our queries. Our family commented on how she kept things light and fun while still investing meaning into our ceremony. Thanks for an amazing day Jenny! Were so glad we chose you to share it with us!!
With out Jennifer Cram I wouldn't have married my best friend of 11 years. She made the process so easy and less stressful. Lovey manner and very respectful and polite. She made our day one to remember. Laughs and tears. She's amazing
Jennifer was very professional, kind & caring. She went above & beyond to make sure our wedding was the best it could be at this difficult time. She was very thorough in making sure all the legals were done properly, and isolation protocol;s were adhered to, but made sure we had a very personal ceremony as well. We cant thank her enough.

We felt listened to and heard in every way. We had so many anxieties over planning our wedding service and Jennifer assisted us in every way she could. We had the perfect ceremony that was tailored to us and made for a day that will be never forgotten.

Jennifer instantly made us feel comfortable with the whole process and her warm and professional approach made our day just that much more special. We would recommend her to any couple with confidence. Thank you so much Jennifer.

Could not be happier with our celebrant Jennifer Cram. Our wedding was not going to be an easy one to manage, with the terminal illness of one of our closest friends meaning that plans were constantly changing. Jennifer was very compassionate and accommodating and we would highly recommend her for those wanting a celebrant who is genuinely caring, professional and thoughtful.

She is a wonderful lady who have helped me many times. I would recommend her to anyone.

Absolutely fantastic! could not have asked for a more perfect celebrant. Brilliant communication with excellent follow-up, attention to personalized details and such a joy to work with :)
Jennifer Cram is a friendly and professional marriage celebrant. On top of providing excellent service, she's thoughtful and considerate to our culture, incorporating wedding elements from our local background. We appreciate her services and we wish her good luck in this year's ABIA!
Weddings are such an important time, no risks are taken with Jennifer Cram, she delivers a perfect service for your perfect day. We couldn't be happier with our choice of marriage celebrant
Excellent to deal with from start to finish. Would absolutely recommend
Jennifer is more than excellent celebrant. I have been to quite a few of friends and family's weddings before but I can confidently say ours was the best thanks to her. The preparation was easy and smooth with her kind help. At the ceremony her beautiful speech, vast knowledge about marriage and the kindness made it such a warm, lovely and special time for all of our family members with lots of smiles and a little happy tears. I would like to thank her again!
Jennifer was absolutely brilliant throughout the whole process from initial consultation to wedding way to follow-up. Anytime I had a question or query, Jennifer responded quickly - which helped immensely with my stress levels! If I could have 2 top vendors she would definitely be number one! Our ceremony was everything and more, and I can't imagine it going as smoothly as it did without her.
Jennifer was the best celebrant we could hope for. She adjusted to our many changing ideas and made our ceremony truly unique. Her commitment to her job is unbeatable. Could not be happier.
Jenny is amazing. She goes the extra mile and beyond. She gives you so many choices how you'd like your wedding to be and encourages you to think outside the box to really make your ceremony as individual as you want. For example, we chose to ask each other "the big question" and read our vows rather then repeating after her. She has a different view on some points then most other celebrants: e.g. she offers to stand beside the couple rather then between them to really put the couple in the center of the ceremony and to have the couple facing the guests. But she'll also do a very traditional wedding with as much heart and dedication. She even got in contact with our photographer beforehand. In addition to our own wedding we've been guests on another wedding with Jenny as celebrant. Since knowing how amazing Jenny's ceremonies are, no other wedding we've been to has come anywhere near. Thank you!
Jenny was absolutely amazing. So kind, caring and thoughtful. We both were nervous but Jenny made us feel comfortable and at ease. Highly recommended.
She made me feel so relaxed and I suffer from anxiety. She is calm, relaxed, funny, had everyone at our wedding involved and talking about how great the service was. Jennifer Cram made our day with the perfect service, I highly recommend her to everyone.
We could not have chosen anyone better to have been our Wedding Celebrant than Jennifer Cram as she provided us with caring and intelligent support and was so thorough and thoughtful, it really did make our experience wonderful and memorable.
Fantastic personalised service and would highly recommend to anyone wishing to utilise Jennifer Cram as a marriage celebrant for their wedding.
Jennifer has a real way of delivery that made everyone very attentive all personalized for us with a superb attention to detail, we couldn't be more happy or ask for more .
Jenny's ceremonies are 100% unique to you as a couple. She writes and tells your story based on the information she gathers from you about YOUR relationship and journey to your special day. This, along with the immense knowledge she has about ancient traditions related to weddings and marriage, make your wedding an amazing and truly memorable experience! Jenny goes above and beyond to deliver her remarkable, personalised service, and is genuine, thoughtful and kind throughout the whole process. As far as value for money goes, having Jennifer Cram as your celebrant is priceless...you WILL NOT find better! This recommendation comes, not only from us, but from all of our family and friends who were present and remarked on what a unique, personal and beautiful ceremony it was! Jenny is the best in the business!
Jenny has a fantastic attitude and approach - she magically managed to craft exactly the ceremony we wanted from our half-formed ramblings. Jenny truly loves weddings herself and it shows, once she emailed early in the morning having woken up with a creative thought regarding a special aspect of our wedding - I think she was nearly more excited than us!
Having met with several celebrants we were really excited when we met with Jennifer Cram and knew instantly she was the best celebrant. So much work and detail was put into our ceremony by Jennifer and it was just beautiful. It was personal and intimate. Everything that we wanted Jennifer was able to include and helped us perfect what we wanted. Her added personal touch was both a surprise and very warmly received by both us and guests! 100% recommend Jennifer. Look forward to seeing her in the future at families weddings :)
Jennifer provided a service which exemplified us as a couple, nothing was too much, she paid great attention to detail and provided us with some wonderful memories by way of surprises. Both our fathers had recently passed away and she took great time to speak to our mothers about the difficulty in grieving and how our day was bitter sweet. She is a true asset to the industry, and performs her skill with compassion, empathy and understanding, she has an excellent command of language and is sensitive to cultural traditions. A true professional in all sense of the word.
Jennifer was amazing through the whole process. She provided a totally personalised ceremony for our civil union and then when SSM became legal provided us with all the necessities to legalise our marriage. Jennifer could not be faulted and we would 100% recommend her to anyone wanting that edge, a few laughs, a few tears and the complete day of a lifetime experience.
Jennifer really listens to what you want in a ceremony, and is a pleasure to deal with. She helped make the process as stress free as possible, and our wedding day was perfect. We would recommend her to anyone.
Jennifer Cram is wonderful. She made our wedding the most perfect day for us. She was very professional but also so warm and could not do enough to make our day perfect for us. Jenny is a wonderful celebrant, any time I contacted her she would respond promptly and could not do enough for us. I can not praise her enough. Just a brilliant service.
More at:
https://abia.com.au/indooroopilly/celebrant/jennifer-cram-marriage-celebrant
2 Nov 2013
Jennifer was an amazing celebrant. Her attention to detail and planning before the wedding meant that the ceremony was very unique and meaningful. She has a humorous and captivating delivery and many of our guests said it was the most enjoyable ceremony they had been to.
Jenny puts a great deal of effort into organizing your ceremony and really personalizes it by finding out a great deal about you as a couple. Her style is different from any other ceremony I have attended, but I really enjoyed it, it was very personal and romantic.
Jennifer was wealth of information and support and with us all the way from our meeting right thru to the wedding day. Her knowledge and experience was apparent in way she helped us create the most amazing heart felt ceremony that was stress free and connecting for everyone involved. Preparation and attention to detail was outstanding and we highly recommend her.
Amazing! Everyone is still commenting on the unique, personalized ceremony Jenny wrote for us. I love how she provided so much behind the scenes advice, and engaged us every step of the way.