| Wedding Ceremony | Wedding Traditions |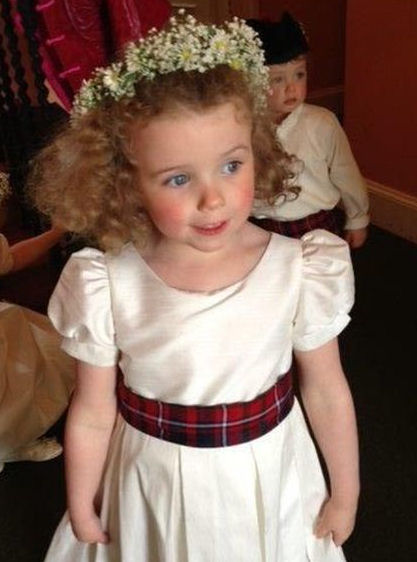 All the men in the wedding party looking glorious in tartan kilts is the iconic mark of the formal Scottish wedding. However, there may be a number of reasons why the kilt may not be the best choice in your circumstances
The groom has no Scots connections or ancestry
The groom just doesn't want to wear a kilt
The marrying couple are both brides
Having kilt-free wedding does not mean that you have to have a wedding that is devoid of that powerful symbol of heritage and family connection - the tartan - because there are many creative ways to incorporate tartan (or tartans) in your ceremony.
Ways to add a touch of tartan for the men in the wedding party

There are many alternatives to wearing the kilt.
Tartan Trews
Trews have a long history as an alternative to the kilt. While they are a Highlands cultural tradition, and a practical alternative to the kilt in winter, because of their association with the uniforms of Lowland Scottish regiments in past centuries, many people assume that no-one in the Highlands would wear trews. Not true.They are part of the official uniform of several Scottish Regiments and may be seen at every formal ball in Scotland

Tartan Jackets
A modern innovation, a tailored tartan jacket worn with dark tailored trousers looks very smart.
Tartan Vests (Waistcoats)
Vests are ultra-versatile as wedding wear. They can be worn in the traditional fashion under a jacket, to make a three-piece suit, very useful in colder weather. In warmer climates, such as sub-tropical Brisbane, they can be worn without a jacket for a more comfortable but more formal look than a shirt alone.
Tartan Cummerbands
Traditionally worn with a formal tuxedo or dinner suit, a cummerband, and matching bow tie can add a pop of color to the black and white of the suit and shirt. For tropical wear, a cummerband can be worn with shirt and trousers alone.
Tartan Ties
Both bow ties and regular ties are available in a wide range of tartans.
Tartan Pocket Squares

Tartan Braces
Clip on woollen braces (suspenders) are available in a very wide range of tartans. Important to note that they are designed for trousers so are not suitable for kilts.

Tartan Belts

Tartan Rosette worn instead of a boutonniere
Rosettes are easy to make from tartan ribbon. All that is required is a needle and thread and some tartan ribbon or silk, wool, or polyviscose fabric. Be aware that the range of authentic tartans available as either polyester or silk ribbons is limited, and that many plaid ribbons may be labelled tartan, particularly around Christmas.

Tartan ribbon
incorporated in the traditional white heather and/or thistle boutonniere

Tartan shoes
Yes, men's shoes incorporating tartan are a thing, You might have to mail order from Scotland.

Ways to add a touch of tartan for the women in the wedding party
In Australia, when a couple has a Scottish wedding, wearing of tartan is usually seen to be the province, or prerogative, of the men. It definitely doesn't have to be that way.
The traditional Arisaid wedding dress
A Tartan Train
A white dress with a tartan train can look spectacular
A Tartan Corset
Worn over a wedding dress can look spectacular

A Tartan cape, shawl or wrap
A great solution to what to add to a wedding or bridesmaid's dress to keep warm in the colder weather

Tartan Skirts
Bridesmaids could wear tartan skirts with a plain top
Waist Sashes
Either knotted or tied in a bow at the back
Shoes
While you can buy tartan heels, any reputable shoemaker will be able to cover any style of shoes with tartan fabric
Tartan Ribbons incorporated into or attached to bouquets
Tartan Ribbons in the hair
Tartan Clutch Purse or Dolly Bag
as an alternative to a bouquet

Ways to add a touch of tartan for the children in the wedding party

Traditionally, flower-girls wear dresses with sashes while ring bearers and pages wear outfits that coordinate with what the flower girls are wearing, however, in many weddings what the boys wear is very similar to what the adult males in the wedding party are wearing
Tartan Sashes

Swap the plain sashes for tartan for the flower girls
If the boys are wearing traditional page boy outfits, a tartan sash, tied in the front as they were in the 18th century, works. If they are wearing more modern page boy suits, it is usual that they should look like miniature versions of the adult men in the wedding party.

Decorate the petal basket with tartan ribbon
Choose a tartan ring cushion, or a ring cushion or box trimmed with tartan ribbon

Add tartan ribbons to the flower girls' chaplet flower wreaths
Ways to add a touch of tartan to the ceremony space
---
Whether or not your wedding party embraces wearing full Highland dress or not, adding touches of tartan to your ceremony space adds to the ambience of the occasion because it signals to your guests, from the minute they arrive, that they can expect a ceremony that honours your heritage.
Dress the signing table with tartan
There are a number of ways to add tartan to the signing table


Over a tartan undercloth place a plain or embroidered topper. I use a vintage linen tablecloth embroidered with thistle motifs


Over a plain undercloth place a tartan topper cloth

Place a tartan runner across a bare table or over a plain undercloth

Use a tartan pen to sign the documents

Incorporate tartan - ribbons, fabric, wallpaper, or paint - into your ceremony backdrop.

Add tartan ribbons to the aisle decorations
Use a tartan runner for the aisle
Tartan carpet is available either by the roll, used for fitted carpets, or in the form of rugs. Your choice of tartan may be limited
Tartan chair sashes
Dressing the chairs with tartan sashes can look spectacular. If you do not wish to decorate all the chairs, use tartan sashes on the front row for the parents/family. If both families have a Scottish connection, using the appropriate clan tartan for each family is a gracious way to personalise the chairs.

Add tartan ribbon to the corsages for the mothers and other honoured female guests
Trim Ceremony Programs (Orders of Service) with tartan ribbon
Don't forget the fur babies

---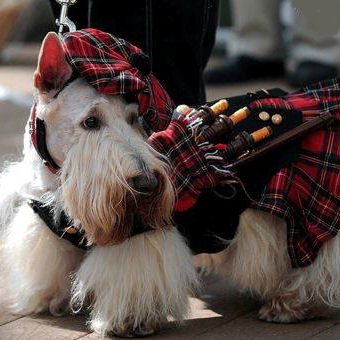 A wide variety of
pet-specific tartan clothing and accessories
is available if you choose to dress your fur baby in tartan. You will be spoiled for choice regardless of whether your fur kid is a dog, a cat, a horse, or some other animal.
Everything from tartan dog and cat collars, kilts, vest, jackets, even horse rugs is available in a wide range of tartans. And there is no sensitivity about animals wearing tartan, so if you wish your fur baby to wear a clan tartan, go for it.
Choosing your tartan

While most people immediately think clan tartan, with the exception of the Royal Stewart, that is reserved for the Royal Family, anyone can wear any tartan, and it is seen as a compliment to the host to wear that family's tartan when visiting. That said, in a wedding, being a formal occasion where two families are uniting, each family wearing their own tartan is the norm. Tradition has a member of the groom's family "sashing" the bride with the groom's clan tartan to symbolise her welcome into the family.
When the kilt is worn, it is very common in Scotland for the groom and groomsmen each to wear their own family tartan. While they may not match, the fact that the male side of the wedding party has the same silhouette and the different tartans share design characteristics, mean that they do coordinate, spectacularly.
Oh, and don't forget, if you are Irish, Welsh, or Cornish, there are family and regional tartans for you to choose from too. There are also more general tartans, such as the very popular Scottish National, Flower of Scotland, and Black Watch tartans, together with place tartans from around the world. There is an Australia Tartan, and the Brisbane Tartan (predominantly blue and yellow which reflects our official city colours). For grooms and wedding parties who would prefer to stick to a monotone grayscale palette, there is always Highland Granite, which looks very smart.
Thanks for reading!