Wedding Attire | Wedding Ceremony |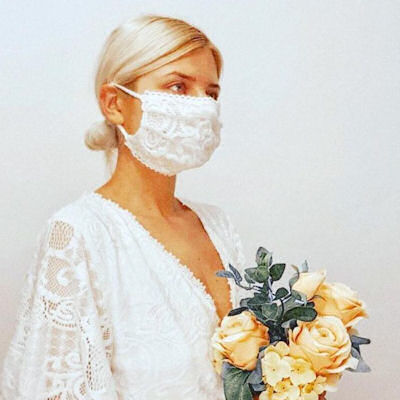 As a marriage celebrant, a big part of how I see my role is about thinking ahead, asking the
What If
questions, teasing out the possibilities and probabilities, and coming up with ways to address issues should they arise, so that I'm not caught on the back foot and can give my couples some well-considered advice. 2020 has really tested that to the nth degree!
This time last year, the idea of a masked wedding conjured up ideas of a Venetian Carnival theme or a masked ball. Fast forward to mid-2020 and the picture is very different. With COVID-19 compulsory mask-wearing anytime you leave your own home very definitely on the agenda, it is time to do some forward planning and prepare to rock a mask on your wedding day if you are required to wear one. But first, some practicalities.
What are the legal implications?

If your State's Health Directive says you must wear a mask, then you must do so. No question about it. But what about the legality of getting married when you and your witnesses are all wearing masks? Simple answer. Wearing a mask will
not
compromise the legality of your marriage. In fact, the legal requirements for the two of you in the ceremony say nothing about face covering. They are very straightforward
You must both be marrying freely and willingly
You must make "legal" vows, the statement in which each of you says that you take the other as your lawful wedded husband/wife/spouse/partner-in-marriage

Your celebrant, together with everyone present, must hear you say those vows. They should obviously be confident about your identity, but that is officially done by the ID paperwork you have.

What about the practicalities?

The bottom line is that, unless and until a directive about mask wearing is issued, we won't know what the detail of the directive might be and how it might specifically relate to your wedding. What we do know, from experience in Victoria and overseas, is that
The definition of public place can be very broad
Venues may well require their staff to wear masks at all times, regardless of the detail of any directive, and, even where there is no specific directive, to require, or at least strongly request, that anyone who enters wears a mask.

Whether you must wear a mask will depend on the precise wording of the directive, together with where your ceremony will take place and where your reception/celebration will be held.

We also know that very little advance warning will be given.
Let's assume you will have to wear masks for the whole ceremony

If a directive about wearing masks is current at the time of your wedding and you will have to wear masks for the whole ceremony, you will need to ask yourselves three questions, and come up with a plan for each of them.
How will we have photos taken without our masks?
How will we manage our first kiss?
What sort of masks will we wear?
Ways to have photos taken without masks

Commonly, directives about wearing masks have required that you put on a mask when you leave your own home, so the apparently simple answer is get married at home. Except, of course, if there is also a directive in place that forbids or limits visitors.
If you are getting married someplace other than home, here are some ways to at least get some photos minus masks
Do a first look at home
The tradition of the couple spending the night before their wedding apart and not seeing one another (or specifically, a groom not seeing his bride) until the ceremony, is based largely on superstition that grew out of earlier tradition where parents married off/traded their children in marriage to secure strategic alliances and economic and political advantage. The superstition being that it is bad luck (because the groom might reject the marriage). It is a superstition that has lingered but is disappearing as living together before marriage has become the norm.
Have formal family and couple photos taken at home before you leave for the ceremony
Ascertain whether there is a private room at your venue that you can use for formal photos
It may be allowable to remove your masks while in that space, but you should check with the authorities.

Your first kiss

This is a tricky one. While there is no legal requirement for a couple to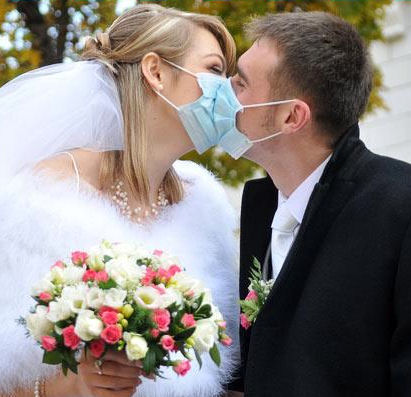 kiss on being declared married, it is a tradition that is so entrenched that everyone will feel short-changed if you don't. Again, it depends on what, if any, special dispensations are given for weddings. Worst case scenario. Make it a fun moment. Kiss through your masks. Definitely get some photos of you doing that. And save the lip on lip contact for a private moment later.
What sort of masks?

You need to look for three things in the masks you choose
They should adequately do the job of stopping transmission of COVID-19
They should be comfortable to wear
They should look good
Google "bridal masks" and you will get an unbelievable number of hits. The US market jumped on the opportunity, and for some time now bridal houses, fashion designers, and other manufacturers have been churning out masks for brides by the truck-load. Some look great, some are downright kitsch, and some will have you shaking your head. Most have a disclaimer attached that they are a fashion item, not a medical one.

If you are caught on the hop with a very short time to source your masks, you are likely to end up with surgical masks or disposable masks that look anything but formal and bridal. I'm specifically using the word "bridal" here, because grooms are almost ignored. Seemingly, plain black or black with either groom or hubby embroidered on it, is about as much choice as they are offered.

For brides, it appears that lace is the go. Here is where practical celebrant me kicks in. Whether you opt for disposable or reusable masks you are going to need several because once a mask becomes damp you need to change it for a new, dry one. And the very fancy bridal masks that are commercially available are pricey.

Choose plain white or neutral masks and embellish them yourself
There are so many different possibilities for embellishment

Lace - by the meter or as separate motifs in different sizes and colours
Strings of pearl beads, both round and teardrop
iron on embroidered motifs
Braids

So as not to compromise the protective qualities of your mask, glue any decorations onto the mask rather than sew them on. A hot glue gun, or spray on fabric glue will be your best friend. Avoid either satin masks or satin decorations, and go easy on the sequins. You don't want photos with a flash flare! If your dress is off-white, ivory, cream, or latte, either dye the masks to match (if you can wash them you can dye them), use the old trick of soaking in weak tea or coffee, or go heavy on the decoration using dyed lace.

Go for plain with a pop of colour
Treat your masks like an accessory. Pick up a colour from your flowers, your ceremony decor, or opt for something blue for a fashion forward pop of colour.
Echo your bouquet with a floral print
Give a nod to your cultural history
Your family tartan, sari fabric, traditional bark cloth or mud print, or a red mask embroidered with a double happiness character, for example
For a couture option ask your dressmaker/designer to make you several masks with the offcuts from your dress.
Ask your dressmaker/designer to make you some single layer masks
And wear a disposable surgical mask under the mask cover.
Check with your bridal boutique
They are sure to be adding masks to their stock.

If you really fall in love with a mask that looks good but doesn't do much to protect you and others, wear it over a disposable surgical mask.

All of the above suggestions will work for bridesmaids and for your mothers.
One word of caution, though. The brighter and more "interesting" your mask, the more it will compete with your eyes for attention.

What about the groom?

Yes, I know it feels like black, or maybe navy, are the only options for men, but they are not.
Coordinate the mask with tie, pocket square, and/or boutonniere
Have masks made to match the tie or vest
Match masks with the bridesmaids colours
Express personality or interests with the mask
Grooms can get away with much more than can a bride. So if he wants to wear a Holden mask, go for it.
What about your celebrant?

There has been some discussion about whether the celebrant's role in conducting a legal ceremony meets the criteria for exemption from wearing a mask for the ceremony while needing to wear a mask for the signing. I'm assuming that, if you have to wear a mask, so do I. I definitely will not turn up wearing a
Hello Kitty
mask or anything that is attention seeking. The way I see it, masks are the new black! So I will make sure that my mask is as understated and elegant as the rest of my outfit, and that it won't stand out in any photos.
Thanks for reading!