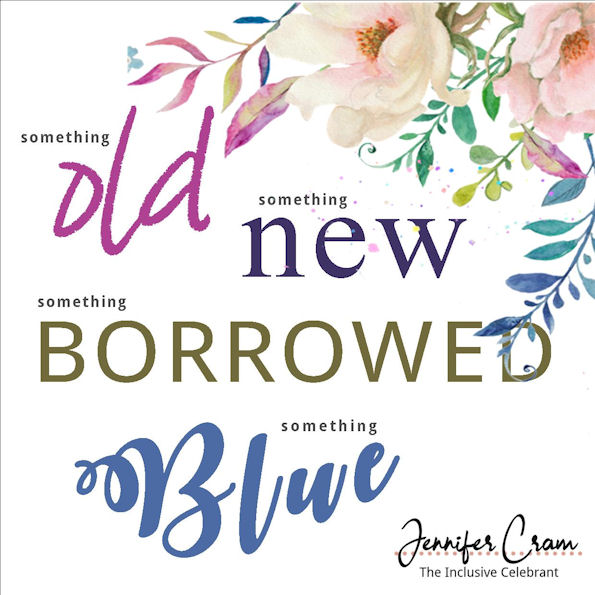 Something Old, Something New, Something Borrowed, Something Blue
is a rhyme and a tradition that has been part of the wedding scene in English speaking countries since Victorian times. These are the things that a bride is advised to wear or carry on her wedding day to ensure the success of the marriage and her own happiness. There are various interpretations of what each means.
The first written record we have of the first two lines is from a short story "
Marriage Superstitions and the Miseries of a Bride Elect"
, published in 1871. Five years later a newspaper report of a wedding held in Lancashire, reported that the bride wore
something old, something new, something borrowed, something blue
. This has lead to the assumption that the tradition originates in Lancashire whereas it was far more widespread in rural environments. There is evidence that this tradition was also known in Northern France. It could well have originated there.
Something Old

Some interpretations suggest that
something old
provides protection for the babies to come. An 1898 compilation of English folklore mentioned the rhyme and suggested that,wearing something old (usually an undergarment borrowed from a married woman who has children) transfers fertility to the bride and, along with
something blue,
and confounds the Evil Eye.
More generally,
something old
represents continuity with previous generations in the bride's family together with the support of her family. It is very common in Australia that brides borrow a piece of jewellery from their mother or one of their grandmothers, rather than their knickers.
Something New

Something new is a symbol of hope, an expression of optimism about the future. There has never been any prescription about what it might be.
Something Borrowed

Borrowing something from a happily married woman is believed to guarantee happiness by ensuring that a bit of her happiness and good fortune rubs off on the new bride. Remembering, of course, that in earlier times it was considered good fortune to marry at all! It is double insurance - if it is borrowed, it is not new, and brides were urged to borrow undies from a fertile married woman. Nowadays, honouring this tradition is about honouring a loved one or using something of sentimental value that comes down to you from an older relative.
Something Blue

---
Traditionally,
something blue
was the bride's garter - something she wore in expectation of it being taken off (a custom developed to stop people tearing bits off the bride's clothes for luck!). The colour blue has been associated with loyalty, faithfulness, and purity for centuries. It is also the colour that is believed to ward off the Evil Eye, a belief still honoured by charms, particularly in the Middle East.
Putting a modern spin on this tradition

Something Old, Something New, Something Borrowed, Something Blue
firmly puts the happiness and success of the marriage on the bride! In the 21st century we know that the success of a marriage relies on a joint effort. There are two ways to honour the tradition in an evolved way that fits much more comfortably with 21st century values of equality in a marriage - Duplicate and Merge.
Duplicate, so that each of you honours Something Old, Something New, Something Borrowed, Something Blue in your own way

Vintage clothing
Vintage, antique, pre-owned and/or borrowedjewellery for her, accessories such as cuff-links or something attached to or worn instead of a boutonniere for him. One of my grooms wore on of his mother's brooches.
Blue shoes, flowers, jewellery, accessories, or items of clothing. For example, a blue tie and pocket square, a blue dress (coloured wedding dresses are very in at the moment), or something blue and hidden. For brides this has been a small blue bow sewn inside her dress. no reason why a blue ribbon shouldn't be sewn inside a groom's suit. Or go the whole hog and wear a jacket with a blue lining.


Merge, so that each part of the tradition is represented in something that is incorporated in your wedding without being specific to either of you


Incorporate blue in the ceremony styling. Blue sashes on the chairs. Blue flowers. I had posies of fresh blue and white flowers tied with blue satin ribbon as my aisle decorations (in test-tubes filled with water to keep them fresh). While a red carpet for the aisle is sort of traditional, perhaps have a blue one instead, or overlapping Persian style rugs that are predominantly blue for a Boho vibe.
Use a blue handfasting cord

Hire or borrow a vintage car. Blue if you can. Decorate with blue ribbons.
Go for blue icing on your cake
Do a toast using Bombay Sapphire!

Choose something blue for your favours - and spread the luck. Very topical at the moment, personal size hand sanitiser. I've bought a couple of brands where the sanitiser is coloured blue. Miniature bottles of Bombay Sapphire or local gin brands (Ink Gin comes to mind), blueberry sauce, or chocolates wrapped in blue foil, perhaps.

Have place cards and menus printed in blue ink on white, or white on blue - just make sure that there is enough contrast so older guests can read them easily

If you decide on fireworks, choose blue
Thanks for reading!