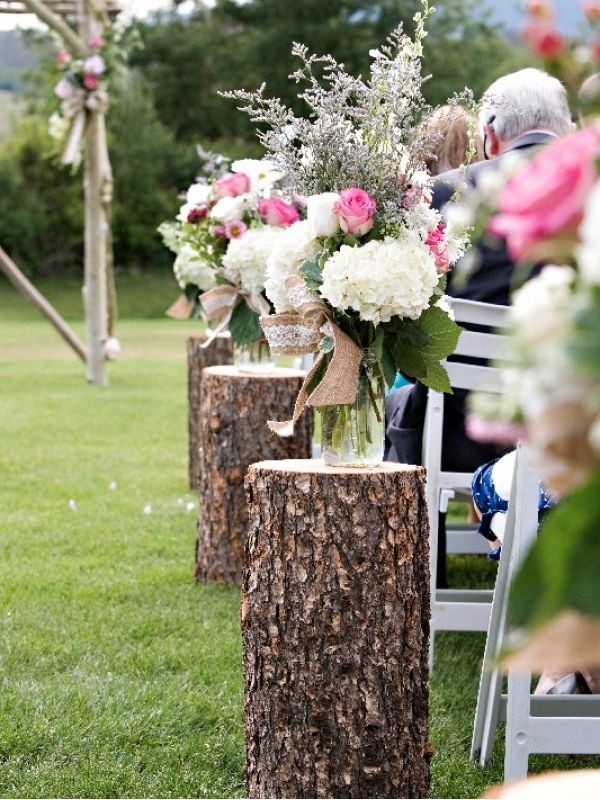 With restrictions on numbers at weddings being relaxed, the aisle is coming back. But how do you set up your ceremony space and walk down the aisle with style when social distancing is still required? You keep one figure in mind - 1.5 metres.
Space Allocation vs Social Distancing

An overarching requirement is that of how much space must be available for each person attending. Currently 4 square metres (the size of a king size bed) per person. If that number is reduced, it is likely to be halved to 2 square metres (approx the size of a king single). The space available is what caps the numbers that can be present in the space.
The other measure is the distance between people. There have been some very funny memes using anything from chickens to crocodiles to demonstrate that space. But basically it means that if two adult stand side-by side with arms outstretched, their fingertips should not touch.
Neither of those measures mean that people who live in the same household cannot sit together and be close, but they do apply to everyone else. So how do you comply?
Widen the aisle

The average aisle carpet is anything between 1 and 1.5 metres wide, very occasionally 2 metres. So an easy way to calculate how wide your aisle should be would be ensure that the distance between the side edge of the carpet and the seats is 1.5 metres. You can do this in several ways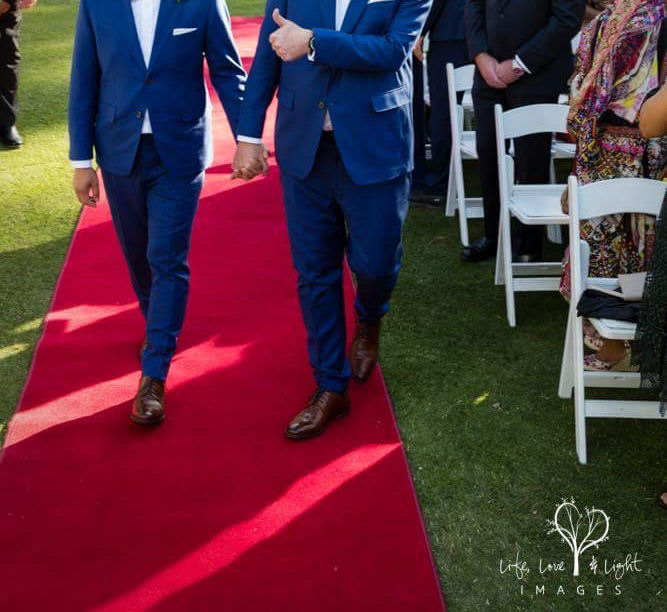 move the chairs (basically remove one chair from the inside of each row)

leave the chairs where they are but put something on the closest seats to stop people sitting on them (your only possibility if in a situation where there are fixed pews or bench seating). Perhaps take a leaf out of the Barcelona Opera's book which live-streamed a concert played to a full house, of plants. It filled its 2,292 seats with potted plants from local nurseries)
But won't that look odd, I hear you say. Not necessarily. there are some very clever ways to "fill" the space. One way is to add aisle-markers, which can be anything from potted plants, vases of flowers, shepherd hooks with decorator balls, hearts, or containers of fresh or artificial flowers

Keep guests out of the aisle

It is a natural inclination of guests to step into the aisle to get closer to you as you walk in, or out. But that will breach social distancing guidelines, so how do you stop them without seeming rude? Here are some suggestions of how to block off access to the aisle from the seating
Place the aisle markers parallel to the space between rows of chairs rather than parallel with the chairs themselves
Drape garlands, tulle swathes, or ropes on either side of the aisle
But also remove temptation. Ask your celebrant to ask your guests to stay seated for your entrance. Your photographer, videographer, and the people sitting in the front rows will thank you!

Maintain social distancing on the seats

When your seating is individual chairs, this is easy - spread the chairs out. When you have pews or benches, that's not so easy. The only solution I can think of is to put things on the seats to keep people apart.
Obviously you won't want to use the yellow tape blocking-off type strategy we are seeing in doctor's office and other public places. You want something more attractive. Something that will add to the aesthetics (and photos) while ensuring guests maintain social distancing while seated, rather than detract.
Strategically placed pot plants would work (particularly if they can be seen over the top of the back of the pews from behind, but are not high enough to block guests' line of sight - think tall plants or create stands to put the pot plants on. Simple boxes work well.

If you've got time, you can create topiaries from chicken wire and ivy which is quick to grow
You could use containers of gum branches (don't use water in them) or other tall foliage
Reserved signs, perhaps with a photo of a friend or loved one who will be tuning in to watch the ceremony via a streaming service
Items that reflect an interest, hobby, or passion that you share
What about family groups?

While people who don't share a household must maintain social distancing, that doesn't apply to those who do. Whether you have individual chairs or pews/benches, it seems to me that the only way to ensure that households can sit together without having to move things around is assigned seating. Take a leaf out of the reception play book and put names on each seat, taking care to leave spaces between the groups of seating. So you might have 6 seats in one row, then, at least 1.5 metres away, 2 seats and 2 seats separated by 1.5 metres. On pews or benches you might have to seat people in every second row, with pot plants or whatever to control the spacing on each pew. A seating board with a plan posted at the entrance will help everyone find their seats.
Distancing down the aisle

Keeping at least 1.5 metres from other members of the wedding party walking down the aisle shouldn't require any thought or change. To allow your photographer to capture lovely photos of the individual members of your wedding party the rule has always been leave some distance between them! I suggest at least 3 metres.
When you get to the top of the aisle

.Allowing 1.5 metres between individual members of your wedding party will spread them far and wide which is not good for photos. So, if you are going to have more than one person each (bridesmaid/best man), I suggest they sit down with the guests for the ceremony.
Don't forget the fun photos

Social distancing at your wedding, and everything that makes it a necessity, is a pain. But you are getting married at a unique time. You are part of history, and it would be a shame not to have a visual record of it. So some fun photos with your wedding party, and your celebrant, emphasising the 1.5 metre separation, are a must have. And group photos, with family groups separated by the required distance, are also a must.
Thanks for reading!