Wedding Attire | Wedding Ceremony |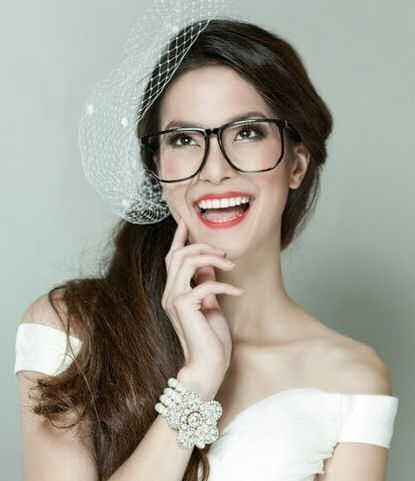 I don't know which mean-spirited person coined the saying
Men don't make passes at girls who wear glasses
but, not only is it something I've been hearing for most of my life, it seems it is yet another negative that perfectly lovely shortsighted women take to heart when deciding what to wear on their wedding day.
It doesn't seem fair that weddings seem to have been designated an eyeglasses-free-zone for brides while grooms get to rock their glasses with impunity. Brides are almost invariably "advised" by friends, family, and other interested bystanders to ditch the glasses and opt for contacts on the day. That makes me sad. After all, what better excuse to splurge on new luxury designer frames can there be than marrying the person who fell in love with glasses-wearing you?
Speaking as a glasses-wearing celebrant who for decades has colour-coordinated her outfits with her glasses, I'm all for glasses being part of your signature style. Your wedding day is a very special opportunity to showcase your personal style and dress to show off the best version of yourself. Whether you regard the glasses you wear on your wedding day as part of your ensemble, as a personality-reflecting accessory, or as face
jewellery
, you too can rock your glasses. They are part of the your whole wedding day look. Wearing glasses will have you looking, and feeling, like you.
My wonderful optometrist (Kylie Zahner at
Kenmore Plaza Optometry
) has a very simple business mantra:
It's in our interests that you look and feel great in your new glasses - people will want to go where you went"
. I tapped into her expertise and customer-focus for pro-tips, including the pros and cons of glasses versus contact lenses.
Kylie's Pro-Tip:
If you've always worn glasses and are more comfortable in glasses, getting a new pair for your wedding day may be better than getting contacts for the first time.
Start early

The wedding dress industry has very effectively educated us all that, to make sure your dress is the dress of your dreams and that it fits you perfectly, you need to start shopping early. Same deal with glasses. Your glasses need to suit you, to fit you perfectly, and be comfortable enough to wear for your whole wedding day without leaving red marks on your nose. They also need to give you perfect vision correction. But unlike a dress, a stitch here and there or safety pin or two at the last minute is not going to effect a needed last-minute adjustment.
Kylie's Pro-Tip:
Whether you are going for new glasses or new contacts, get them at least 3 months prior to your wedding to make sure you are very well adapted to them by the time the cameras are out
.
The wedding dress industry also has very effectively educated us that, when you go wedding dress shopping you need to have with you shoes with the same height heel you'll be wearing on the day, your foundation garments (that's modesty speak for your bra and whatever you'll be wearing on your bottom half), together with jewellery and hairpiece/veil if you already have those or are wearing an heirloom. Though they never mention it, you need to take your glasses, too.
The tricky bit to this is that you can't be sure until you see everything together what will work and what won't. Everyone expects that certain types of veils and glasses might not work together. But what you might be surprised by is that some dresses just don't work with some frames. If both your dress bodice and your glasses are blinged to the nines, the whole effect will be way too busy. The whole exercise is complicated by something that we've all learned from watching
Say Yes to the Dress
, and similar TV programs. It is not unusual that
The Dress
turns out to be nothing like the picture you had in your head when you started shopping.
Kylie's Pro-Tip:
We take credit card details and let you take frames home to try on.
Given that the wedding dress industry advises shopping for a dress a minimum of six months ahead, this means you could do the initial shopping for your dress and veil with the frames before you commit to them and have them made up in your prescription! You also need to check that there is nothing on the frames that will catch on a veil. Sharp corners and bling can create pulls or snags. If the frames prove incompatible with a veil part of the decision-making process is to pick which one will take precedence. Do you change the frames, opt for rimless glasses, decide to go forgo wearing a traditional veil altogether, wear a birdcage veil, or choose a long veil attached to your hairdo at the back?
Get expert help

One thing I can guarantee is that there is a multitude of options. Whatever your price point you will find yourself spoiled for choice of shapes, colours (including clear and skin-toned), materials, and styles, so it would be a good idea to find yourself a professional optometrist who has a wide selection of frames to choose from and staff who are trained and will work with you to select a frame that fits perfectly and looks fabulous on you but also which lens type and options will be your best choice.
Kylie's Pro-Tip:
A frame may feel OK in the shop for a few minutes but trained staff are able to predict which frames are going to still feel comfortable after 16 hours. The perfect frame for you may not be the frame that you admire on someone else. When something suits someone else, we love it on them. Then we try it on and it is not us. One of the reasons expert help is the best way to guarantee a good outcome both in fit and style is that we are so used to seeing ourselves either without glasses, or with our current style, that it can be hard to make a judgement about a new look.
Its not just about the frames

Speaking from experience, in addition to correcting your vision so you can see perfectly, there are four things you should expect from your lenses on your wedding day (or any other day for that matter)
They should have anti-glare coating
Reflections from the sun, overhead lighting, or camera flashes can ruin a gorgeous photo and obscure your eyes when talking to people. Anti-glare coating is 100% worth the extra cost.
They should give your eyes 100% UV protection
UV protection doesn't mean sunglasses only. It can be in clear lenses, too. It is really important for eye health.
Kylie's Pro-Tip: Sunglasses in the car on the way to your wedding will prevent watery eyes and sneezing. We can't have running mascara as we get out of the car!

They should have really high clarity value
Did you know that, like diamonds, the higher the clarity value the clearer a lens is to look through?
Kylie's Pro-Tip: While it cost more to get better clarity, most people are very happy with the benefits and better vision.

They should to be as thin as possible
That's for aesthetic value. But hey, on your wedding day, aesthetics are super important.
Kylie's Pro-Tip: Lenses come in different thicknesses. Thinner lenses are lighter, flatter, and have a larger sweet spot. Even if you have a higher prescription we can make your lenses thinner.

Bring the frames to your hair and makeup trial

You don't have to compromise the dazzle factor just because you're wearing glasses. I'm told by makeup experts that, when they have a glasses-wearing bride they pay extra attention to her complexion and usually go for a dewy look that minimises any shadows under the eyes. They also match eyeliner to strength of prescription. So whether your lenses make your eyes look bigger or smaller will decide whether they use eyeliner on both lids, or only the top lid. And they also match eyeliner to the frames. Thin for thin, thick for thick. Choice of eyeshadow and lipstick is also influenced by your glasses. If you are going with false eyelashes you don't want them sweeping up and down the inside of your lenses. so the style and fit of your glasses needs to be taken into account. And don't forget your eyebrows. Shape is important. As is having them nicely tamed. While you might think your glasses will hide your brows, they do exactly the opposite- they draw attention to them.
Glasses usually pair best with soft hairstyles, unless you really do go for the stereotypical old teacher look. Your hairdresser will be your best advisor as to what will work with your hair length, hair type, dress, veil, and glasses.
Talk to your photographer

Have some trial photos taken beforehand so your photographer can familiarise themselves with how your glasses work on your face. On your wedding day do take your glasses off for some photos. Not that you won't be looking gorgeous in your glasses on the day, but a few photos that really show off your fabulous makeup and gorgeous eyes will be a treasured memento.
Earrings or not

Another delightful (not) bit of twaddle is that earrings and glasses don't go together. Of course they do. You just have to make sure they don't fight with one another for attention.
What about the kiss?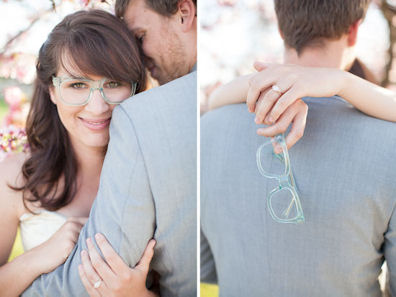 Again, as a long-time glasses-wearing celebrant (and person), I shake my head when I come across suggestions that a good reason not to wear glasses on your wedding day is that they may get in the way of your first kiss. Come on. You've kissed more than once with your glasses on. You've got it. You know how to do this. On the other hand, when it comes to the time for your first kiss, both of your hands will be free. Nothing in the world to stop you whipping off your glasses just before the two of you go for it. Having your glasses dangling from one hand round your groom's neck will add an extra touch of intimacy and make for a very romantic photograph.
Some bits and pieces of practical advice

Pack some lens cleaning wipes to keep your glasses sparkling clean throughout the day. Get your groom to slip some into his pocket. They come individually wrapped, so they won't make his pocket bulge.

Bring a backup pair of glasses with you. Accidents do happen.

If you decide to wear contacts after all, definitely bring a backup pair of glasses in case your contacts dry out, your eyes start to itch, or just become uncomfortable. Rather than ending up with red and puffy eyes, not a good look, a quick switch to glasses will save the day.
Pro-tip from Kylie: If you do want to wear contacts, daily disposables are best wherever possible as you're putting a fresh lens in every day. We have access to the latest materials that perform better in dry eyes so there is less drying out and better comfort and vision.

If you are planning to wear contacts, take your glasses to your makeup trial anyway and discuss with your MUA the possibility that you might need to switch so they can take that into account when planning your eye makeup
Last Pro-tip from Kylie
:
I'd be looking at it all at once - dress, veil, glasses - as it 's the whole picture thing
.
Kylie's Website is
https://kenmoreoptometrist.com.au
And her Facebook page is:
https://facebook.com/kenmoreoptometrist

And a last tip from glasses-wearing me.
It is all about balance. So, if the frames you fell in love with are a tad heavy in relation to the dress you fell in love with, balance them with one other statement piece, like a bolder hair accessory, a standout pair of shoes, a bright clutch or wrap, or your bouquet.
The bottom line is, as long as you stay true to your personal style, as long as you feel comfortable, your focus will be on marrying the love of your life surrounded by your friends and loved ones. You will be radiantly rocking your glasses every second of a fantastically happy day.

Thanks for reading!