| Wedding Ceremony | Wedding Planning |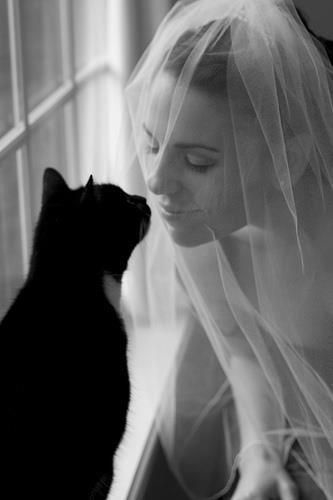 Go on. Admit it. When you see a photo of a bride or groom with their cat, your heart just melts.
Because of their nature, it is rare for cats to be part of a wedding held at a venue. In 14 years and 900 weddings, I've had only one wedding where the couple brought their cats to the outside wedding venue (the Nepal Peace Pagoda at Brisbane South Bank) with them. When the wedding is held in the home, couples usually shut their cats away or send them for a short-stay holiday at a local cattery so they don't get overwhelmed by having so many people around them. Whatever the temperament of your kitty fur baby including them in your wedding photos is something you'll never regret. All it takes is a bit of caution and some forward planning to make sure your baby is safe and comfortable.
Choose cat-loving wedding suppliers

A hair and makeup artist or a photographer who is allergic to cats, or anyone who is phobic about them will not be able to focus on the job at hand if you want to involve your cat. Even a marginal level of discomfort will interfere with smooth and professional service, so confirm that your various wedding suppliers are ok with your cat before you sign any contracts or pay a deposit. It is also a very good idea to write into the contract that you will have a cat present, and where, when and how your pet will be involved.


Plan your photos

Discuss with your photographer that you want some photos with your cat. Generally these would be taken while you are getting ready and when you are all dressed and ready. Depending on where your wedding is held, there may also be an opportunity to include your cat in the formal photos taken after the ceremony.


Tell your florist you have a cat

Some popular flowers used in bouquets, boutonnieres (buttonholes), corsages, ceremony decorations and centrepieces are not safe for cats. While many may cause nothing more severe than a mild digestive upset, some are so highly toxic that your fur baby is unlikely to survive even a small nibble.
Whether you re a DIY couple, or are using a professional florists, you need to be cautious about both flowers and greenery. Choose cat-safe flowers but also give your florist or anyone else who is helping you with floral decorations a heads-up that both flowers and greenery used must be safe for cats in case last minute supply problems necessitate that substitutes are used.
Roses and orchids are both pet friendly and people friendly. Most ferns are non-toxic, though asparagus fern is toxic. Rosemary, a wedding herb, is not toxic to animals. But once you start considering other popular wedding flowers and greenery you need to be cautious.
Popular Wedding Flowers that are Toxic to Cats

Arum Lilies
Baby's Breath
Bird of Paradise (Strelitzia)
Calla Lilies
Chrysanthemums
Daffodils, Jonquils, Narcissus
Hydrangea
Iris
Lilies - Asian, Easter, Stargazer and others are all highly toxic, including their pollen
Lily of the Valley
Peonies
Tulips
Popular wedding greenery that is toxic to cats

Eucalyptus
Ivy
Asparagus Fern
Include your cat in your intimate ceremony

If you are planning an intimate ceremony in surrounding your cat is comfortable in and with people your cat is familiar with, there is something very special about involving them in the ceremony. If they are happy just to roam around, and perhaps jump up and sit on someone's lap during the ceremony, look forward to great photos. If they will sit beautifully on the signing table while you sign, or have a cuddle at that point in the ceremony, go for it. If they will happily allow someone to carry them so they can formally present the rings, great photo-op. If you want to go all the way and carry your cat instead of a bouquet, good thinking. Though I do suggest a good brush beforehand to minimise hair shedding on your wedding finery.
Related information