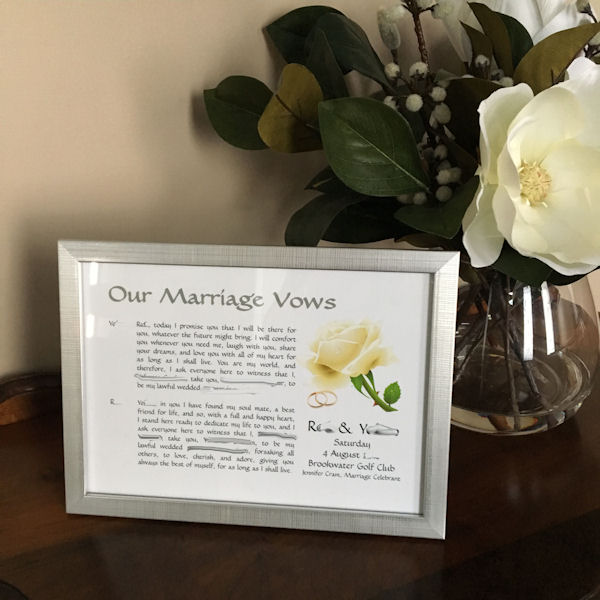 You've worked hard on your vows to make sure they will be perfect on the day. The promises you make to one another are the heart, soul, and centrepiece of your ceremony. They come from your best and higher selves. They are also the blueprint for your marriage and a timeless reminder of what is important to you both. So don't pack them away!
Include the text of your vows in your thank you letters

When you thank you guests for coming to your wedding and for the gift they gave you, ask them to support you in your marriage and in faithfully keeping your vows and include a copy of the personal promises you made on the day.


Save your vows in your wedding album

If you read your vows on the day, save your vows cards in your wedding album. If you repeated them after you celebrant, print them out on acid-free paper.


Frame your vows

Thanks to computers, we all have access to multiple ways of creating beautifully formatted text. Format your vows and print out on thick paper, frame, and display where you see them all the time. Your bedroom is a perfect choice.
Create a digital version of your vows

Turn them into a screensaver

Keep a copy on your phone

Create a laminated vows card to carry in your wallet

If your vows are not too long, format them to credit card size, print out on card, and laminate. Carry them in your wallet. If they are long, summarise them in dot points and print and laminate.
Read your vows out loud to one another again and again

On date night, once a month, every anniversary, light the candles, pour the wine, and read your vows out loud to one another again. Bring them out and re-read them whenever you hit a rough patch to remind you to hold steady.
Revisit your vows on significant anniversaries

Consider your vows to be a living document. Are they still relevant? Do they reflect your current aspirations for your marriage? Do you need to update them to reflect changing priorities or circumstances?
More information about vows

Thanks for reading!