| Naming Ceremony | Wedding Ceremony |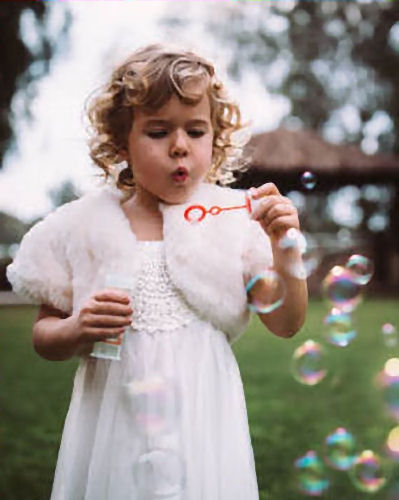 I love bubbles! There is nothing more magical than the sun shining off floating bubbles, highlighting the subtle rainbow imbedded in each one.
They are my go-to suggestion when wedding venues will not allow throwing of petals, confetti, or rice. In fact, I love bubbles so much that I often suggest that you don't just save them for the recessional (your formal walk out) but have your wedding party walk in through a cloud of bubbles
,
and have bubbles behind you while you are signing the certificates.
So it came as a bit of a shock to read a very confronting headline in a US newspaper:
"Prevent Coronavirus Infections: Leave the Soap Bubble Blowers Alone Until the Coronavirus Pandemic Is Over
"
Bubbles and viruses

The argument in that article is that bubble blowing is dangerous and risky because it
might
transmit the COVID-19 virus. This idea comes from a 1977 study of the way bubbles from the surf carry virus to the sea's surface and propel them into the air.
Recent research into the physics of bubbles, carried out at the Massachusetts Institute of Technology has found that, when bubbles become laced with bacteria, they become a bio-weapon capable of spreading that bacteria over long distances. How this works is that the waste products of the bacteria (basically, bacterium poop) allow the bubbles to be thinner than uninfected bubbles, so they can travel further and emit many more droplets when they burst.
However,
viruses are different from bacteria
. They don't make waste the way bacteria do. Which raises the question: Will the detergent in bubble solution kill the COVID-19 virus given that we've been told that 20 seconds of scrubbing or vigorous hand washing removes the outer protective layer of the virus and annihilates it? The answer to that question is that we just don't know. As you can imagine, whether bubbles are risky or not is a question is nowhere near the top of the research agenda at the moment.
Should we avoid bubbles in ceremonies?

At best, I think we should consider that bubble solution's destructive effect on viruses may be open to question. But we should also consider that the capacity of a bubble to travel more than 1.5 meters certainly isn't. An infected person may well release infected droplets into the bubbles they blow. But blowing bubbles by mouth is not the only way to produce them. Bubble wands that create larger bubbles when you wave them, rather than the small "wedding" bubble wands that have to be blown onto to produce tiny bubbles are one answer. Using a bubble machine is another.
Bubbles and children

Children love bubbles. So one of my go-to activities for a naming ceremony where many children will be present is bubbles blessing. Children surround the baby being named and, as I say some blessing words, blow bubbles towards the baby. Everyone loves it.
When it comes to children, there are some perennial safety issues with bubbles. To avoid having to call the Poisons Centre, it is wise to
Purchase big bubble wands that need to be waved to make the bubbles rather than the ditsy little wedding bubbles that need a vigorous blowing through a tiny ring. Bubble wands make sure that the solution is kept away from mouths.
If you make your own bubble solution use detergent that is made for hand washing dishes, not a dishwasher or washing machine
If you buy concentrated detergent, dilute it according to the manufacturer's instructions, and use the minimum amount of diluted liquid.
Don't put bubble solution in anything that would normally be used to drink out of. Children's sense of taste is not that well-developed so a child might take a hefty swig before anyone realises what has happened.
Thanks for reading!