Is your Celebrant Duly Authorised?
(A quick and simple way to check this - and a bit more)
by
Jennifer Cram, Brisbane Marriage Celebrant
© (06/08/2018)
Categories:
| Celebrant | Wedding Legals |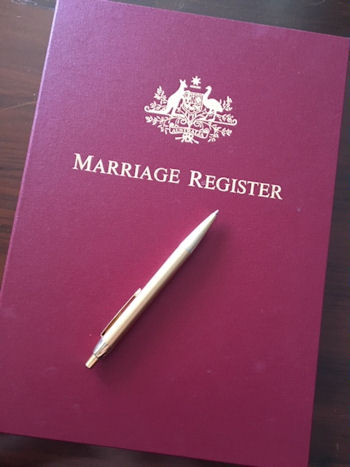 While scams involving persons who are not authorised celebrants are extremely rare in Australia, now that a celebrant can be deregistered forthwith if he or she fails to pay the annual fee celebrants are now required to pay, it is particularly important to check whether your celebrant is registered at the time you book and lodge your Notice of Intended Marriage, and, if your marriage is going to take place in the next financial year, whether that registration is still in place leading up to your wedding day.
An easy way to check out whether your celebrant is authorised to solemnise your marriage (or for that matter, if a minister of religion is licensed to perform marriages) is to go to
Find a Marriage Celebrant
section of the Federal Attorney-General's website.
You can then search on the person's name (NB for a simple search either first name or surname only). You will then be able to check the: date on which the celebrant was authorised (this will help you assess how experienced the celebrant is) and whether he/she is still active, together with contact details - address, phone number and contact email, and the type of ceremony (civil, religious etc) the celebrant is authorised to conduct.
In addition, you will be able to ascertain whether a particular civil celebrant has nominated to be included in the Religious Marriage Celebrant sub-category, and is therefore legally allowed to discriminate on grounds of their own personal religious beliefs.
You will also be able to see how when your celebrant was registered.
My entry looks like this:
CRAM Jennifer, Mrs Registered 2/09/2006 Active


PO Box 20
INDOOROOPILLY QLD, 4068
m: 0431 987 313
bnecelebrant@jennifercram.com
Civil Ceremonies