| Wedding Ceremony | Wedding Traditions |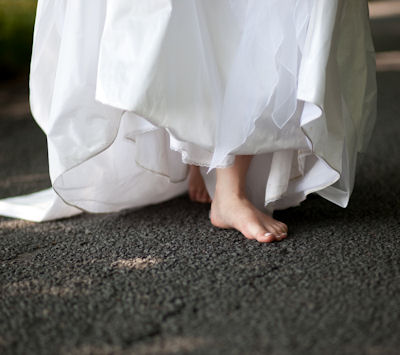 Barefoot and bridal? That sounds like a contradiction. After all, why is there such a focus on the shoes in weddings? They are talked about, photographed, and brides spend hundreds, sometime thousands, of dollars on fabulous footwear. Shoes to die for. Except for beach weddings, where something more practical is called for. Barefoot shoes (basically decoration without soles) sometimes feature. And often brides (and bridesmaids, and grooms, and groomsmen) go barefoot, very likely not aware that they are following an ancient tradition from half a world away.
Barefoot weddings - an ancient Scottish tradition

Many of the hallmarks of a wedding in the Scottish tradition are ancient - the thistle as a symbol, the tartan featured in kilts and wedding decoration, the skirl of the bagpipes. But none are as ancient as marrying with bare feet, something those who have experience Scottish weather might find surprising.
The Gaelic/Celtic significance of barefoot weddings

As far as we can ascertain, in ancient times Gaelic/Celtic weddings (in Scotland, Ireland, Wales, and Corn wall) always took place in the open air in what we would term a natural setting, often within a grove of trees. Brisbane has a number of groves of old Moreton Bay fig trees, popular for wedding. Bodies of water also had great spiritual significance in the Celtic world, so marrying outdoors under trees or on or near a beach, river or lake as we commonly do in South-East Queensland while barefoot (signifying both humility and simplicity and facilitating connection to the earth) is completely in tune with the Celtic ethos.
Barefoot weddings in a wider context

If you decide to go barefoot at your wedding you should expect that some guests will be accepting of your choice, while others might be strongly opposed. The most common, and overt reasons for opposition are related to health and safety, and an often mistaken belief that it is illegal to be barefoot in public places.
On the plus side, for many cultures being barefoot is the norm, particularly inside. Many believe that having your bare feet in contact with the earth, grounds you. As a sign of humility and respect, many religions require everyone to remove their shoes before entering a sacred place Some believe that baring your feet represents baring your soul.
On the negative side are the ingrained beliefs that bare feet are a sign of poverty and low status, even in a country like ours where being barefoot in summer is normal, where many children in past years went to school without shoes, and where 2012 a summer advertisement featuring a barefoot customer dashing across the tarred car park into McDonald's, marrying barefoot will suggest to some that your wedding is a hippy wedding,
Shoes feature in wedding superstitions and customs. One old tradition, stretching back thousands of years, was for the bride's father to give the groom a pair of the bride's shoes to symbolise transfer of authority over her. Thankfully, that custom has long disappeared but a more "modern" variation of the early Anglo-Saxon custom of throwing shoes at the couple for good luck, attaching shoes to the back of the car the couple use to make their exit from their reception is still occasionally seen, though the shoes might be replaced by tin cans.
Some practical considerations

---
Before you decide to go barefoot at your wedding you should
Assess the ceremony space and the (walking) route to it for safety. Feet have no natural protection, so you want to avoid cuts and injuries that can be caused by unpleasant and sharp things that could be hidden in grass or sand.

Check with the venue as to any in-house policies they might have
Alert your guests if you wish them also to be barefoot.

Thanks for reading!