Eco-Friendly Green Weddings
by
Jennifer Cram
(25/10/2016) |
Categories:
| Wedding Budget| Wedding Planning |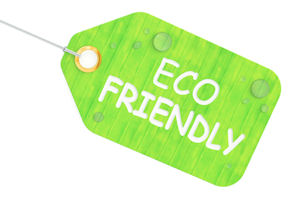 Environmentally friendly celebrations do not have to lack style. As well as ensuring that you do not start your married life by unwittingly contributing to climate change or environmental damage, making socially conscious choices can save you money – and provide a defensible justification for not breaking the bank! Here's how:
Keep it local

Wherever possible use local resources for your wedding. This saves on transportation, thereby reducing emissions, and supports your local economy.
Go Digital
Digital photographs are not only easier to share, they're much more environmentally friendly – no chemicals, film, or wasted paper since you only get prints of exactly the pictures you want. So forget the disposable cameras and ask your guests to use their own digital cameras or smart phones. I don't know a single professional wedding photographer who hasn't gone digital and most offer a choice of delivering digital photos plus a wedding album

Between inks, toners and solvents a lot of chemicals are involved in printing. While the etiquette books and the printing industry continue to very strongly suggest that emailed invitations are social anathema, you might like to consider using email or a wedding website for some or all of your wedding-related communications in order to minimize transportation emissions and paper use, and to limit use of chemicals. Traditionally, all of the following wedding related items are printed, but can be delivered digitally:
Save the date communications (sent to alert people to save the date of your wedding, perhaps make travel plans, and that an invitation will follow – or providing the URL for your wedding website where they can check in at regular intervals for updates)
The actual invitation
Wedding related information such as mud-maps of how to get to the ceremony and/or reception site, accommodation information for those traveling from interstate or overseas and so
RSVPs – request that invited guests text or email you.
If you choose to have invitations, ceremony order of service booklets, menus, and placecards, printed thoughtful design can reduce the environmental impact of your invitations use recycled paper, or paper made from an alternative fibre such as hemp or bamboo and environmentally friendly inks. There are many beautiful recycled or alternative papers, and every tonne of recycled paper saves:
31,780 litres of water;
4,100 kilowatt/hours of electricity;
75 per cent of chlorinated bleach;
27 kilograms of air pollutants;
13 trees;
4 cubic metres of landfill; and
2.5 barrels of oil. [1]

In commercial printing processes ink, toner and solvents needed to clean ink presses, together with the electricity required to run the machines and the disposing of left-over ink this makes printing not very environmentally friendly. Minimise the environmental impact of your printing needs by:

Choosing to handwrite or handstamp invitations
Using your own laster or inkjet desktop printer (while toner from laser and digital printers is petroleum based, no industrial waste is created as with liquid ink printing, no cleaning solvents are required after each job, and no printing plates are made for each original)
Utilising a firm that does digital printing
Asking your offset, thermography, letterpress or engraving printing firm to use soy or vegetable-based inks
Consolidate inserts – instead of having multiple inserts for different types of information combine the essential information into one card, perhaps print up a website card that directs your guests to your personal, paper-free wedding website
Substitute raffia for polyester ribbon
Reduce the numbers.

Eliminate unnecessary pages from orders of service booklets (I can give you a template that will reduce it to one double-sided A4 sheet, folded, which includes space to explain your environmental choices and any rituals together with the order of service)

Provide one program per couple




Have only one or two menus per table
Eliminate ceremony programs and menus by having one large one on display with a sign inviting guests to take a photo on their smart phones.
Even if you have gone digital for your invitations there are likely to be some guests and relatives who do not have access to email. For these the most eco-friendly alternative is invitations and other communications handwritten or printed in environmentally-friendly inks on recycled paper.
Eco-friendly flowers
While wedding flowers are symbolic of the natural world, they are rarely eco-friendly. The realities of globalization is that your flowers can be sourced from all over the world, and in many areas, especially Asia and South America, the growing practices can be decidedly environmentally unfriendly. And then there is the transportation impact. Also, using cut flowers results in a lot of floral waste. To minimise the impact of your floral decisions
Choose an outside ceremony site that is complete in itself (garden, park etc)
Use only seasonal flowers and plants
Choose organically grown blooms from local sources.
Choose silk flowers (real silk, made from a renewable resource)
Decorate the ceremony site and reception with potted plants and/or small trees that can later be transplanted in your garden. Alternatively, you can rent the plants from one of those plant rental firms that normally service office buildings.
Herbs are largely overlooked for weddings, yet they have a long association with nuptials, so their ancient floral symbolism can add richness to the day, ensuring that the bride's bouquet and the groom's boutonniere become a silent, yet public pledge to each other and assembled family and friends of love, loyalty and steadfastness. In ancient Greece brides carried bouquets of marjoram (symbol of joy and happiness) and wore crowns of myrtle (the ancient emblem of Aphrodite, goddess of love, called Venus in ancient Rome, and therefore symbolic of love, marriage, passion), rosemary (remembrance, fidelity) and flowering hawthorne. Bridal attendants wore garlands of wild hyacinths and parsley (symbol of festivity). Myrtle has long been included in European bouquets. During the Tudor period in England branches of rosemary were carried in front of the bride and given to guests. In a wedding sermon given in 1607, the Rev. Roger Hacket advised a couple to "Let this rosemary, this flower of men, be a sign of your wisdom, love & loyalty. To be carried not only in your hands but in your heads and heart." By the early 17th century tall potted bay trees had joined the rosemary and myrtle at wedding celebrations. And ivy, symbol of fidelity, marriage and friendship, has continued to be a reasonably popular inclusion in formal bouquets – but there is no reason why pots of ivy, or ivy topiaries (easy to grow if you have some lead time) can't be used as centerpieces.
Consider a flower-free bouquet – a lovely fan, for example.
Alternatively consider green bouquets and coordinating boutonnieres – using symbolic herbs, gum leaves and so on, perhaps with a few locally grown flowers. The current fashion for hand-tied bouquets with exposed stems lends itself to a wider variety of flowers and plants than the more formal wired bouquets – and is easy to make at home. If of Scottish ancestry, the purple Scotch thistle (regarded to be a weed in Australia and often found growing wild) mixed with branches of young gum leaves, can look wonderful.
If you are going to have a flower-girl scatter rose-petals in front of the bride as she walks down the aisle, consider mixing them with rosemary and/or thyme (symbol of strength). This will reduce the number of rose-petals required and as the bride walks down the aisle she will crush the herbs and release a wonderful fragrance, something that, despite all the flowers, weddings tend to lack.
Non-flower centerpieces such as floating candles in a dish with ivy cuttings are elegant, romantic and distinctive.
Recycle your décor
Decorate the ceremony site with items you can reuse at the reception (make sure to delegate the transferring of such items, and also alert the reception site that this is happening).
Make sure that arrangements are made to transfer plants, flowers etc at the end of the ceremony either back to your place to be planted (if you're going away you might need to delegate care until you return) or on to the final recipients.
If you're having your reception or ceremony in a commercial space or venue, investigate the possibility of sharing the costs of floral decorations with a couple having their wedding there either earlier or later in the same day.

Light and decorate with candles
Candlelight is both romantic and energy-efficient (but, of course, is not suitable for use outside unless you contain the candles in something to protect them from the wind). Soy candles are made from a renewable resource and are cleaner and longer burning that candles made from petroleum-based waxes. Soy candle wax spills are also easy to clean – just use soap and water. Be sure to check with your venue before making any purchases. Some venues ban open flames.
Plant a tree, and thereafter track how old it is by your anniversary
A tree-planting (obviously only relevant if your ceremony is not taking place at a public or commercial venue) can be incorporated in your wedding ceremony. If you can't actually plant a tree, consider planting on in a large pot so that it can later be transplanted to a more suitable location.

Adopt the Bermudan custom of topping your wedding cake with a small sapling – and plant it in your garden afterwards.
For favours, give guests a tube-stock tree to plant in their own gardens with a handwritten note attached explaining species and why you chose it.
Choose attire mindfully
With globalisation of the fashion industry, a large proportion of wedding gowns are manufactured in factories in China using petroleum based synthetic fabrics. For an more eco-friendly alternative, consider:
Having the bridal dress and bridesmaids dresses made locally
Renting, borrowing or buying second hand
Forgoing the matched sets and giving attendants a colour and style guideline and let them find something that words for them or that they already have that works for you.
For the males of the party renting is a well-established custom, but other options include simpler attire (like khaki or gray pants with a navy blazer, or a black business suit) that they can wear again and again. In the Queensland summer, the men will thank you for choosing a simple pants and shirt ensemble!
Think local and what's in season for both food and drink
Choosing local and seasonal food and drink minimises transportation and storage environmental impacts.Granite Belt wines travel far less than those from down south, for example. And out-of-season foods are likely to be imported from the northern hemisphere.
Choose a food service that minimises waste

Discuss with your caterers or venue managers which form of food service minimises waste. For some, eg buffets where portion control is absent, many caterers over-cater in order to ensure that there is adequate food for all guests.
[1]
Source: Australian Conservation Foundation The little paper book on how to make a big difference environmentally with paper.