How to Remember and Honour Deceased Loved Ones in your Wedding Ceremony
by
Jennifer Cram - Brisbane Marriage Celebrant
© (09/09/2016)
|
Categories:
| Wedding Ceremony | Wedding Rituals |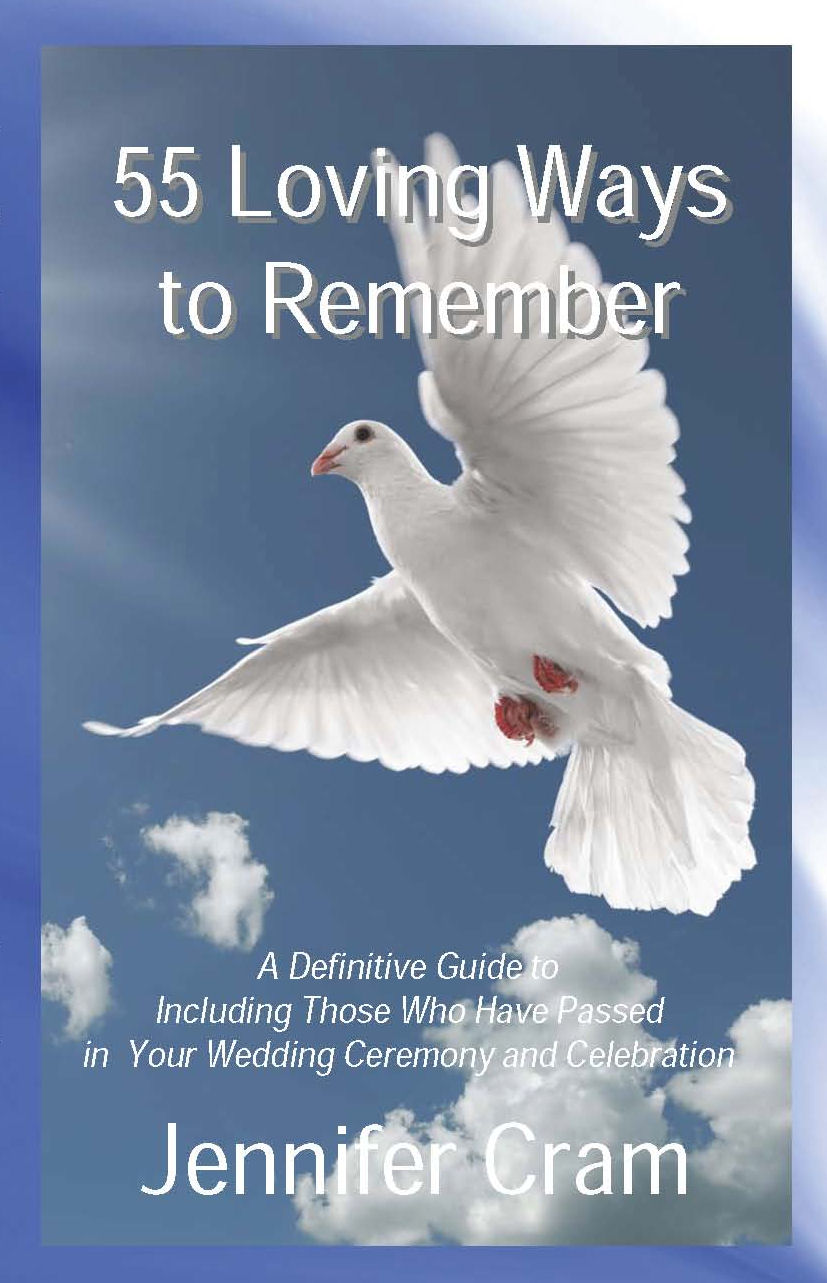 Whether they are present at your wedding or not, it is natural that your thoughts will be with loved ones on the day because they are woven into your lives in countless ways. Including them can help you feel close to them on your big day.
For this reason, the question of whether to invoke memories of loved ones is a very important issue for engaged couples, as is how to do so in the ceremony and the celebration that follows. While it is considered inappropriate to include deceased parents' names on the invitations, there are many ways to remember and honour loved ones without impairing the joyous tone of the celebration.
It is, however, essential that you consider the emotional needs of everyone present because some people still feel uncomfortable with the idea and may try to talk you out of it.
Two ways to approach honouring loved ones who have passed

There are two broad approaches you can take.
You can include a public acknowledgement during the ceremony or at the reception afterwards, or
You can include your loved one in the ceremony in a private way that does not alert the guests.
A public acknowledgement can be a loving tribute – words spoken by your celebrant or a written acknowledgement in your order of service (wedding program). It can be a memorial ritual – acknowledgement of one or more loved ones as part of your unity candle, sand ceremony, or other ritual. It can be incorporated in the release of balloons, butterflies, or doves, or it can be a private symbolic remembrance. If you wish, a symbolic remembrance may be shared with guests by a mention in the ceremony or a few explanatory words included in your program (order of service).
Which approach you choose, and the specific way you choose to acknowledge those who have passed will depend on a number of things:
What you, individually and as a couple, feel is appropriate to include in your wedding ceremony.
What you, individually and as a couple, feel is appropriate to the personality and character of the loved one you wish to memorialise.
How comfortable your guests will be with the type of memorial inclusion you are considering.
How recently your loved one passed.
How untimely, unexpected, or tragic the circumstances of your loved one's passing were.
The more recent the loss, the more private any allusion to your loved one should be. When sufficient time has passed so that everyone concerned has come to terms with it reference your loved ones is more likely to evoke memories of them during their lifetime than focus on the circumstances of their passing.
You should consult others who will be present before you decide how to acknowledge a loved one who was also important in their lives. You should also make your celebrant (officiant) aware of your intention. Remember that your celebrant (officiant) can be a valuable resource.
If you have any doubt about how you or your guests will react on the day err on the side of the caution, and choose a symbolic way to remember your loved one without overt or explicit acknowledgement. At heart, you are doing this for yourselves, so how you decide to include them your wedding ceremony and celebration is a personal decision. There is no right or wrong way.
Four types of acknowledgement

There are four broad ways to acknowledge and honour your loved ones.
Loving Tributes
Memorial Rituals
Memorial Releases
Symbolic Remembrances
Loving Tributes

A tribute involves words - spoken or written. You can ask your celebrant to say a few words early in the ceremony, you can include a tribute in your wedding program (order of service) if you have one, you can use a sign, perhaps next to a memorial candle or photograph, or you can use something they wrote as a reading.
Memorial Rituals

A memorial ritual is a visual representation of the act of remembering. It can be accompanied by a narrative. Lighting a remembrance candle, designating a chair or chairs of honour (with sign, photo, and/or flowers), or planting a tree are all common ways of memorialising a loved one. You could add a memorial element to wedding ceremony rituals such as the unity candle or sand ceremony either with words or by using something that belonged to your loved one.
Memorial Releases

Balloon, butterfly, and dove releases are common reflective and uplifting rituals in both weddings and funerals. Though the intention and the words that accompany the release differ considerably between these two types of ceremony, a release can serve the dual purpose of celebrating your union and honouring loved ones who have passed. The memorial aspect needs to be handled delicately to ensure the release remains primarily a celebration of your happiness. You need a skilled celebrant for this!
Symbolic Remembrances

Where you wish to honour loved ones in a private way that does not alert guests, the possibilities are almost infinite. Youra can replicate elements of their wedding, use or wear something that belonged to them, incorporate their favourite flowers, colours or music, attach a photograph to your bouquet or boutonniere (small frames made especially for this purpose are widely available), or attach a brooch or cufflink (I had a groom who wore his mother's lovely frog brooch instead of a boutonniere), wrap the stems of your bouquet in one of their handkerchiefs.
Further information

Thanks for reading!