| Wedding Ceremony | Wedding Rituals |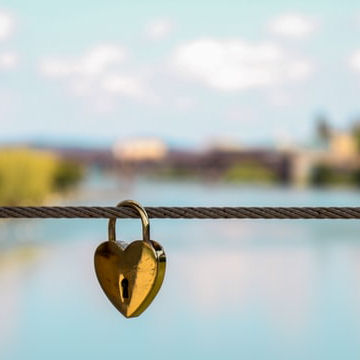 The love lock unity ritual is inspired by the custom of couples attaching a padlock to a public structure as an expression of their love and a wish that it lasts forever. As it is a very new ritual, it is likely that including it in your marriage ceremony will be a totally new experience for your guests, and, in the absence of established expectations, you can make it completely your own. This means you have total control over the ritual and the freedom to decide what it symbolises for you, whether to use one lock or two, and what you do with them.
What is a love lock?

A love lock is a padlock, usually with names and date added to the lock, that a couple will attach to a structure to symbolise their love. They then throw the key away, ensuring that their love will be unbreakable. Most of the locks that have been attached to public structures over the years have been ordinary padlocks available at any hardware store. Generally names and dates are either scratched into the surface or painted onto it by the couple themselves. As the custom became more popular over the past decade or so, many manufacturers have produced padlocks specifically for this purpose. These may be heart-shaped, or have heart shaped features attached, painted red, or have extended loops so they can be attached on a wider variety of structures. Most come with a key, but combination locks that rely on a code to open them are also available. In response to the environmental issues related to keys, at least one manufacturer is producing locks that have no key or code and therefore cannot be opened once they are snapped shut.
The origin and spread of the love lock custom

Like the 1954 movie that had generations of lovers flocking to Rome to throw three coins into the Trevi Fountain, the idea of attaching a lock to a bridge and throwing the key into the water has its origin in fiction.
The first appears to be in a rather depressing World War I tale from Serbia about two lovers who are separated when the man had to go to war, leaving his fiance behind. He didn't come home. Not for the usual reason. He'd fallen in love with another woman while at the front. His heartbroken fiance died young and alone, and local girls started to attach locks to the bridge where the couple used to meet and throw the keys into the river to ensure a life of fidelity.
Fast forward to 2006 and a book by Italian author, Frederico Moccia, an
I
d its 2007 film adaptation -
I Want You -
and the ritual of affixing locks to the Ponte Milvio over the River Tiber in Rome took off. And the idea and the ritual has spread rapidly, with lovers affixing locks to bridges and other structures all around the world.
Contemporary Problems

Even before the 2014 collapse of part of the parapet of the Pont Des Artes bridge in Paris, blamed on the weight of locks attached to the bridge, cities world wide were becoming increasingly concerned by the practice of lovelocking, considering it a form of vandalism.
Apart from the aesthetics - cheap locks quickly become unsightly as they deterate, the two major problems are the accumulated weight of the locks and the environmental damage done by throwing the keys in the water. An accumulation of metal padlocks literally weighs tonnes, an issue when attached to bridges that have not been . designed to withstand that extra load. When thrown into water, metal keys rust and pollute the water, harm wildlife, and block drains, leading to flooding.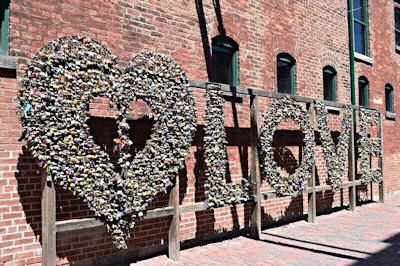 Cities have responded in two ways. Most have removed locks and banned the practice. Some offer alternative installations where lovers can attach their locks, such as the LOVE art installation in Toronto's Distillery District and the metal trees down the middle of the Lushkov Bridge in Moscow. But for lovers in Brisbane, no such opportunity exists in a public place.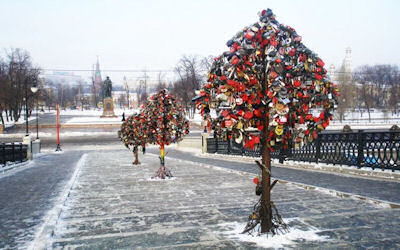 You could send your virtual lock to a virtual love-locking site. Or you could include a love lock unity ritual in your wedding - mindfully adapted to ensure you do no damage to either the built or the natural environment.
Why love locks are emotionally appealing

The locks have much in common with engagement and wedding rings. They are emotional objects which couples use to symbolise their emotions. As symbols of those feelings the objects themselves acquire emotional value. Like weddings rings, the locks come to represent the relationship, the love and commitment between two people. Like wedding rings they acquire emotional association with a particular date. It is not uncommon for names, initials, and/or the date to be engraved (or scratched) on the locks in the same way the inside of weddings rings might be engraved.
We know about the popularity of love locks and their almost universal appeal because couples have attached them to what are essential tourist attractions in romantic locations of historical importance or aesthetic appeal. While the couples may attach the locks and then leave, there is appeal and romance in knowing they have left their mark in a desirable location, to which they can return, possibly to celebrate an anniversary.
How love lock rituals echo ancient practices

In line with not uncommon practice, I have read suggestions that the love lock ritual originated in 1st century China. Given that locks were known in Ancient Egypt, Greece, and Rome, this seems unlikely, particularly as for a long time locks were prized in China for their aesthetic appeal, not for any practical purpose. But putting all that aside, there are genuine parallels between love locks and earlier practices that the modern rituals echo
From the Iron Age on, metal objects have been used as offerings. Ancient Celts, Vikings, and others deposited manufactured metal objects (weapons, coins, in water such as rivers, lakes, and wells). The modern practice of attaching locks to a bridge and throwing the keys into the water, like the widespread practice of throwing coins into wishing wells and fountains, continues the practice of deposition with the expectation of receiving a blessing or a favour. The modern ritual is therefore a direct descendent of earlier rituals that empowered hope.

In mediaeval times, pilgrims would throw coins and pilgrimage badges from bridges over rivers en route to a holy shrine
Also in mediaeval times, people would hang votive offerings on trees surrounding the shrines of saints, a practice also echoed in wishing trees at ceremonies, a practice no doubt inspired by prayer trees and clootie trees.

Love Locks Unity Ritual basics

As expressed in a marriage ceremony, the love lock ritual usually involves two padlocks which the couple locks together while the celebrant narrates both the action and what it means in the view of the couple. The keys are then disposed of in some way. A relevant poem or other reading may also precede, accompany, or follow the joining of the padlocks.
Environmentally friendly ways to include love locks in your wedding

Obviously, to be environmentally friendly, you need to refrain from attaching your lock(s) to any public structure or throwing the key into a river, lake, or ocean. While generally talked about as two parts of a single ritual, approaching a love lock ritual as two separate rituals opens up many possibilities
Locking the lock, either to some fixture, or to another lock

Doing something with the key(s)/code
The lock(s)

Where you are holding your ceremony will have a significant impact on what you can do with the locks. .Unless the venue has an installation for the purpose, you will be limited to linking two locks to one another or attaching the lock to something that is portable and can be removed at the end of the ceremony. This is where a short length of chain with large links will be a good choice. As would a sculptural item of some sort.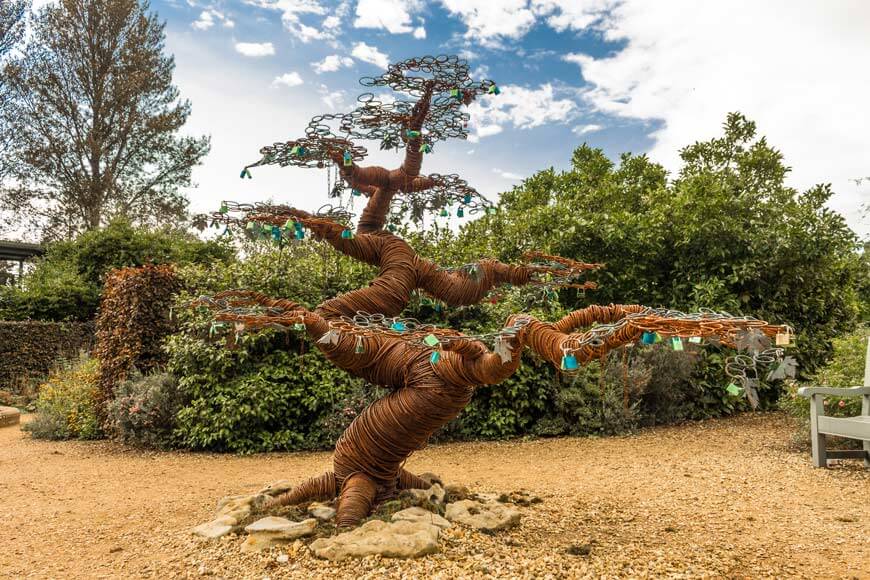 If you are marrying in your own backyard, you are far less limited. You could attach your lock(s) to your fence or balcony/deck railing. You could commission a purpose created metal sculpture, or choose an perforated aluminium screen, for example.
The key(s)

What you do with your key(s) is limited only by your imagination! Some ideas:
Bury them in a meaningful place, such as the garden of your home, or, to make sure you can't retrieve them, have someone else bury them without telling you where

Melt them in a fire. You can then keep and display the now-useless lump of metal
Have them gold or silver-plated and turned into jewelry - pendant, tie-pin, charm attached to a bracelet are all options
Frame the keys in a shadow frame together with other artefacts from your wedding, or on their own.
Present the keys to your legal witnesses for safekeeping
Mail them in an unaddressed but adequately stamped envelope with no return address so they end up in the Post Office Lost Property Office with no possibility of being retrieved.
Emulate the method adopted by the staff of the Namsan Seoul Tower and put them into a sealed "love box" or you could add a fun element by post them through the slot in a sealed money box.

On the practical side

Make the decisions about what the ritual symbolises for you, how you want it to play out, and what you want to attach the lock or locks to before you buy your lock(s).

Make sure that the shackle of the lock you choose is neither too thick nor too short to be used the way you envisage
While the body of your lock is unlikely to be made of steel hardened to the point where it will be impossible to engrave, it is best to decide whether you want to inscribe, engrave, or paint names and/or the date on it and choose a lock that will accommodate that method
Buy as big a lock as you can source at an affordable price. Very small locks are too easily obscured by your hands during the ritual, which makes for disappointing photographs.

As with all rituals, I purpose create both words and actions to suit your vision. Thanks for reading!