| Wedding Ceremony | Wedding Planning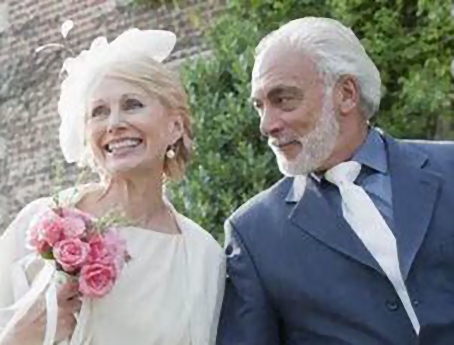 Have enough courage to trust love one more time
and always one more time
- Maya Angelou
Love is lovelier the second time around - Sammy Cahn
The love of the older and disciplined heart is as coals, deep-burning, unquenchable - Henry Ward Beecher

There is a wealth of maxims, quotes, and songs about second-chance love. But how do you, as a mature age couple, negotiate the whole process of wedding planning when most of the marketing, information, and focus out in wedding land is on the younger couple wanting the fairy-tale wedding experience? And how do you deal with advice aimed at the older couple that is pretty old-fashioned and focused on telling you what you shouldn't do, with a bit of advice about estate planning thrown in?
A very large proportion of the couples whose marriages I solemnise* are mature people who are taking a second chance at love. So, whether you are 18 or 80, with you're marrying your first love or your last love, I will give you the same advice.
Ignore what you read. It's your wedding.
There are so many ways to make your ceremony yours.
Let's work through them, together.
I definitely will never even think "age-appropriate " when discussing your wedding. ! I'm also not a fan of the terms "second marriage" or. "remarriage" (unless you are re-marrying one another after divorcing). You are getting married. No need for qualifiers.

1. Forget about the time-honoured "rules" of etiquette for older brides

out



For some reason, advice about being age-appropriate is always aimed at the bride. You've been dressing yourself for years. You know what suits you. You don't need to be told what colours to wear, and what colours not to wear. You don't need to be told that there are rules for the young. Send anyone who even hints at "mutton dressed as lamb" straight to the naughty corner.

2. Forget about the "rules" for a traditional wedding

out



I have spent my whole career as a marriage celebrant explaining to couples that many of the "rules" for traditional weddings
are inherited from Queen Victoria (who was 20 and the Monarch) and/or from church weddings

perpetuate a view of the bride as subordinate to the groom
assume that the celebrant does all the talking

It doesn't have to be that way. And that's one of the advantages of being a mature age couple. You have the confidence to tear up the rule book when it doesn't fit well with who you are and how your relationship works. So ditch any notion of one or other of you being given away. Walk down the aisle together. Or just be there, greeting your guests, and when the time comes, make your way to the front where I'll be waiting for you.

3. Include who you want to in your ceremony

out



There are no rules any more about having a matchy-matchy wedding party, or having one at all. Forget about gender and age. Have the people who mean most to you stand up with you or participate in the ceremony in various ways. Want to include all of your 18 grandchildren? Of course you can.


4. Acknowledge your ex if you feel comfortable with that

out



Of course you can include your ex. Where you are sharing parenting, and your new partner is also involved, acknowledging that adds something immeasurably warm to the ceremony. Where your previous partner has died we can make mention of them if you wish.


5. Size and theme your wedding to suit yourselves

out



Don't feel obligated to have a big wedding if you really just want to elope or have a micro-wedding. And don't feel that you should have a small, low-key affair. If you want to have a large, lavish wedding go for it. If you're not into partying into the wee hours, don't. Schedule your wedding for earlier in the day. Everyone enjoys a lavish breakfast or a nice lunch. Catering sorted! Do you share a interest, or support a cause. You can highlight those in various ways in your ceremony and celebration.


6. Avoid flash backs

out



One of the things I'll discuss with you will be what your previous wedding ceremonies were like. And we'll work to make sure that this one is new and fresh to avoid flashbacks on the day.


7. Acknowledge what you value in your mature-age relationship

out



There is scientific evidence that what older couples value in a relationship differs from what younger couples are looking for in a relationship. With age comes wisdom. And the top-five elements of successful romantic relationship for older adults are honesty, communication, companionship, respect, and a positive attitude. I'll talk to you about what you value, and we'll make sure that those values are expressed and celebrated in your ceremony.


8. Negotiate and write your own vows

out



You both will have to say the legal in because it is those important words that create your marriage. I will encourage you to write your own personal promises, but will beg you to avoid recycling someone else's promises. You've negotiated your relationship. It makes sense to negotiated the promises you're going to live by as a married couple. I'll coach you in using my super-easy fail-safe method.


And Don't forget that

out



The legal requirements are the same for every couple getting married in Australia, regardless of your age or whether you have been married before

Other than the statement the Marriage Act requires your celebrant to make, and the legal vows that you must each say, everything else is optional

Except for the fact that you must have two adult witnesses. You can't be legally married without two adults present to act as your legal witnesses. If you want to elope in secret, and have a Just We Two experience, your witnesses can be strangers

You can be married anywhere you choose, any day of the week, and any time of the day. And that includes your own home.


There is no requirement that you stand. If you prefer to sit, of course you can. For a formal wedding you might like to have a lovely sofa or two imposing chairs. Or you can take the whole thing down a notch or two on your back deck. I've married many couples sitting round a table, some over a meal, some over a cup of coffee.

Thanks for reading!