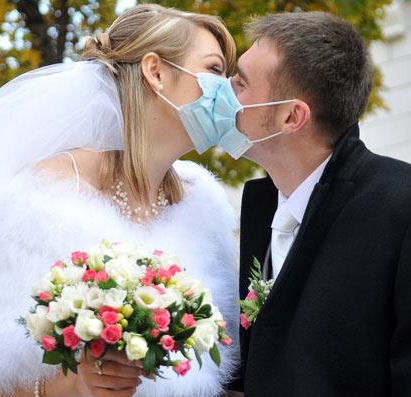 How novel Coronavirus (COVID-19) might impact your planned wedding is a hot topic at the moment. Initially, the concern was about the supply chain for wedding dresses and other wedding-related items. Then travel bans on people flying in from a handful of affected countries became the issue, and now the potential for government lock-downs or bans on gatherings are being discussed.
So, should you be concerned? Or, in the words of that wonderful World War II advice,
Alert but not Alarmed
?
In a word, Yes. So now is the time to get out your contracts with your various wedding service suppliers together with your Plan B and look at those with Coronavirus in mind, to consider the extent to which infection control measures can be applied to your current plans, and to come up with some alternative plans for worst case scenarios.
1. Contract Terms and Conditions

out



If your contract for a date-dependent service, such as venue, photographer, videographer, stylist, hair and makeup, or celebrant, does not include a cost-free option to postpone or reschedule (mine does), contact the supplier concerned and discuss how they would respond to the need to postpone in response to a government ban, or other Coronavirus-related change, such as downsizing. Make sure you get any changes to terms and conditions in writing.
2. The Legal Situation

out



As long as the two of you, your two witnesses, and your celebrant are all physically present in the same space there would be no legal issue with
wearing surgical masks - as long as everyone present is confident as to your identity
not holding hands or kissing - neither is a legal requirement for marriage in Australia
not exchanging rings - not a legal requirement
standing at a distance from each other - as long as we can all hear each other (it is legal to shout!) you can stand metres apart.
IF you have planned to have a destination wedding in Australia but your plans have been disrupted for whatever reason, your celebrant can transfer your Notice of Intended Marriage to another celebrant in a different location, regardless of how close to the date of your wedding the change needs to be made.

If you have planned to get married overseas, and your plans have been disrupted but you still want to be married on the same date and that date is less than a month away, there is a provision for Shortening of Time to be granted because of "wedding arrangements". While that usually means you went ahead and organised your wedding in Australia without giving the proper notice, I would be confident in making representations to the authorities where your plans have been disrupted by Australian government actions or advice.

3. Things you might want to eliminate from your ceremony

out



There are some rituals and practices you might want to eliminate from your ceremony in the interest of hygiene/infection control
4. Adjust the physical layout for your ceremony

out



If at all possible, make the aisle a lot wider, and set the chairs farther apart. You may have to reduce guests numbers to achieve this, or move your ceremony to an outdoors location if you had planned to have it indoors.
5. Provide hand sanitising stations

out



Where possible. Given the current shortage, this might be a problem, but substituting hand washing stations isn't practical because the choice would be installing extra plumbing, or having guests reuse water in basins.
6. Ditch the receiving line

out



While the formal receiving line is not particularly common in Australian weddings - the couple and their parents standing in a line so guests can file past shaking hands or hugging/kissing, the alternative, guests congratulating the couple immediately after the ceremony with lots of hugs and kisses, shares the same issues when you are attempting to limit the possibility of infection transmission. As a celebrant I'm more than happy to make announcements about elbow bumps if you wish!
7. Livestream

out



Have your guests attend virtually rather than in person. While they'll miss out on the food and drinks, they'll be able to be "present" for the ceremony.
8. Consider postponing

out



While it is usual, there is no rule about having the ceremony and your reception on the same day. So you could go ahead with the ceremony but postpone the reception til a later date. Or you could postpone the whole thing.
BUT don't make any important decisions based only on the news or without talking to your wedding service suppliers. Base your decisions on up-to-date and reliable facts.
If you do decide to postpone or to change your plans in any way, make sure that your tell your guests immediately. And don't forget your celebrant and other important wedding service suppliers.
9. Don't be ageist!

out



I have seen some suggestions, flowing from the information emerging that older people, together with those with underlying medical conditions that tend to be more prevalent in older people, are more at risk from the virus, that couples should be considerate of older family members by making it clear that they are not expected to attend. If your relationship with loved ones is more important than your friends or than your wedding taking place on a certain day (and I would hope it would be) this is very bad advice. Rather reduce the number of overall guests so that close family members, of whatever age, can attend.
10. Take care of yourselves

out



There is no shortage of good self-care advice available. You can't turn on the TV, log into Facebook, or read online news media without being bombarded with advice about
how to wash your hands and wrists properly using soap and water (20-30 seconds of Happy Birthday, Bee-Gees Staying Alive, or any one of dozens of popular songs that take that long to sing)

not touching your face
using tissues or hand-towel to touch things that others have touched, particularly in public places
using hand sanitiser (minimum 70% alcohol) where hand washing is impractical
keeping your distance from others
keeping hydrated
taking care of underlying health issues
having the flu vaccine when it becomes available

It might be prudent to ask your celebrant what measures they have in place for sanitising pens, microphones and other equipment.

So take care of yourselves. Make the best decisions for you and your guests. And enjoy your wedding, whenever it happens.

Thanks for reading!