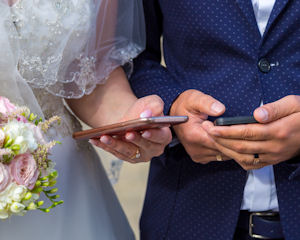 Smart phones are extraordinary bits of technology. And so versatile. They are also a largely ignored and definitely under-exploited resource at weddings.

Was that a gasp? Did you need to read that twice to make sure I did say that? Yes I did.

I know you could almost bet your house on the likelihood that, just before your wedding ceremony starts, your celebrant will remind your guests to switch your phones to silent/airplane mode or turn them off and put them away. Which will depend on whether you have opted for a unplugged ceremony.

Apart from that, it is pretty well accepted that while guests might use their phones or other devices to snap some photos of the proceedings, the marrying couple should surrender their phones and be in the moment. It is even frowned on for the celebrant to read the script from their phones.

But, if your phone is generally glued to your hand, why not exploit its versatility and power in your wedding ceremony?

Celebrant script backup

I confess, I'm a great believer in trailing edge technology when it comes to something as important as the script for your wedding ceremony. Print on paper does the job regardless of whether there is connectivity or not, doesn't need charged battery, isn't vulnerable to heat, and won't suddenly play the Chicken Dance in the middle of your vows.
But I also always have a copy of your script on my phone as a backup. I've never had to use it. But it is there in case there is no light to read by, or I have to email your ceremony to a last-minute substitute celebrant due to something unforeseen happening.
Music

Easy



The most common use of a phone in a ceremony is for the music. A playlist on a phone can be plugged into my PA system and controlled through the phone. Easy job for one of your friends, and in many ways a safer option that using Spotify as the phone can be in airplane mode, thus avoiding any interruptions by calls or notifications!
Livestreaming

Although we are all keeping our fingers crossed that high vaccination rates will put paid to restrictions on weddings and on travel, livestreaming has become so entrenched now that I hope couples will continue to use it as a way of sharing their ceremony with friends and loved ones who, for whatever reason, are not able to be physically present. Among the choice of methods by which your ceremony can be livestreamed, a friend with a phone is a viable, though low-key, option.
Phone a friend

The issue with livestreaming is that it is one way. For an interactive alternative, or where you want to include someone for only part of the ceremony, phone a friend is an option! Where parents are unable to be physically present, it is lovely to call them to give them an opportunity to express support for your marriage. And for you to express your gratitude and appreciation for their love and care throughout your life.
Your Vows

There are three ways to make your vows - both legal vows and personal promises
Repeat after your celebrant
Read them
Recite them from memory
Reading vows from your phone is almost universally discouraged. Often because it is regarded to be "too casual". In a low-light situation, the illuminated screen may well be a bit of a distraction and may create (minor) issues for your photographer, but apart from that, I can't see any reason why you shouldn't. I've had a number of situations where one or other of the couple has done just that. It was fine. And it definitely looks way better in person and in photos that a scrappy bit of folded paper!

You can seal the deal, as it were, by forwarding your vows to your best beloved once the ceremony is over.

Facebook Official

chan



For a bit of fun, if you're going to change your status on Facebook, do it in the presence of your guests - either at the end of the ceremony, or during the reception. Make sure you've got it all set up to go, and can make the change quickly.
Take a photo of the guests

For very good reason your official photographer will be concentrating on capturing the action, on taking photos of you. While they may take the odd reaction photo of your guests, it is usually done discreetly and from one side of the ceremony space. Rarely, if ever, is a photo taken from your point of view. I often suggest to nervous grooms that, just before their beloved enters, they whip out their phones and take a photo of what they see. Their guests eagerly anticipating the start of the processional. And at one memorable ceremony, we surprised the ardent photographer bride, by having her camera handed to her so she could take a couple of photos of the guests, teasing her with the family maxim that if she didn't take a photo, it didn't happen. Those photos are among their favourites.
Take photos while signing

When you sit down at the signing table, each of you has to sign three times. Plenty of time for photos. So why not take a photo of your best beloved actually signing to compliment the
formal posed photos make photographers take. Taking your own informal photos doesn't take away from the importance of what you are doing, but it can make for an intimate moment between you.

Some practical considerations

Remove your phone case for a slimmer, more elegant look that won't stand out or clash with your wedding colour theme

Make sure your phone is fully charged

Have a powerbank and connector leads hand, just in case
Don't carry your phone in a pocket that will bulge and look dreadful in photos as a result.

Make arrangements to hand your phones to someone else once you have read your vows in order to leave your hands free for your exchange of rings.

Thanks for reading!