Signing the Marriage Register and the Certificates
by
Jennifer Cram - Brisbane Marriage Celebrant
(06/08/2018) |
Categories:
| Wedding Ceremony | Wedding Legals |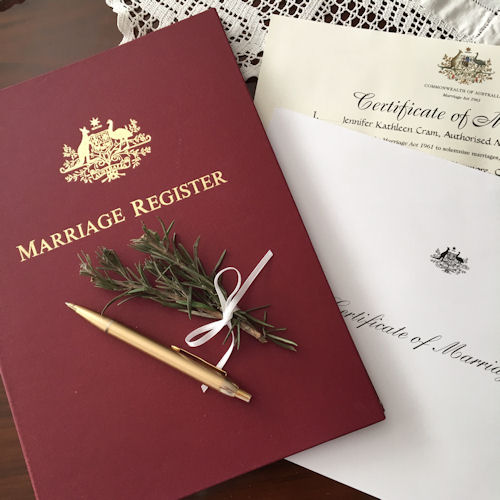 The Marriage Act requires that the Marriage Register and Certificates are signed as soon as practical after the marriage takes place, that is, after you have made the statements to one another that create your marriage. Generally speaking, the signing takes place towards the end of the ceremony, after the pronouncement (traditional but not a legal requirement) and kiss (again traditional but optional) and just before the closing words, presentation of the certificate, and you heading off back up the aisle.
Three important things to remember about the signing
out

The register and certificates must be signed by the marrying couple, then by their two official witnesses, and last by the Celebrant.
Everyone signs using their usual signature (which means that, if one of you is going to take the surname of the other, this is the last time you will sign using your previous name)
The signing is a major focus for the photographer, so the choreography of how you move to the signing table and how you arrange yourselves at the table is important, as is allowing time for the photographer to formally pose you for best effect.
Pens
Like most celebrants, I bring an elegant pen that you can use for the signing. But if you want to use a pen that is special to you, you need to know the following:
As with all legal documents, the ink used should be black.
Many wedding supply places sell fancy pens for the purpose, but many of them are provided with blue ink, and some have ink of very poor quality
If you're tempted by the ostrich feather plumes be careful about their height – feathers brushing across faces during the signing can cause sneezing, and obscure the faces.
If you choose a fountain pen make sure that the ink you use is waterproof
Test all pens thoroughly – not just a scribble to see if they do write, but a reasonably protracted piece of writing to make sure they don't smudge or drop clots of ink.
Signing table
While there is nothing illegal about signing the register on your lap, somebody else's back, propped against a tree, or on the kitchen bench, having a nice table to sign on does enhance the experience and the photographs. Most venues supply a table with cloth and chairs. However, if your ceremony is being held at home, in a hall, or in a public space such as a park you will need to ensure there is a signing table and preferably two chairs, though one will work, as will just standing bending over to sign (as long as your neckline isn't too low to do that without giving the photographer and everyone else an eye-full). The bride's bouquet will be sufficient decoration during the actual signing (another cost saving). In addition, the bouquet doesn't carry with it the risk of drenching the certificates that a vase full of water does.