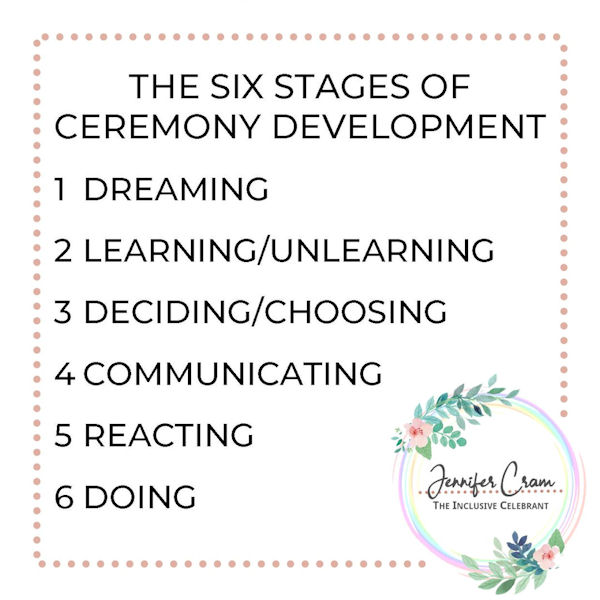 When you decide to get married, you are signing up for a legal change of status. A change of status that happens by means of a ceremony. When you decide to renew your vows, or have a naming ceremony for your baby, you are signing up for a ceremony. Regardless of whether it is a legal ceremony or not, how it is developed makes a huge difference to your experience throughout, and to the experience of your guests on the day.


Heads Up. Celebrants in Australia are free to work in any way it suits them and their business model. So, while you can count on all authorised marriage celebrants being required to adhere to demands of the Marriage Act, which means certain legal steps have to be followed, there is no universal method that applies uniformly to ceremony development. Nor does every ceremony have to be a bespoke ceremony.
It is a case of each to their own!

Get married in the Registry Office, and you will experience a one size fits all process. With a celebrant you may be offered a choice of a handful of pre-written ceremonies that you can tweak, or what I call a mix-and-match ceremony, where you are given a resource file, a collection of introductions, readings, vows, and concluding words from which to choose and a pre-determined structure to slot your choice into.

Let's put all of those to one side, and talk about how I personally work, regardless of whether you wish to have a very simple ceremony or a full-on personal (rather than personalised - the difference is important) one. A bespoke ceremony.

This is where my six stages of ceremony development kick in.


1. Dreaming

By no means every bride has been dreaming about her wedding day since the age of five. I confess that I get a tad irritated when I read that assertion time and again. It's a very outdated way of socialising women to think that the ultimate success is to have a great wedding, which, of course, means getting married. I've yet to meet a bride who has been doing wedding planning since kindy! No, they've all been doing other things; dreaming of great careers, planning gap years, overseas travel, developing a wide range of skills, and generally having a great time being themselves. And that's how it should be.
So what do I mean when I say stage 1 is Dreaming? Simply that, when you get engaged you start thinking about when, where, and how you want to get married. You start to form a vision (together) of what that day will feel like, and perhaps how it will look..
If you are planning another type of ceremony, the same thing applies. Based on previous experience, or what you understand the ceremony to be and to require, you start to form a vision, but also, as with a wedding ceremony, you may feel that you are required to operate within certain constraints.
2. Learning and Unlearning

Stage 2 is where we start to get serious. Getting married is a legal process. So there is a certain amount of learning that needs to happen for you to understand what it is that you have to do.
But it is also at this stage where things can, and very definitely should, get interesting. Learning what you have to do to be legally married is easy. Unlearning all the things that the movies, television, magazines, and other people have "taught" you about what a wedding is, is by no means easy because there is a lot of push back, a lot of misinformation, a lot of outdated beliefs and very strong memories. This is why most weddings are pretty predictable. And, unfortunately, people who work in the wedding industry are no less susceptible than are first time marrying couples.
At Stage 2 I spend a lot of time and effort unpacking wedding beliefs. My aim being that you will come to the process of making decisions about your wedding ceremony and choosing what to include and what to discard with confidence.
And, especially, sidestep the gender role stereotypes that are still distressingly common.
And ditto for other ceremonies
.
Peer pressure from dead people, particularly Queen Victoria, plus particular ceremony approaches and formats common in the movies/on TV, tend to form the ideas we have about ceremonies. I say
we
, because celebrants aren't immune. I've spent 15 years forensically dissecting those ideas, challenging my own thinking, and writing about how weddings can be!
3. Making decisions and choices about how your ceremony will be

Once you know how very minimal the "must-do
'
s" are, you will feel free to throw the box away, and be as original, or as traditional as you like
,
in order to be authentically yourselves, as individuals and as a couple. We factor in thinking time, so you won't feel pressured to make decisions on the spot. I toss out lots of examples of alternatives to the traditional or more usual ways of doing the various parts of the ceremony and challenge you to put yourselves first in making the decisions - not forgetting that your guests are not just a random audience.
4. Communicating

Next step is for you to communicate your decisions and choices. We do this in a relatively structured way (questionnaires) but it is not a one-time opportunity.
Ceremony development is not a neat process.

5. Reacting

I react by developing a draft that brings your vision to life, and then you react to the draft and any changes you request are made. Rinse and repeat steps 4 and 5 until we are all happy.
6. Doing

The day arrives. You are familiar with the script. You are familiar with the stage directions. And so, obviously, am I. Together we surprise, engage, entertain your guests. You have the ceremony of your dreams, now brought into sharp focus. And I have a glow of happiness that I've been able to give you that. Mission accomplished
Thanks for reading!