| Wedding Ceremony | Wedding Legals | Wedding Planning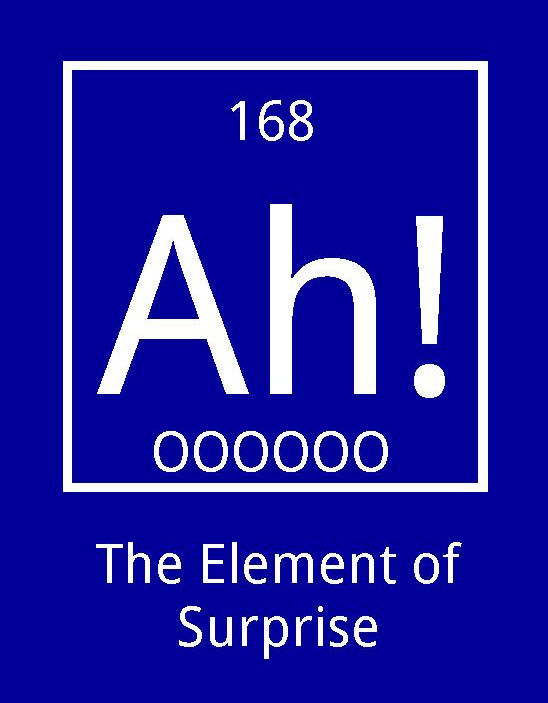 For all sorts of reasons you might want to say
I Do
surrounded by friends and loved ones, but also want to skip the hassles that come with wedding planning when everyone knows when and where you are getting married. Regardless of the size of the wedding (anything from elopement, to microwedding, to a very big guest list), more and more couples whose marriages I officiate are choosing to have a
surprise wedding
. And that's perfectly legal, as long as the actual marriage isn't sprung as a surprise to either (or both) of the marrying couple.
To keep the fact that they are getting married a secret, couples are inviting guests to join them for a different sort of event - a milestone birthday, an engagement party, a New Year's Eve party, their child's naming ceremony, or just a family get-together have all been a feature of surprise weddings. I've created and conducted surprise marriage ceremonies at all of the above. I've also done several where the couple just invited two friends around for drinks and to see their renovations. And in one memorable wedding I officiated, the couple told everyone they were getting married privately at the Registry Office earlier in the day and invited everyone to join them for a late afternoon celebration. We were all gathered at the Harry Oakman Pavilion when they arrived, all dressed up, announced to everyone that they were getting married then and there, tapped the bride's grandparents on the shoulder as witnesses, and pointed everyone in the direction of the United Services Club across the road for a full-blown wedding reception after the ceremony.
What is more difficult, however, than surprising guests, is when I'm approached by one or other of the couple (usually the groom), wanting to surprise the other. I have to say no. The Marriage Act is very clear. Surprise weddings are illegal if either of the marrying couple is being surprised. Or if both of them are. Such situations raise the spectre of forced marriage at worst, and the issue of real consent at best. And celebrants are expressly forbidden to solemnise the marriage under those circumstances.
For your marriage to be legal
both of you
must give
real consent
at every step of the way. What that means is that neither of you must be put in a position where you feel under pressure to agree because it would be difficult for you to say
not now
,
not yet
, or
not at all
at any point. On occasion, celebrants are asked to go along with one of the party's plan to surprise the other over the actual wedding date where both parties have signed the Notice of Intended Marriage and the full notice period of a calendar month, has been given. The answer must still be no. Completing, signing, and lodging the
Notice of Intended Marriage
is just that, you are giving notice of your intention to marry one another. It is not a binding contract.
This is what the Attorney-General's Department said in cautioning celebrants:
The legal issues that such ceremonies raise are the following:

There has been undue pressure on the 'surprised' person to agree to the arrangement. Even if there is evidence that the person would previously have agreed to a marriage proposal, their consent must not be assumed. No person can be put under pressure to enter into a marriage and the pressures imposed by a 'surprise' wedding could place in doubt the validity of the marriage under section 23B of the Act - that is that the person's consent to the marriage was not a real consent because it was obtained by duress or fraud
The minimum notice period has not been satisfied - the notice period requires that both parties give notice of the intended marriage, not one.
Who has to be in on the secret?

The two of you, and your celebrant
.
That's it. The two of you need to agree to marry one another, and also agree on the date of the wedding. For legal reasons, your celebrant has to have your Notice at least a month before your planned wedding day. For good practical reasons, your celebrant also needs to be in possession of all the details about the when and where of the ceremony.
You both have to complete the Notice of Intended Marriage and lodge it with your celebrant at least a month before you can legally be married.

You both have to know (and agreed to) the date on which you will marry.
And obviously you both have to be able to be at the venue, along with your celebrant and two witnesses, in order to have the actual ceremony. Proxy marriages, or marriages via Skype or Facetime, are not possible in Australia. You all have to be in the same space.
For other good practical reasons anyone else providing a wedding related service needs also to be in on the secret - photographer, videographer, caterer, venue, hair and makeup services etc etc Naturally, all of these service providers also need to be sworn to secrecy if you are planning to surprise the guests. You can write it into your contract with each of your providers to make sure they don't let the cat out of the bag either inadvertently, or in pre-ceremony social media posts.
Who can be kept in the dark?
Anyone who isn't one of you or your celebrant. Which means there are plenty of legal ways to have a surprise wedding, or a wedding with surprises.
Is there anything one of you can surprise the other with?
Actually, yes. Quite a lot in fact. Secrets and surprises can be a lot of fun. And, with permission, I usually include at least one surprise in every wedding ceremony.
As long as the legal boxes are ticked, which includes giving the required amount of notice, virtually anything else can be a surprise organised by one of the marrying couple for the other. Or by someone else for the couple. One word of caution, though, the content of the ceremony should be something that you both work on with your celebrant. I work with you to develop the ceremony (from scratch, no pre-written mix-and-match ceremonies), so that, well ahead of your big day, you are both really familiar with what I am going to say, the role of anyone else, and all the stage directions.
Here are some of the ways one of you can legally surprise the other
Where the ceremony is held
If you've ever watched reruns of Don't Tell the Bride, a TV reality series where the groom has to organise every aspect of the wedding, including the venue, wedding dress, and hen and stag parties, surprising the bride, you will see that, as long as the bride is aware she's getting married, and what date, the venue can be a surprise.
Processional (Entrance) music
Some years ago I married a couple who had "clicked" on first meeting because they discovered that they had both been addicted to the 80s animated series The Mysterious Cities of Gold. The bride's brother was a bit of an expert and was handling the music for their ceremony at Old Government House, so between the two of them they organised a surprise for the groom. He was expecting the doors to open and the Louis Armstrong version of La Vie En Rose to start playing. Instead, with the doors firmly closed and the bride nowhere in sight, he heard the familiar narrative

It is the 16th century. From all over Europe, great ships sail west to conquer the New World, the Americas. The men, eager to seek their fortune, to find new adventures in new lands. They long to cross uncharted seas and discover unknown countries, to find secret gold on a mountain trail high in the Andes. They dream of following the path of the setting sun that leads to El Dorado and the Mysterious Cities of Gold.


The surprise and delight on his face was fantastic.

Where the reception is held
Theme and styling of the ceremony space and/or the reception

Special guests, or messages from special people
There is nothing lovelier than one, or both, of the marrying couple being surprised by the attendance of a special person they thought would not be able to make it. Or being able to include in the ceremony a personal message from a special person who was not able to make it. In fact, where one of you has family or friends who can't make it to the wedding, I often suggest to the other that we contact that person and ask for a message to be sent directly to me so I can include it in the ceremony as a surprise.

Services such as a professional videographer or photographer that had been deemed not affordable
Transportation
Honeymoon destination

In short, virtually anything that is not part of the legal requirements.

What about the Witnesses?
As long as the witnesses have agreed to be your witnesses before the ceremony starts, and are present for the whole ceremony, it is perfectly legal to surprise them, whether or not the whole wedding is a surprise to the guests. Some couples word up very special friends a while before their surprise wedding. You need to be absolutely confident they can keep the secret. With others, I have had the pleasure of announcing that their mothers will be the witnesses. Mums never say no. And there is always the option of a witness lottery, pulling the names out of a hat, or, as I experienced one hilarious New Year's Eve surprise wedding, out of the bride's father's sporran.

And the celebrant?
Your celebrant has to know when and where the ceremony is being held, and that there is no legal impediment to the marriage (which includes the issue of real consent). Your celebrant also has to be able to print and bring the certificates including the details of the venue where the ceremony is to be held. I did, once, have a groom who was adamant that the ceremony would be held at a secret hideaway. All he was willing to tell me was that I would need to drive to a certain place on the highway. Park. And wait to be picked up in a 4WD by persons unnamed and driven by them across several creeks to a cabin in the bush. Naturally, I refused. On two grounds. One I was concerned about legality, and being in a place where I couldn't easily leave should there be some other legal impediment to the marriage. And secondly, personal safety was potentially an issue. So I withdrew my services.

My top tips about surprising the guests

Come up with a good story. Engagement parties (particularly if the couple has been together for some time) are now such an obvious ploy that I'm seeing guests turn up with a gift and two cards - one if it is only an engagement, and one in case it turns out to be a wedding
Be prepared for some people not to come based purely on the fact that they don't know it is a wedding
Decide ahead of time how you are going to spring the surprise - when they come in the door, or later just before you intend to start the ceremony. This decision would influence whether you decide to greet guests in your wedding attire, or disappear at some time later to change into it.

Allow for your celebrant to arrive later than the guests. Having a complete stranger present often arouses suspicions, even if they do have a good cover story.
Tell your mothers a day or so before, so that they can turn up nicely dressed with their hair done. And your fathers so they can shave, and dress nicely too. They will never forgive you if they look like dags in your wedding photos.
Be prepared for some raucous reactions and "participation" in the ceremony. A surprise wedding can never have the gravitas and formality of a conventional wedding, but that's one of the very good reasons for choosing to have one.
Thanks for reading!