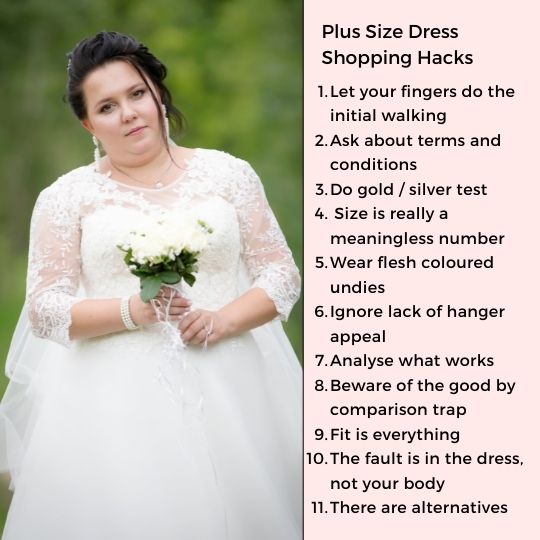 Are you looking forward to marrying the love of your life but dreading shopping for your dream dress? If you're a plus-sized bride you are by no means alone.
Speaking as a fashion-conscious celebrant who went from "curvy but regular size" to plus size following cancer surgery two decades ago, I hear you. I've gained some useful insights along the way when shopping for myself. And, having seen well over 1000 brides, many of them plus sized, with hand on heart I can tell you that I've NEVER seen a bride looking frumpish.
So here are my best hints and tips for how to prepare for shopping for your dress, and how to deal with the negatives you dread.
Two things to keep in the forefront of your mind
There is nothing wrong with your body. If their dresses don't fit or suit, it is a design or a stock problem
You are the paying customer, and you don't have to put up with disrespectful treatment.
Let your fingers do initial walking
Google stores. Ask questions on FB groups about the experience of other brides. Look for indications that a particular store may or may not carry larger sizes or may or may not be inclusive or body-positive. Make a little list.
Ask about the terms and conditions

When you make an appointment, ask lots of questions about the store's terms and conditions.
These can differ from store to store but may include
limits on the number of people who may accompany you
instructions about wearing of makeup
photography policy
Also ask about their

payment process - how much is expected as a deposit, and when final payment is expected
lead time required for orders to be filled
Do the gold and silver paper tests

No matter how perfect the style of a dress is for your body, if the fabric the wrong colour for you, it is not going to make you look good. Even if you have decided you are going to wear white, there are so many different shades of white. And wedding dresses don't only come in white, they come in a million shades of cream, ivory, ecru, and latte! The good news is there is a simple test that will make it all so much easier. Do you look best in warm undertones, or cool undertones? All colours have an undertone. Identify which works best for you, and half the battle is won.

Here's how you do it. Take a largish piece of aluminium foil and a largish piece of gold gift paper. In front of a mirror and under both daylight and artificial light. With no makeup and no other clothes visible in the mirror, hold first one, then the other, under your chin. You'll immediately see which one works best with your skin. Then, when you are talking about colours with the consultant in store, specify warm white/cool white (sometimes referred to as blue white) and warm undertones or cool undertones.

Size on labels really is a meaningless number

The fashion industry lacks consistency around sizing. So the individual number on a label is essentially meaningless, except for one thing. Smaller number = smaller size than another garment in the same range that carries a bigger number! So a size 20 will always be smaller than a size 22, which will always be smaller than a size 24. But what each actually measures, and how much difference there will be between two of those garments, depends entirely on the designer/d. This is why wedding dress shops may run a tape measure round you before selecting dresses for you to try on.

Wear flesh coloured undies

Nothing looks good over a bra and pants that are darker than what you are trying on. An even better hack is to take several different bras with you, plus shape wear if you plan to wear that. Don't expect your shapewear to make you smaller. It's not designed to do that. What it does is smooth over the little bumps and bulges we all have to give you a smoother silhouette.
Ignore lack of hanger appeal

Don't reject a dress on what it looks like on the hanger. When your body isn't a standard size, how a garment looks and drapes on the hanger may not be a good indicator of how it will look on you.
Analyse what works and what doesn't

Take a few minutes to analyse what works for you and what doesn't about every dress you try on. List them while looking in the mirror. It will help you work out what design elements to focus on
Beware of the "good by comparison" trap

If you have tried on a number of dresses that do nothing for you, the last one you try on may look good by comparison. Is it really the one? Or are you just settling for it because the others made it look good? The only way to be sure is to go away for at least 24 hours and then come back and try on only that dress. I've had a number of lucky escapes as a result of doing that!
Fit is everything

One of the reasons why brides look great on the day is that their dresses have been altered to fit awell. Fit is everything. When choosing your dress it helps to understand that some fit issues are easier to resolve than others. And that dressmaking and engineering have a lot in common! The designer is taking two dimensional flat fabric and shaping them to fit round a three-dimensional body that isn't static.
The fault is in the dress, not your body

Nothing makes me crosser than someone suggesting that you need to lose weight to fit into their dresses. Nope. Their dresses need to be engineered to fit your body. Frankly, the probability that a bride will find a dress that fits, or is even a near fit, depends much more on the size of the market than on her size. With approximately 120,000 weddings a year in Australia, that's a very small market. No wonder there is a push on for brides to buy two dresses for their big day, rather than one.
There are alternatives

If you can't find a suitable dress in store (and don't forget that op shops, consignment shops, and online market places are also an alternative to a retail bridal store), there are three other options
Buy online
Have a dress custom-made
Think outside the box - there is no rule that brides have to wear a dress

Buying online can have lots of pitfalls. I've lost counts of the number of brides I've had who have done that, and ended up frantically shopping for another dress because the dress didn't arrive in time, it arrived and didn't fit, or the quality was poor, or it was nothing like the photos on the website.

Having a dress custom-made can be a great choice as it will a one-of-a-kind dress designed and made for you, and it should fit perfectly. Not only that, you have complete control over the type, colour, and quality of the fabric.

Or think outside the box. Separates work brilliantly. As do pants, tailored or flowing, pant suits, etc, etc. There are no rules!

Related information
Did you enjoy reading this post? Let's talk about how we can make your dream wedding a reality.