Wedding Insurance
by
Jennifer Cram
(12/10/2019) |
Categories:
| Wedding Planning |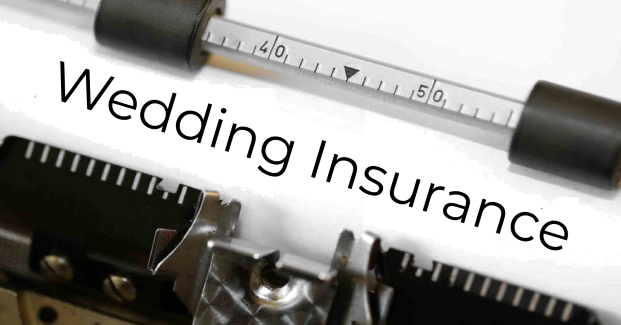 Wedding insurance may seem like a waste of money if
a) you have detailed Plans B1, B2, and B3 and
b) you didn't need to use it.
But, while having a Plan B might seem like a form a insurance, no Plan B covers situations where your wedding can't go ahead on the day planned because of extraordinary and catastrophic circumstances. Which means a critical person (such as one of the marrying couple) not being able to be present, or a state of emergency, like a hurricane or huge flood or widespread fires or an earthquake, not a bit a rain that forces you indoors!
Before we go any further, let's put it out there. The Insurance industry relies on managing risk, and excluding what it regards as unacceptable risk from policies. So it focuses on unavoidable risk. And it will make jolly sure that blame cannot be laid on you for creating or contributing to the circumstances that have prompted your claim. So, if you have to cancel your wedding because one of you cannot physically attend your own wedding because you've had an accident or have has fallen extremely ill, that is likely to be covered. If your venue, or one of your vendors jilts you, that's likely to be covered. But if one of you jilts the other (aka as breaking up), no insurance company will pay out.
So, why would you even think about wedding insurance? Basically so you won't be held liable for any damage to the venues, cause by you or your guests or other vendors you have hired, or by your guests for something that happens to them, such as slipping and falling. If you are getting married at home, or in a private residence owned by someone else, you need to check whether the household policy will cover these eventualities. It may not.
What will your policy need to cover?

out



Liability coverage
It is becoming more and more common for venues to require you to have wedding insurance, and will usually specify what type of coverage, and how much for. Without such insurance, your venue (or your venue's insurer) will hold you liable for any damage you or you guests do while on the property.

Cancellation or Postponement Coverage
This type of coverage allows you to cancel or postpone your wedding without losing the money you've already paid out, or may be liable for, if a natural and unpredictable catastrophic event (which may be referred to in your policy as a Force Majeure or Act of God) has rendered your carefully thought out Plan B useless, or if Illness or accident prevents one of you, or one of your immediate family from being able to be at your wedding on the planned day.

Top Tip: Check the policy conditions regarding pre-existing medical conditions.

If one of you is a serving member in the Defence Force, a fire, police, or ambulance officer, or a medical professional who is liable to have all leave cancelled and be required to work during an emergency, make sure that cancellation/postponement coverage applies.

And while Australia is a very stable country, check whether you're covered for Civil Unrest. This usually is excluded from travel insurance policies. It usually means war but can mean protests and vandalism

Vendor Non-performance Coverage
This covers the cost of payments to vendors who fail to provide the services you have paid for. It should cover vendors that go out of business, a venue that cannot fulfil the contract with you because it has been damaged or destroyed, and vendors that just don't turn up, have an accident on the way to your wedding, or who don't or can't provide the goods you've paid for, such as flowers, cake, catering, photography, videography, or a limo that breaks down and you have to arrange an alternative.

While this type of coverage is often included in Cancellation/Postponement Coverage, as with all insurance policies, the devil is in the detail. If it is not specified, it is most likely not covered. If it is specifically excluded, it definitely isn't covered.

Top Tip: Check that the policy covers you for deposits paid before you took out the policy

Theft
Reports of theft of gifts, especially money in wishing wells, and other items, during a wedding, are distressingly common. While your guests are probably not likely to be the culprits, so many people legitimately come and go from a wedding venue, even if held in a private home, that walk in, walk out opportunistic thieves are not uncommon. Check whether your basic policy covers theft, and always check carefully as to what is covered.

How much coverage do you need?

out



For cancellation/postponement, you need to cover your expenses. For theft, the estimated value of things that might be stolen, and for liability, however, $10 or $20 million is common. When required by your venue, they will specify how much.
Top Tip: Make sure you don't under-insure
Covering your wedding vendors

out



By naming your wedding vendors as 'Additional insured", you may be able to cover your them as well, so they can collect fees directly rather than having to wait for you to be paid out and then pay them.
Where to get Wedding Insurance

out



Your normal insurer may have wedding insurance policies, but there are also companies that specialise. Like any other insurance you will need to do your homework, read the fine print, make sure everything you need covered is covered, and buy the insurance well ahead of time. Particularly for extreme weather events, if you wait until the forecast starts warning you it is highly unlikely that any insurance company will write you a policy.
Top Tip: Buy your Wedding Insurance early. Most companies allow you to insure up to 2 years ahead of your big day.
Household Insurance as an Alternative to Wedding Insurance

out



Your engagement ring etc may be covered by your household insurance, but may not be. And if you're having your wedding in a private home, you may be able to have a special event rider added to the household policy to cover your wedding. Whether or not this a good idea, however, depends on whether adding the rider, or making a claim related to your wedding, will increase the cost of the policy in future years. Ask!
Having a ceremony overseas?

out



Travel insurance is a must. It will cover you for medical emergencies, lost luggage, trip cancellations, personal liability and so on, BUT it is highly unlikely to be adequate for your destination wedding because it won't necessarily cover loss of expensive jewellery or your wedding dress or other wedding attire. And it definitely won't cover wedding venue costs or cancellations. Yes, many travel insurance policies do allow you to increase your cover for things like lost luggage, but with limits that might not cover everything. Depreciation applies, and many insurers won't cover jewellery at all.
Very few insurers offer policies to cover overseas weddings, but they do exist. You'll have to hunt them out.
Counseling

out



Having your wedding plans cancelled or turn into a disaster can be very stressful. Some policies may cover some counseling.
Absolute must do: Understand the policy and what it includes and excludes. Read the fine print before you buy.
And keep all wedding related receipts and copies of contracts, so you have the evidence if you need to make a claim.