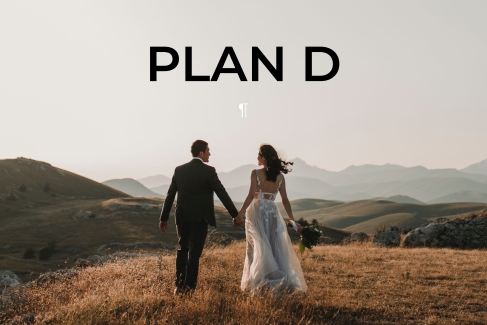 The one thing that is required to make any Plan B work is the capacity to communicate. Across Australia, as I write, with so many popular destination wedding spots ablaze and cut off from communications, even the most detailed and multi-faceted Plan B is useless.
So what can you do if you've planned your wedding (and a viable Plan B), and now your venue and your celebrant are within one of the disaster zones.
If you can still communicate with your celebrant

out



Your Notice of Intended Marriage can be transferred to another celebrant
Any celebrant "in possession of the Notice of Intended Marriage" can solemnise your marriage. As long as your celebrant can communicate the notice can be electronically transferred to another celebrant.

Your celebrant can also electronically transfer the prepared ceremony
You will need to show the substitute celebrant your documents
(Reminder: These are


Proof of birth (passport or birth certificate)
Photo ID (eg passport, driver license, proof of age card)
Divorce or death certificate of former spouse if relevant
Change of name certificate if relevant)
Your new celebrant will prepare new certificates
So you will need to resign the Declaration of No Legal Impediment if you have already signed it.
Your new celebrant will solemnise your marriage and register it

If communications are cut

out



If communication to the area in which your celebrant is, is cut off, you should
Find a substitute celebrant and explain the situation

Complete a new Notice of Intended Marriage with the substitute celebrant
Ask your substitute celebrant to support your application for shortening of time and assist you will applying
One of the grounds for getting permission to marry with less than one month's notice (Shortening of Time), is wedding arrangements.


You will need to make an appointment to see a Prescribed Authority (that's a person who has the authority to grant shortening of time). Prescribed Authorities can be found at Births, Deaths and Marriages in the capital city of your state, or at a courthouse.
Some states require you to fill in a form. Some don't.

You will need to take supporting evidence with you - so receipts, emails from your celebrant, etc, and of course, you'll need to explain why the Notice of Intended Marriage isn't obtainable.
And you'll need something from your celebrant confirming agreement to marry you on a specific date.

In my experience Prescribed Authorities are compassionate and helpful.
And while there is a fee for shortening of time, it is not unknown for that to be waived where the circumstances are particularly harrowing.
But what if you are stranded without your documents

out



P
ossibly you arrived at your holiday/wedding destination early, expecting your celebrant to meet you there, but your celebrant now can't make it to you. If you don't have your documents to show the substitute celebrant you will have a problem. Even if your original celebrant has been able to transfer the Notice, you must still show your substitute celebrant your documents. However, there is a solution - it just takes a little forward planning.

Scan all your documents before you leave home and have them on your phone
It is now legal for a celebrant to accept scans of all documents except your driver licence. Do this when you book your ceremony! But make sure that you scan the originals. A scan of a JP certified photocopy is NOT acceptable for the purpose of marriage.
And what if your witnesses haven't been able to make it

out



Not a problem.

In Australia anyone over the age of 18 can be a witness to your marriage.
So, if necessary, a couple of strangers can step in.
I hope no-one ever needs this information - but, as they say, forewarned is forearmed.

Say safe!