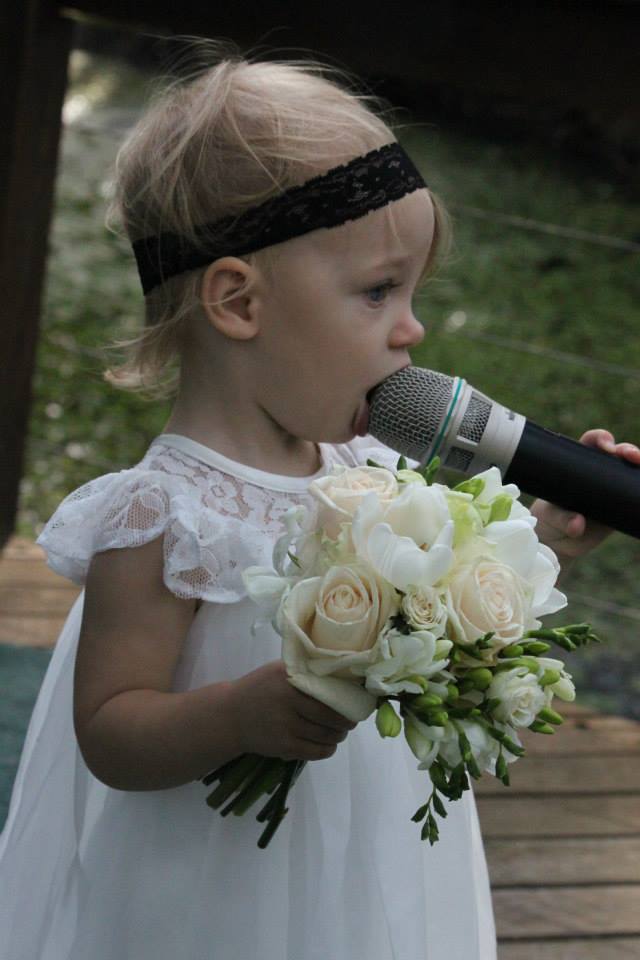 A great way to make sure your wedding ceremony both engages and entertains your guests is to do the unexpected, to surprise them by putting a twist on traditional ceremony elements, particularly if you just keep the surprises coming. How you surprise your guests can be carefully planned, or you can just open the door and let it happen.
If you include children or animals in your wedding ceremony and you are absolutely guaranteed surprises. You cannot predict what they will do. And that's wonderful because is makes for magic moments for you, as well as for your guests.
This little cutie flower girl quietly helped herself to the handheld microphone I use for the couple's vows and proceeded to entertain everyone. She refused to give it up. Thankfully, it was switched off so we could proceed with the ceremony. She did agree to hand it over for the vows! At another wedding, the four-year old flower girl put her hands on her hips and loudly asked "Did you see that?" when the couple kissed. It brought the house down.
Planned surprises can be equally wonderful, and they don't take a great deal of effort. All you need to do is to think about what the guests will expect of various parts of the ceremony, based on what usually happens in weddings, and then change it in some way.
Do something unexpected with your bridal party

We all know how the traditional wedding party works. Best Man and Groomsmen stand with the Groom, Chief Bridesmaid (Matron/Maid of Honour), Bridesmaids, and Flower Girls stand with the Bride. Flower girls are children. Everyone else is an adult. Two Bride and Two Groom weddings started to mix it up, a bit. Take it a bit further. For example,
When the music starts and the "Flower girls" make their entrance you can feel the ripple of joyous surprise when the guests see Flower Grannies, Flower Dudes, Flower Dogs, even Flower Chooks (yes, doable in a backyard and hens will tolerate a light, loose fitting flower collar - just don't try it with a rooster).
Instead of lining your attendants up on either side of you, group them. Talk to your photographer about the ways they might arrange the wedding party for photographs
Have fun with your processional

There are no hard and fast rules about how you make your entrance.
Each of you can have your own processional. You can walk in together. You can bop down the aisle. You can walk in with your parents, your grandparents, other family members.

You can be preceded by a musician. Depending on your heritage, your guests may expect a piper, or a drummer. No-one expects a fiddler, a trumpeter, a trombone player, or a whole brass band. Another way to surprise guests is to use a medley of music. Start with Here Comes the Bride and then morph in something they don't expect - show tunes, heavy metal, traditional folk tunes ...
You can high-five your guests as your walk down the aisle
You can ride down the aisle on a bicycle, a segway, or a scooter - just make sure that you've got a hard surface. Trying that on a carpeted aisle over grass, or on sand, is not going to end well
Click here for even more ideas about how to add a twist to your processional and walking down the aisle with style
Do something different with the welcome

Traditionally, the person solemnising the marriage (celebrant or clergy person) usually opens the ceremony by welcoming the guests and stating the purpose of the ceremony. It doesn't have to be that way. It's your wedding. Welcome the guests yourselves. Or ask your fathers or other family members to do so.
Add a ritual - and give it a twist

Even the most common rituals - Sand Ceremony, Unity Candle, Loving Cup, Handfasting - can be given a surprise twist
.
Who you involve, what you use, and how the ritual is narrated can all make it your own.
Start with a toast

Greeting guests with drinks and nibbles as they arrive, making sure that everyone has a charged glass when they take their seats or gather around, and starting the ceremony with a toast to the couple and their future is something same-sex couples added to their commitment ceremonies. A new tradition well worth borrowing.
End with a cheer

Whatever happened to the good old Hip Hip Hooray at events? Time to bring it back. Ask your celebrant to incorporate it into the declaration that you are married.
Thanks for reading!