What if you change your mind? Annulment or Divorce in Australia

by
Jennifer Cram - Brisbane Marriage Celebrant
© (11/05/2021)
Categories:
| Wedding Legals |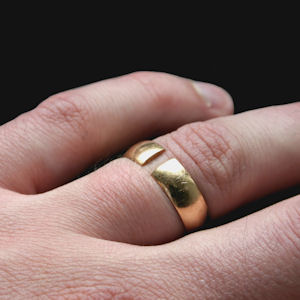 I love marrying loved-up couples and seeing the love and commitment on their faces and hearing it in their voices as they speak their vows. So it might seem a strange thing to write a blog post about ending a marriage. But, the fact that it requires a court process to legally end a marriage validates marriage as a serious legal and emotional commitment. One that requires effort to be successful, and effort to end.
But I am also a realist. Not all marriages work out as the couple hoped or intended. And so I am often asked questions about divorce and annulment. And when I am asked to marry a couple where one or both has been previously married, I have to satisfy myself that they are free to marry again. Which means I need to see official paperwork about how that marriage ended.
What if you change your mind?

Having solemnised the marriages of more than 1800 individuals, it stands to reason that I've seen the occasional case of "buyer's remorse". I've had several cases where one party has contacted me soon after the wedding (once, the morning after), to ask me not to submit the marriage papers for registration of the marriage. This is something no celebrant can do. We have a statutory obligation to submit the marriage papers to Births Deaths and Marriage for the simple reason that it was the saying of the vows that created the marriage. The signing of the certificates documents the marriage. It doesn't create it.
What's the difference between divorce and annulment?

A divorce decree recognises that a marriage has taken place but has subsequently broken down and there is no reasonable likelihood that the couple will get back together. Even so, there is a "cooling off" period of one month and one day between the day of the court hearing and granting of the divorce, and when it becomes final. During that period neither party is free to marry again.
A declaration of nullity is a finding that there was no legal marriage between the parties, even though a marriage ceremony may have taken place.
Can you have your marriage annulled in Australia?

In Australia, annulment of a marriage requires a court process and can take as long, if not longer, than getting a divorce. Unlike many other countries, there are very few grounds on which a marriage can be annulled, and they all come down the fact that the marriage should not have taken place at all because there were legal grounds that prohibited it. In other words, there was no legal marriage between the parties, even though a marriage ceremony may have taken place. The Family Court of Australia and the Family Court of Western Australia may declare a marriage invalid on the following grounds:
one or both of you were already married at the time the marriage ceremony took place

you are in a prohibited relationship (you are closely related by blood or adoption)

one or both of you were not of a legal age to marry and did not have the necessary approvals (in Australia one party can be 16 or 17 but the other must be at least 18, and the under-age person must have permission to marry from the court)
you did not comply with the laws in relation to marriage

one or both of you did not give your real consent to the marriage because

your consent to the marriage was obtained by duress or fraud, which means physically forced, psychologically coerced, or tricked into the marriage
you were mistaken as to the identity of who you were marrying
you were mistaken as to the nature of the ceremony
one of you was mentally incapable of understanding the nature and the effect of the marriage ceremony

A common misunderstanding is that a marriage can be annulled where it has not been consummated. In Australia there is no requirement that a marriage be consummated, a decision made by very wise legislators who based that decision on their concern that there was no way to be sure that any consummation was consensual.

Is a religious annulment legally recognised?

In a word. No.
Some religions, such as the Catholic Church, will not allow a divorced person to remarry while their previous spouse is still alive unless there is an annulment under Church law. Such annulments are not recognised by law as a legal annulment of the marriage so a legal divorce must be obtained before remarrying.
Related information

Tutorials About Getting Married
(Bite-size how-to posts about the legal aspects of getting married)
Thanks for reading!