| WeddingCeremony | Wedding Legals |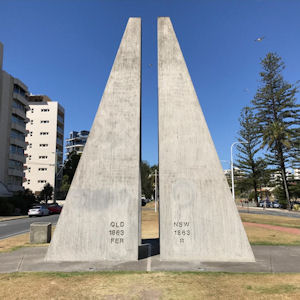 Border closures have prompted couples to seek alternative ways to have get married when they are separated by border closures and/or to include guests on either side of the border.
Australian law, State Registration

The history of Australia, hinted at on the border markers between Queensland and New South Wales, is one of separate colonies that became one country.
Laws governing marriage followed this pattern. So each state had their own Marriage Act and all births, deaths, and marriages were registered in those state. It took 60 years after Federation for the individual Marriage Acts to be superseded by the Marriage Act (Commonwealth).
What didn't change, however, was where marriages are registered. For practical reasons, marriages have continued to be registered in the state or territory in which they took place.
Civil celebrants are appointed by the Commonwealth Government

If you choose a civil celebrant to solemnise your marriage, that person, being appointed by the Commonwealth Government, can do the deed in any state or territory, Australia wide.


Couples can marry in any state, not just where you live

If same goes for the two of you. You can choose to be married in your home state, or anywhere else in Australia. Your
So what's the catch?

The Marriage Act requires that the marriage must take place with all five people required for it to be legal present in the same space. Which, given the definition of a state as a separate space means that, for your marriage to be legal that party of five (the two of you, your two witnesses, and your celebrant) cannot straddle the border. And if your celebrant were to be foolish enough to go ahead with a wedding where some of the five are in one state, and the rest in another, it would be at risk of your marriage not being registered, and therefore not being recognised, and of the celebrant being deregistered.
The same logic applies to virtual weddings. Under Australian law
you can't get married over Zoom
!
What about the wedding party and the guests?

Anyone who isn't one of the party of five is not subject to the rules about straddling the border. So, techically, you could be one one side of a border with your guests and your wedding party on the other side, or divided between. As far as the Marriage Act goes.
But there is more in play at the moment. Each state has its own health directives and rules about weddings and gatherings and they often differ from state to state, and can change in a heartbeat.
Thanks for reading!