| Wedding Ceremony | Wedding Legals |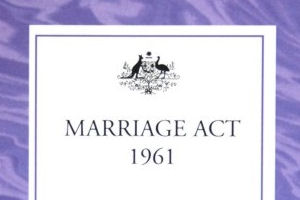 All marriages in Australia are subject to the requirements of the Marriage Act. It doesn't matter if you are married by a civil celebrant, in a religious ceremony officiated by an ordained member of the clergy, by an employee in the Registry Office or Court, or by a Defence Force chaplain. The Marriage Act applies to all of them
So what does the Marriage Act actually do?
The Marriage Act sets the marriageable age

The Marriage Act sets the legal marriage age (18) and allows the marriage of minors in certain circumstances.
The Marriage Act establishes the framework for marriage ceremonies

Couples can marry in public or private, provided there is an official celebrant and two witnesses to the ceremony. Particular words are prescribed for marriages solemnised by civil celebrants. These words reflect the understanding of marriage in Australian law. And certain documents have to be signed before (documenting your declaration that you are free to marry) and after (documenting that the marriage has taken place) the ceremony.
Religions which have been recognised as requiring monogamy and permanency as promises of marriage are permitted to use their own ceremony.
The Marriage Act establishes the framework of regulation of celebrants

Authorised marriage celebrants, both religious and non-religious, are subject to the rules and regulations laid down by the Act
The Marriage Act deals with issues of consent, void marriages, and legitimacy of children

The Marriage Act makes it clear that marriages must be between two consenting adults, and that consent must be freely given. It also outlines circumstances in which a marriage would be rendered void, and, where there is a child of that void marriage, the circumstances under which the child would be deemed to be legitimate.
The Marriage Act creates offences

The Marriage Act creates offences including offences relating to bigamy, under-age marriages, and marriages not performed according to the required notice periods, etc (NB it is an offence to backdate a Notice of Intended Marriage)
The Marriage Act defines the legal meaning of marriage

The Marriage Act defines marriage to mean '
the union of two people to the exclusion of all others, voluntarily entered into for life'
The Marriage Act deals with the recognition of foreign marriages

The Marriage Act deals with the recognition of validly contracted foreign marriages for the purposes of Australian domestic law.
What does the Marriage Act not do?

The Marriage Act does not lay down any requirements for
what you wear
the venue
a bride to be 'given away'
you have rings
you to kiss
anyone to promise to obey
More information

If anyone argues with you about something you don't want to do being a "rule". You can ask them nicely
Who wrote that rule
? and when they can't answer (because it is usually something that is somehow connected Queen Victoria's wedding in 1840!), show them the only "rules" that are actual rules - what the Marriage Act requires and where in the Act it is spelled out. Download the sheet I've been sharing with my couples for years -
Legal Notes: Getting Married in Australia
.
Thanks for reading!