| Wedding Ceremony | Wedding Planning |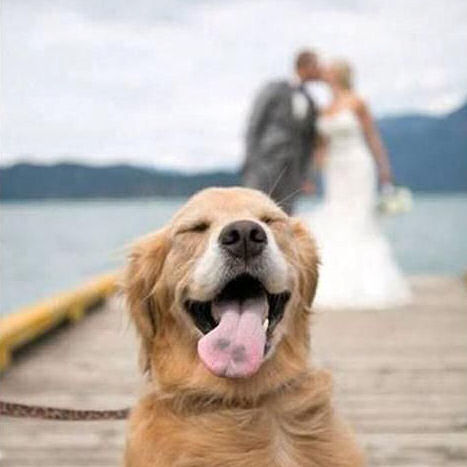 What's the best guarantee that your wedding will go viral? Not the most fabulous styling. Not an out-of-this-world dress. Not a really quirky venue. None of those things will capture the attention of the internet the way a dog photobombing your photos will!
Most wedding advice about including your furbaby in your wedding will stress the need for your dog to be well-trained and well-behaved. Obviously they need to be comfortable around people, but perfectly behaved in not a requirement. Your wedding is not the time to go all strict-parent. You've loved and laughed at moments of naughtiness, including total disobedience time and again. Dogs being themselves make for magic moments. All you need to do is to give them the opportunity by including them every way you can. If you have more than one, include them all.
Current COVID-19 restrictions and your dog(s)

A major reason for couples deciding to get married in a private home or in public spaces where dogs are welcome is being able to include their furbabies. New restrictions on marrying in those places (in Brisbane currently the limit is 10 humans all up, including couple and celebrant, other parts of Queensland 30 humans) may make you rethink where you will marry. The good news is that you can still have your wedding with up to 100 at a professional venue (such as a wedding venue, restaurant or other premises with an approved COVID-Safe plan) and many places are dog-friendly.


Give your furbaby a starring role

Your dog can be the official greeter

Your dog can play any of the traditional wedding party roles
Best Dog or Dog of Honour
Flower Dog
Ring Dog

Or they can act as an escort - walk you down the aisle, walk with bridesmaids, groomsmen, flower girl or ring bearer. Don't forget there is no rule that one of you walks down the aisle while the other waits for you at the front. That's just custom (leftover from when brides were traded for strategic advantage and just being present was taken to be consent), so you can walk down the aisle together (plus dog), or each have your own procession.

A dog who is good at fetching and carrying could take an active part in the ceremony

Carry and present your handfasting cords
Carry and present your rings
Carry the flower girl's basket of petals
A dog who will respond to a signal with a well-timed bark could

Announce the entrance of the bride
Bark in answer to a question about supporting the marriage
Punctuate the kiss with a bark

Work with your celebrant to include your dog in the ceremony
In a civil celebrant ceremony anything goes, so include a mention in your vows, an anecdote in your love story, or a relevant reading. You are marrying as a family so any way a human child could be included is perfectly appropriate for a furchild!

Have a first dance, for three
While current restrictions mean only the marrying couple can share a first dance (no other dancing is allowed in Queensland), there is no restriction on you dancing with your dog.

Dress them up

With their comfort in mind, of course, dressing your dog up adds so much to the atmosphere. There are no rules. So, while most of the doggie outfits available are heavily into gender role stereotyping it is perfectly fine for your furboy to rock a flower garland, your furgirl to rock a tux, or either to be laidback and casual. Jazz up their leash with flowers, pom poms, tassels, or your theme colours. Or make a spcial wedding leash for them using thick cord, a lobster clip, and whatever decorations you wish.
Plan your post wedding photos

Of course you walk your dog regularly. So the most natural thing in the world would be for the three of you to go for a short walk, with photographer in tow, after your ceremony. As you know, a walk provides endless possibility for photos, and photobombs. Encourage them. Also include your dog in the formal bridal party photos, and in family photos.


Plan with safety in mind

Choose your venue carefully
A dog-friendly venue may not be a safe environment for your furbaby.


Check whether the area is appropriately fenced, or whether you will need to keep your dog on a leash the whole time
Check for presence of toxic plants or slugs
Ask about fertilizer and weedkiller applications (freshly applied both can be hazardous to yur furbaby)

Tell your florist your dog will be part of your wedding
Some popular flowers used in bouquets, boutonnieres (buttonholes), corsages, ceremony decorations and centrepieces are not safe for dogs. While many may cause nothing more severe than a mild digestive upset, some are so highly toxic that your fur baby is unlikely to survive even a small nibble. Roses and orchids are both pet friendly and people friendly. Rosemary, a wedding herb, is not toxic to animals. But once you start considering other popular wedding flowers and greenery you need to be cautious.

Popular wedding flowers and greenery that are toxic to dogs

Arum Lilies
Baby's Breath
Bird of Paradise (Strelitzia)
Calla Lilies
Chrysanthemums
Daffodils, Jonquils, Narcissus
Eucalyptus

Hydrangea
Iris
Ivy

Lily of the Valley
Peonies
Tulips
Earlier in the day

Involve your dog in your wedding day preparations and ask your photographer to include your furbaby in photos
Get ready with your dog present

Ask your photographer to include your dog in the still-life details photographs (rings, shoes, cufflinks, bouquet, boutonniere and so on, as well as in formal and informal pre-wedding photos

Do a first look with your dog
Have some cuddle photos taken for good luck. They will also calm you if you're feeling anxious.
If your furbaby can't be physically present

It may be that, for whatever reason, your dog can't be physically present at your ceremony and/or reception. Include them anyway. Here are some suggestions:
Choose a portrait photo, have it framed and place it on the signing table, so your furbaby will be in those photos. Or put it on a welcome table near the entrance along with your wedding programs, if you have some, wedding tosses, or water for the guests. You could also have couple photos taken with you holding the photo
Add a photo charm to your bouquet or boutonniere

Commission a purpose designed cake-topper
Use photos for your table numbers. Add the numbers using a graphics program, print and pop into inexpensive frames. Your guests will love them.
Give doggy-themed favours. There is a wide range of doggy cookie cutters available, give the cookie, or give the cutter.
Related information

Thanks for reading!