OMG! We forgot the rings ...
by
Jennifer Cram Brisbane Marriage Celebrant
© (24/08/2019)
Categories:
| Wedding Ceremony | Wedding Planning | Wedding Rituals |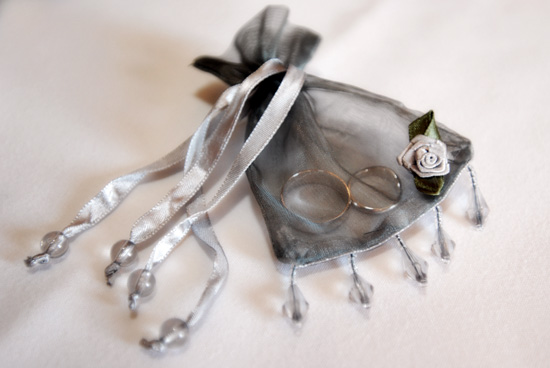 I arrive at the wedding and start checking who has the rings, and it turns out nobody! Believe it or not, it does happen. Not very often, but when it does, there is always a great deal of angst and drama attached.
Sometimes the fact that the rings are missing is because the person charged with minding the rings simply forgot about them. Sometimes it is because rings ordered online did not arrive in time. Occasionally, the couple has made a deliberate choice to buy their rings while overseas on honeymoon. Which is fine. Definitely it is something that your celebrant would be aware of and have planned for. But other relevant people should also be given a heads up in advance.
Important to know: Being ringless on the day will not create a problem with the legality of your marriage. Despite lingering folklore, "With this ring I thee wed" is not a legal statement. And exchanging rings is not a legal requirement. In fact, you can skip rings altogether, or exchange something else of significance to you. I've had couples who chose to exchange USB memory sticks, other jewellery, and family heirlooms.

Nonetheless, most couples want to exchange rings, tradition virtually expects you to do so, and the majority of couples include an exchange of rings in their ceremony.
Here are some strategies to avoid being left unexpectedly ringless on the day, and, worst case scenario, some strategies to deal with being ringless if it happens.
How to avoid a ringless wedding ceremony

out

A little forward planning (including some strategies for nagging!) goes a long way to ensure the rings make it to the ceremony without incident.
Start shopping for your rings early, early, early.
Rings are a personal choice. So the fact that you might not have made the final decisions (or any decisions) about the look and feel of your wedding, how formal or casual it might be, your wedding theme, dress code, menu, or anything else, should not hinder you when it comes to your rings. Trust me. No-one says "We're having a backyard wedding, super casual, so we need super casual rings!"
Decide who will be the Guardian of the Rings on the day. Not your ring-bearer, but the person who will be responsible for taking custody of the rings and making sure that they brought to the ceremony. Do this early and make sure that the person you choose agrees. Tell your celebrant and your photographer/videographer who that person is, and provide contact details
Set reminders on your phone
to remind you to give the rings to the Guardian
to remind you to check in with and to remind the Guardian on the day
Set reminders on your chosen Guardian of the Rings' phone
to remind them to get the rings from you
to remind them to bring the rings to the ceremony
Set reminders on the phones of selected 3rd parties so that they can also check on the rings. Parents and members of the bridal party are some possibilities.

Recognise that pre-wedding photography can be a risk factor when it comes to leaving the rings behind. Still life photos of the rings are wonderfully evocative. You definitely don't want to skip this, but you do want to have a strategy in place to make sure that the rings are handed back to, or retrieved by your Guardian of the Rings and aren't inadvertently left behind after the photographer has finished with them.

How to deal with a last minute no-rings problem

out

Is it going to be possible to have the rings retrieved and brought to the ceremony in time?
YES. Do it.
But make sure that everyone involved in the ceremony logistics knows what is going on, just in case the ceremony start needs to be delayed. That means your celebrant, your wedding planner, the function coordinator at the venue at a minimum.
NO. Hand over to your celebrant who can (your choice)
Delete the ring exchange from the ceremony and explain to the guests that rings will not be exchanged
Delete the ring exchange from the ceremony without any explanation
Substitute

You could borrow rings from family members or guests, or use cheap substitutes (some celebrants will carry a set of these). Although this hack is a hangover from the days when the Church of England required a ring to be given to the bride, this can be a choice if you choose to keep the fact that the real rings were a no-show, a secret. But it is not something I would advise for two reasons. 1. The actual rings have so much significance and fingers come in so many sizes, so it might be quite difficult to find suitable substitutes. And 2. It is a secret that will be blown by the photographs of the signing and by a warming of the rings if you have included that in your ceremony.
You could substitute an oathing stone. I carry a beautiful heart-shaped stone in my ceremony kit, just in case, but a pebble from your wedding site could substitute for the rings at a pinch. IF your ceremony includes a warming of the rings, all it takes is for the celebrant to make a quick edit and announce a warming of the oathing stone..

You could substitute your vows cards. After reading your personal vows, hand your card to your best beloved as documentation and symbol of the promises you have just made.

Is it going to be possible to have the rings retrieved in the time between the end of the ceremony and the start of the reception?
YES. Have your celebrant explain that you have chosen to exchange rings later. Then, just before you cut your cake, while all eyes are on you, say your ring vows and exchange rings. Makes for great photos, something that will be a talking point (in a positive way), forever.
NO. Keep calm and carry on!
Thanks for reading!