20 things you can do in a backyard wedding
(that you most likely won't be able to do anywhere else)
by
Jennifer Cram - Brisbane Marriage Celebrant
© (15/08/2019)
Categories:
| Wedding Planning |
When you decide to have your wedding in your own backyard you have complete control over every aspect of the day in a way you don't if you marry in a wedding venue, or even in a public park. Other than noise restrictions, and possibly issues with parking, which apply in general in the area, regardless of whether you've got an event planned or not, you can do what you want, without having to worry about venue policies, council regulations, and licensing l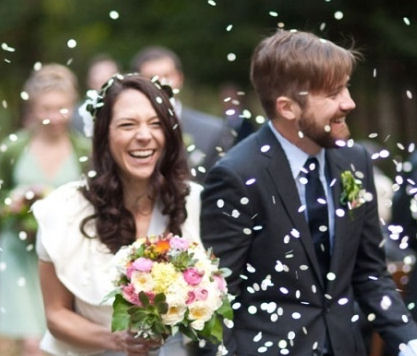 aws.
Most, if not all other places you could hold your wedding are constrained by legal requirements or commercial realities. Hosting your own wedding, in your own backyard, will not only save you money, it will give you opportunities to make the occasion unique because you will be able to include in the ceremony rituals enhanced by the freedom you have, and will be able to personalise every aspect of the day. So you will be able to:
Hold your wedding on the day of your choice, however popular a day that might be for weddings, because you are not competing with other couples to book the same venue
Start and end at when you like. Most bookings for parks and venues are for a specific amount of time, with a hard-and-fast end time by which time you must have vacated the premises and removed all
Have an infinite choice of style, theme, and catering, including food made at home. Many venues won't allow anything on the premises that isn't made in a commercial kitchen, so you can't have your auntie make your wedding cake, or give everyone homemade shortbread as a favour.
Have free choice of vendors to supply goods and services for your wedding, rather than being required to choose from a short list of approved vendors.
Include your fur babies, all of them, not just dogs, cats, and other pets too, in both ceremony and celebration afterwards. And if your pet has feathers or scales, them too.
Create a permanent deck, paved area, or concrete slab, or lay turf to delineate the ceremony space – and make it just the right size to fit your bridal party. Google pebble mosaic persian carpet and pebble mosaics for the garden for some wonderful ideas.

Build a permanent arch just where you want it. If you do this well ahead of time, giving your choice of climbing plant time to grow, it will add a beautiful, natural, and long-lasting element that you can continue to enjoy. Stephanotis, a traditional bridal flower, star jasmine, mandevilla, and clematis are all fast growers as is ivy. Ivy has added meaning as a symbol of marital fidelity. A passionfruit vine works well too, as does bougainvillea, which comes in a multitude of colours. Choose your creeper with the position (shade/sun) and the season of your wedding in mind.
Create a backdrop for the ceremony any way you want – a built structure or screen, a waterwall or other water feature, a mass planting, or attach decorations to your fence. And then use it after the ceremony for a DIY photo booth for your guests
Hang things, including ribbons, lights, candle lamps, etc from trees, you could even carve your initials and the date in the trunk of one of your trees.
Have open flames – candles, tiki torches, a fire pit, all things often forbidden by venues because of the restrictions placed on their insurance policies. But you'll need to make sure that there is no total fire ban on the day.
Use a strategically placed garden bench for seating to sign the marriage register and certificates. Afterwards you can add a plaque.
Put up a marquee or shade cloth
Use whatever chairs and tables you wish.
Include an oathing stone in your ceremony by saying your vows over a large ornamental rock that's a permanent fixture, placed where you choose– and engrave, carve, or attach a plaque commemorating the occasion. You can include your vows (if they aren't too long – a good reason for keeping them short and both saying the same vow) as well as your names and the dates.
Include a tree planting ritual in your ceremony, for real, planting it in the ground where it is going to stay rather than having to plant it in a pot. Or plant almost anything. Rosemary, with its long history as a wedding herb, and association with memories and with loyalty, is a perfect choice. As would be a rose bush. Roses are a universal symbol of love, and there are so many varieties with evocative names that you are sure to find one that fits just perfectly.
Attach love-locks to whatever you wish
Allow your guests to throw confetti, rose petals or rice, or anything else for that matter without risking being fined. One word of caution, though, avoid bird seed. It will germinate and you'll have a weed problem!
Have the ceremony in the middle of the party, rather than before it. So greet everyone, serve some drinks and nibbles and mingle. Then have the ceremony. And then serve dinner.
Leave cleaning up to the next day, with no deadline for removal of decorations, furniture, etc
Revisit the site where you said I Do any time you like. Imagine having coffee or an evening cocktail sitting on the bench where you sat to sign your marriage papers.
Do contact me if you can think of more possibilities. Let's make this list as long as possible!
More information