How to have a Stress-Free Wedding in Your Own Backyard

by
Jennifer Cram Brisbane Marriage Celebrant
© (05/01/2020)
Categories:
| Wedding Ceremony | Wedding Planning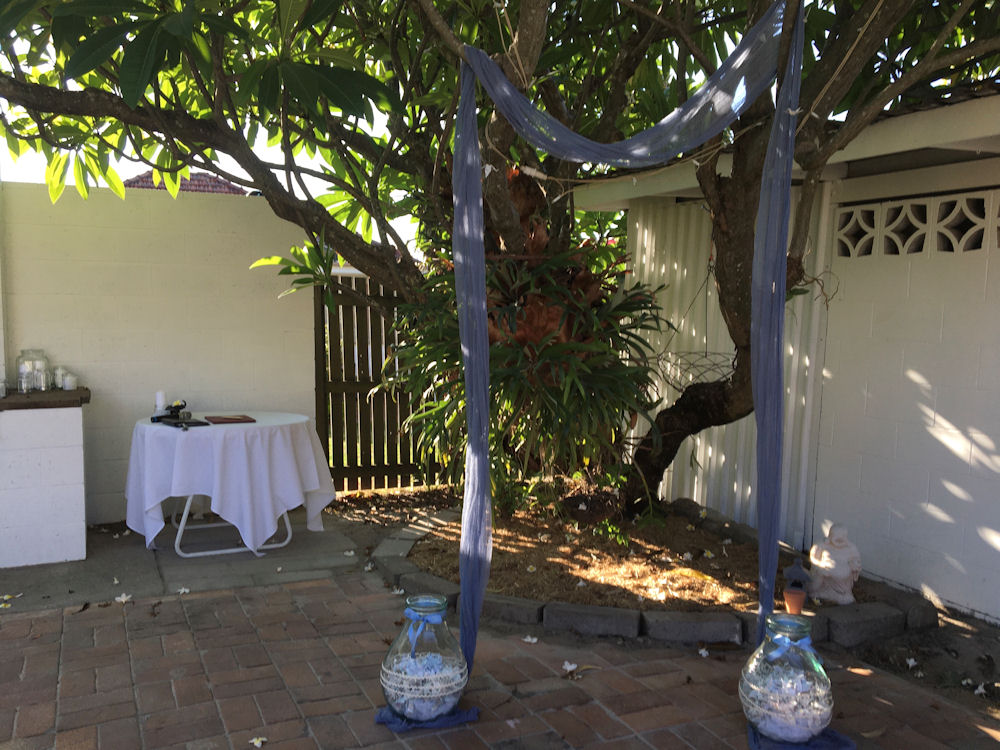 A really strong wedding trend at the moment is that micro-weddings, intimate weddings, and elopements are becoming more and more popular. Hand-in-hand with this is the growing popularity of getting married at home in your own backyard (or in the backyard of a generous friend or family member.
This photograph is of the ceremony space for a recent wedding I officiated. The couple married in the bride's grandparents' backyard.
Benefits of backyard weddings

out



The benefits of holding your wedding in your own backyard are many, and varied, but they all add up to two things - a backyard wedding is easy on the budget, and it gives you the ultimate opportunity create a more relaxed, more personal feel to your wedding. The ready availability of civil celebrants means that you are not restricted by the availability and requirements of a church or Registry Office. And you are not competing with any other couple for the venue.
A backyard wedding gives you the ultimate flexibility when choosing your wedding date.
Not having to compete with others for your chosen venue means that you do not have to book months, or even years ahead.
You wedding plans are not going to be thrown into disarray by your venue going out of business or being unavailable on the day for some other reason.
A backyard wedding is easier on the budget - no minimum spend, for example, and no need to lock up considerable amounts of money in deposits.
You have complete freedom of choice when it comes to catering, styling, and other wedding service providers. Many venues restrict couples to use of the venue's preferred suppliers.
You have a homemade cake, food-favours, and catering. Many venues, for legal reasons, ban supply of any food, including wedding cakes, that has not been prepared in a licensed commercial kitchen.
There are no venue rules you have to abide by, so you can set up are far ahead as you wish, leave removal of decorations or furniture until the next day if you wish, and party on as long as you like (observing local noise ordinances, of course!)

Assessing the space

out



One of the first things you need to do is to assess the space for suitability and to consider how you can make it both practical and beautiful on the day.
What will be blooming in your garden at the time of the wedding? If you have any deciduous trees, will they have leaves or not?
How big is the usable space? How many guests will it comfortably hold? And how big a bridal party will fit into the ceremony space?
What time of the day will the ceremony space be shaded? Being in shade is very important to ensuring the comfort of all concerned. Being in full sun is not only bad for the photos (you'll squint!) but can lead to heat illness which is dangerous. Check the ceremony space and set-up at the time of the day you are having the ceremony. A ceremony space that is beautifully shaded in the morning could well be in full sun and unpleasantly hot and glary for both wedding party and guests in the afternoon.
Will you provide seats for all of the guests, some of them, or will everyone be standing for the ceremony?
Will you be able to create an aisle to walk down?
Where will you put the signing table?
Is there space to create a backdrop, arbour, arch, or altar? Which will work best?
Is there enough space for live musicians, or will you be using recorded music?

Will your photographer be able to move round the perimeter of the space in order to capture al the action and emotion of the ceremony?

What other decorations would work?

Is there a space where guests can mingle before the ceremony?
Is there space for a sit down meal?
Is there suitable space for the caterers?
Will you be able to supply electricity for a sound system, mood lighting, and the caterers?
Are there any hazards that need to be fixed to make the space safe for everyone?

How to ensure it all goes smoothly on the day

out



Arrival and introduction of guests
If you are planning to make an entrance, delegate someone to meet and greet guests as they arrive. If there are to be a large number of guests, it may be appropriate to delegate this task to several people.
Ensure that someone is delegated to introduce me, your celebrant, to guests who are mentioned or honoured in the ceremony, so I can be sure to look at them when I'm talking about or to them during the ceremony.

The Ceremony Space
People, PA systems and musical instruments all react badly to heat, direct sunshine, and rain so you need to plan for both hot and wet weather. There should be a suitable space either inside or under cover in case bad weather or heat prevents holding the ceremony outside.
It is important that your guests are close enough to where you and the celebrant will be standing to form an intimate grouping and ensure that everyone hears and sees the ceremony. The layout needs to be in place before the guests arrive.
Ensure the table for the signing is big enough to comfortably hold the register, certificates and anything else that will be used during the ceremony (candles, etc). A surface at least 60 x 40 cm is needed to comfortably hold the register and the certificate for signing. If other ceremony elements, such as candles, are used, then extra space is required.

Noise
Outside ceremonies are subject to all manner of external noise disturbances such as aircraft, animals, lawnmowers etc. If holding your ceremony during the day time, you might consider asking your neighbours to not use their lawnmowers or power tools for the period of the ceremony (allow a little leeway either side).

Number of Guests
The maximum number of guests that can be accommodated to ensure a successful ceremony depends on both how many guests will fit into your backyard, but also how many guests will fit into your indoor/under cover alternative in case of bad weather.

Toilet Facilities
One toilet per 35 guests is the recommended ratio. If you don't have enough toilets to accommodate your guest numbers consider hiring portaloos, and placing them somewhere discrete.

Animals and Children
Any domestic animals that could interfere with the ceremony, or become unsettled by the guests, should be shut away or put in the kennels for the day.
Small children can find it difficult to be quiet and listen to the ceremony. In small numbers that doesn't bother me one bit, but if there are to be large numbers of small children attending you may find it useful to delegate someone to take care of them away from the ceremony space. Provision of play leaders or even a jumping castle has been very successful in my experience, but something as simple as a child-friendly video and a 'sitter' works well too.

Health and Safety
Entrances and exits to the property and to the ceremony space should be clear and safe to use
Constructions in gardens, whether temporary, such as hired marquees, or permanent, such as gazebos, should be well erected, properly secured and safe.
Outside electrical equipment must be safe. There should be no trailing leads, wires or cables. Leads and cables should be kept well away from walkway areas, and firmly taped down.
Garden ponds and pools are a potential hazard for young children and thus access to them should be made safe.
To prevent anyone becoming dehydrated, think about making sure everyone has water or other non-alcoholic liquid as they arrive.
And don't forget that the hotter the day, the more important it is to provide seating!

Insurance
Check that the domestic insurance policy on the property where the ceremony is being held covers third party liability for any visitors to the home.
For more inspiration: 20 things you can do in a backyard wedding (that you most likely won't be able to do anywhere else)